A video of a group of men mercilessly beating a man with iron rods on a street is going viral on social media as attack on Bihari migrant workers in Tamil Nadu.
However, when we investigated, we found the video is not from Tamil Nadu but from Punjab. Let us know the truth behind this gruesome incident.
Viral Video
In the above tweet, we can see some men thrashing a man mercilessly with iron rods. The victim is seen pleading constantly as his attackers keep beating him without remorse. The tweet suggests that the video is related to the recent reports of violence against Bihari migrant workers. Recently, Hindi media organizations' reports claimed that Bihari workers in Tamil Nadu are fleeing the state in large numbers after reports of attacks on migrant workers.
However, many unrelated videos were shared to support this narrative. We recently debunked some of these videos. The Tamil Nadu police also refuted these videos and ordered strict action against those spreading rumors.
So is this video also part of a rumor or an actual incident of atrocity on a Bihari worker in Tamil Nadu? Let us fact-check!
Fact Check
We did a Google reverse image search on a screenshot of the video. From the results of the search, we found a news article on the website of Jagbani.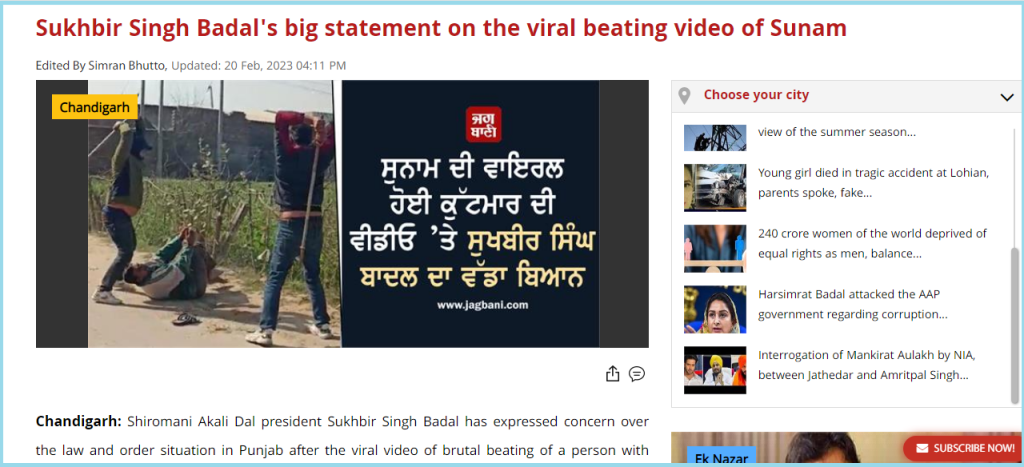 Read the full article here – Jagbani | Archived Link
As per the article, the incident took place in a village called Sunam in Sangrur, Punjab. We did further research based on the information given in the article. We found the following tweet by Shiromani Akali Dal leader Sukhbir Singh Badal.
The tweet says, "Jungle Raj prevails in Punjab under Bhagwant Mann's misrule. Such brutal incidents have started taking place so frequently & with impunity. Still the CM claims law & order situation good in state! Praying for the well being of injured, I demand strict action against the culprits."
We also found a report by the Indian Express. As per the report, a 37 year old man was attacked by 6 people in Jagatpura village in Sunam over personal enmity on 15 February. The report further states that police has identified the victim as Sonu Kumar and the accused as Kuldeep Singh, Mani Singh, Malkit Singh, Lavi Singh, Amrit Singh and Gopal Singh. Punjab police have arrested the main accused Kuldeep Singh.
Conclusion
The viral video is not from Tamil Nadu but from Punjab, as it is evident from the investigation. The video is being shared falsely as incident of attack on Bihari migrant workers in Tamil Nadu. The video is from Sunam in Punjab where some men attacked a man over personal enmity.

Title:Unrelated video from Punjab shared as Bihari workers attacked in Tamil Nadu…
Fact Check By: Harish Nair
Result: False