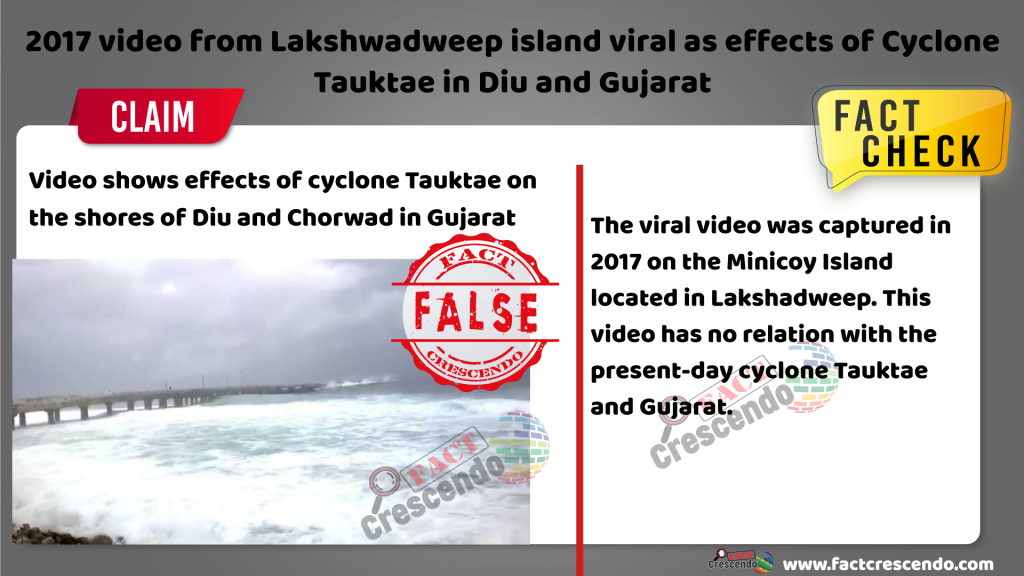 Amidst the Cyclone Tauktae, an 'extremely severe cyclonic storm', a video has been circulating on social media claiming that it shows huge waves hitting the shores of Diu and Chorwad situated in Gujarat as an effect of cyclone Tauktae. The video shows huge waves from the sea gushing towards the shore.
The caption of the post mentions, "Cyclone effect start in Diu and Chorvad Gujarat. Tauktae cyclone effect start #cyclone #tautecyclone #tauktaecyclone #cyclonenews #cyclonelatestnews #cycloneeffect."
The video is also going viral with another claim as "#vadodara Red alert issued in Gujarat, Diu after cyclone Tauktae intensifies to 'very severe' in India. #vadodara_lover"
Fact Crescendo has received this video on our WhatsApp Fact Line number 9049053770 for verification.
Fact Check-
We started our investigation by breaking the video into small keyframe by using InVid- We Verify tool and ran a reverse image search on the same. The results revealed the same video which was aired on 26 August 2017 on a YouTube channel called Dweepdiary Lakshadweep. The title of the video reads, "Minicoy Eastern Jetty Waves Attack 2017.08.23." The information below reads, "On 23/08/2017 Minicoy Island East Jetty was attacked by heavy waves. No casualties were reported but some local catamarans were destroyed in Agatti and Chetlat Islands. Video Sincerely: A quintessential well-wisher of the archipelago."
Let us tell you that the island of Minicoy is located in the Union Territory of East Jetty Lakshadweep
After this, Fact Crescendo contacted an associate of Dweep Dairy Lakshadweep and he told us, "The video going viral is from Minicoy Island in the Union Territory of Lakshadweep. Minicoy is the last island in the South West Indian region. We are from Lakshadweep Islands, a Union Territory of the country which always experiences huge waves in the sea due to bad weather and cyclones. The video dates back to 23.08.2017, the incident shown in the video took place at East Jetty on the island of Minicoy. The huge waves of the sea went over the jetty and the person shooting the video also got injured. This video has no connection with the present-day cyclone Tauktae and Gujarat."
Subsequently we searched for the pictures of Minicoy Island East Jetty on Google Maps. You can see the pictures below.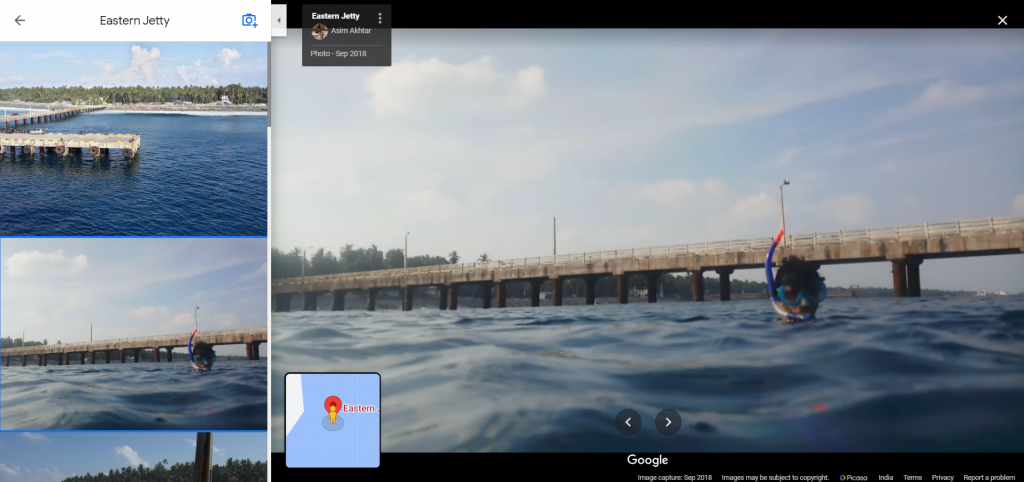 Conclusion- Fact Crescendo found the above-mentioned viral video  False. The viral video is from Minicoy Island located in Lakshadweep in 2017. This video has no relation with the present-day cyclone Tauktae and Gujarat.
Title:2017 video from Lakshwadweep island viral as effects of Cyclone Tauktae in Diu and Gujarat
Fact Check By: Aavya Ray
Result: False