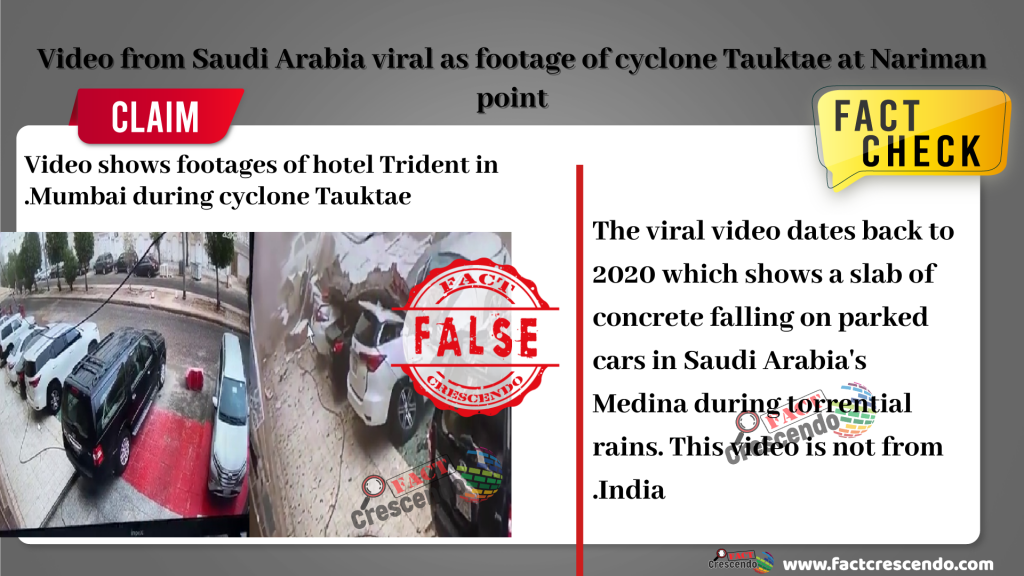 Cyclone Tauktae, an 'extremely severe cyclonic storm', made landfall in Gujarat's Bhavnagar on 17 May 2021. While the 'eye' of the storm bypassed Mumbai, heavy rainfall and winds up to 100 km per hour lashed Mumbai.
Amidst this, a video is circulating on social media claiming that it shows the destruction caused by Cyclone Tauktae near Trident Hotel in South Mumbai.
The video is a CCTV footage that shows a parking lot as torrential rains ravage the area when suddenly a huge slab of concrete falls on the parked cars, smashing their roofs.
Fact Crescendo received this video on our WhatsApp Fact Line number 9049053770 for verification.
The caption of the post mentions that "Our Correspondent Mavericks Anwar Ali, today in Mumbai, Trident hotel Nariman point Mumbai."
Fact Crescendo found that the viral video is from the year 2020 .A slab of concrete can seen falling on parked as torrential rains hit the city of Medina in Saudi Arabia.
Fact Check-
We started our investigation by carefully observing the CCTV footage and we found that the footage was recorded on 30th July 2020.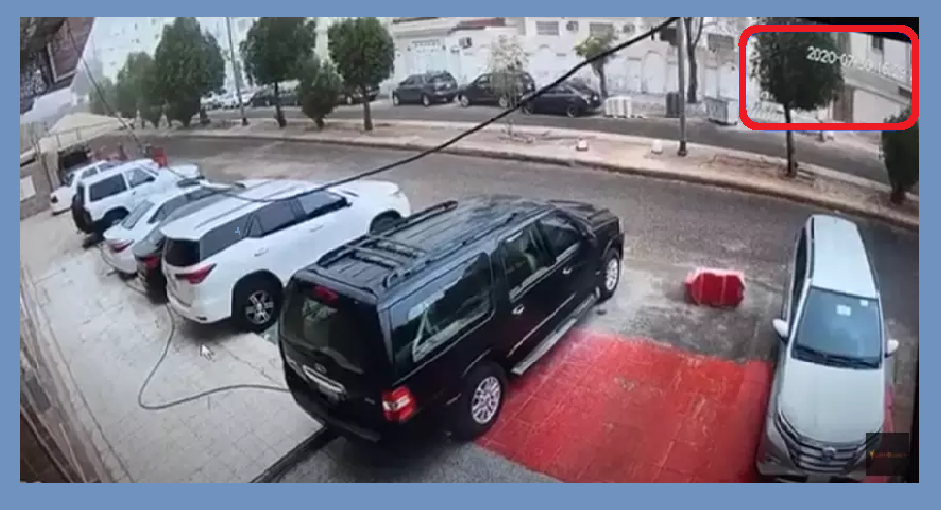 Next, we broke the video into small keyframes by using InVid- We Verify tool and ran a reverse image search on it, which led us to a news article published by Al Jazeera on 1st August 2020,where the same video was aired. According to the news article, damage was caused by the torrential rains in Medina, Saudi Arabia last year, many private properties were damaged and many light poles fell on the road. The vehicles parked beneath the building were crushed as a part of a building collapsed in an area of ​​Medina.
Next, we ran a relevant keyword search on Google which led us to several news articles published by Arabic RT, Al-Mursad, Anahar.com to get more information about the video going viral.
Archive link | Archive link | Archive link
After this, we ran a keyword search on YouTube and tried to get more information about this video, as a result we found this video that was aired on 31 July 2020 by a user ,the title mentioned, "strong winds in Medina and See the moment of survival of a man after a wall collapsed on several cars due to rain."
AIR News Mumbai also carried real time visuals of the area near Trident Hotel in Mumbai and verified that the video circulating on social media is not related. The tweet mentions "#FactCheck : No incident of tree/structure fall on vehicles is reported near #Trident hotel in #Mumbai. Video circulating on social media is false. Our correspondent reports that, incident was reported at some other place."
Conclusion– Fact Crescendo found the above-mentioned post to be False. The viral video which shows a slab of concrete falling on parked cars is from Medina, Saudi Arabia and was shot in the year 2020 and has no relation to the current Tauktae cyclone.
Title:Video from Saudi Arabia viral as footage of cyclone Tauktae at Nariman point
Fact Check By: Aavya Ray
Result: False