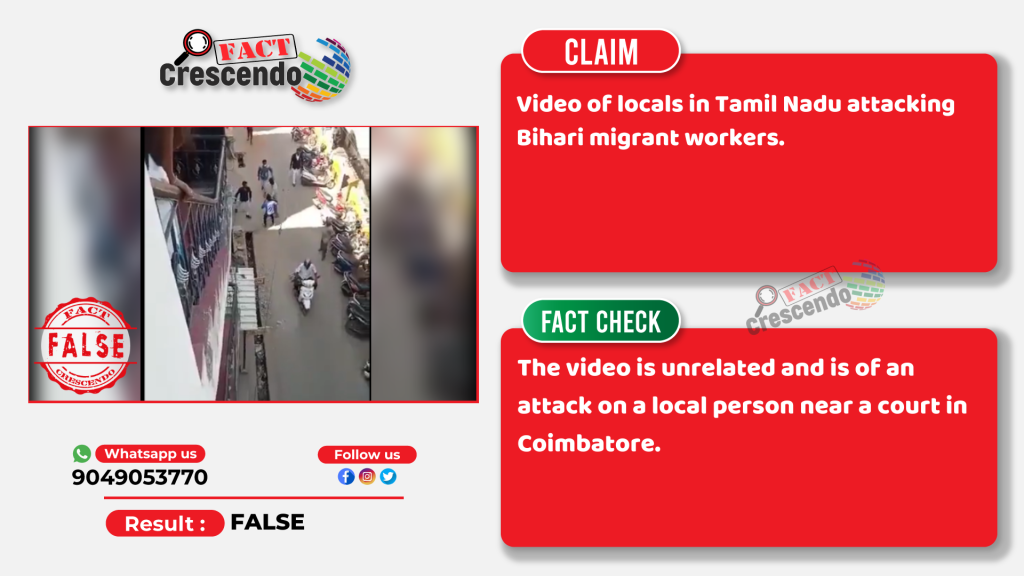 Hindi news media have been reporting about Bihari migrant workers fleeing Tamil Nadu because of constant attacks on them by the locals. According to a report by Jagran, the migrant labourers have been facing attacks from the locals in Tamil Nadu and some have even died in these attacks. 
Subsequently some videos also went viral alleged to be of fatal attacks on Bihari Migrant workers in Tamil Nadu. This prompted the Tamil Nadu Police to issue a statement and clarify that some unrelated videos are being shared on social media to fan rumors of attacks on Bihari workers in TN.
We will fact check one such video in this article. This video is being shared as Bihari workers being attacked with lethal weapons by locals on the streets of Tamil Nadu. The video can be disturbing for some of you as it contains violence. Readers are advised to view the content with caution.
However, is this video linked to any violence against Bihari or North Indian workers in Tamil Nadu? Let us fact-check.
Fact Check
We took screenshot of the video, did a Google reverse image search on it, and found an article on the incident on a website called Newsbricks.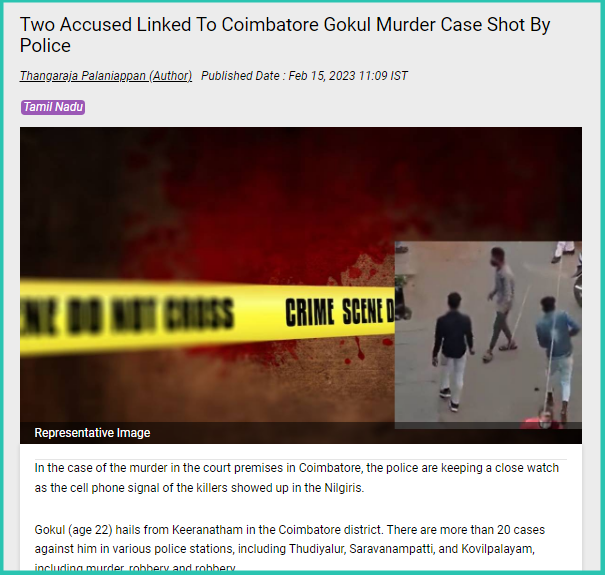 Read full article here – Newsbricks  | Archived Link
The article reports that the incident took place in Coimbatore near the Magistrate Court on 13 February, this year. A 22-year-old accused Gopal was hacked to death by some assailants, when he was on his way to the court to appear in a murder trial against him. The assailants also attacked and injured Gopal's friend Manoj. Manoj sustained serious injuries to his head and hands after being assaulted with a sickle.
You can also watch a news report on the incident by ABP Nadu below.
The Newsbricks article further reports that two of the assailants who murdered Gopal were arrested. The accused were arrested from Nilgiris. The name of those arrested are reported as Gautham and Joshua.
The video was shared along with another video by a Bihar based Journalist alleging that Bihari migrant workers are attacked by local people in Tamil Nadu over language issue. However, the Tamil Nadu state police sprang into action and DGP C. Sylendra Babu issued a video debunking the tweet. The tweet is now deleted, but you can see an archived version of the tweet here.
DGP Sylendra Babu speaks about the viral video. The viral video is the second video in the tweet. DGP says, "Somebody in Bihar has posted a false and mischievous video saying that migrant workers from Bihar are attacked in Tamil Nadu. Two videos are posted in that (tweet) and both are false videos. These two incidents happened earlier in time in Tirupur and in Coimbatore and in both the cases, they are not a clash between the people of Tamil Nadu and migrant workers. One video is a clash between two groups of Bihari migrant workers and another video is of a clash between local residents of Coimbatore."
Conclusion
From the investigation, it is clear that the viral video is not related to any incident of violence against Bihari migrant workers in Tamil Nadu. The video is of an incident that took place in Coimbatore last month where a local man named Gopal was murdered in broad daylight by a group of men.

Title:Unrelated video of violence from Coimbatore shared as Bihari Migrant Workers Attacked in TN…
Fact Check By: Harish Nair
Result: False