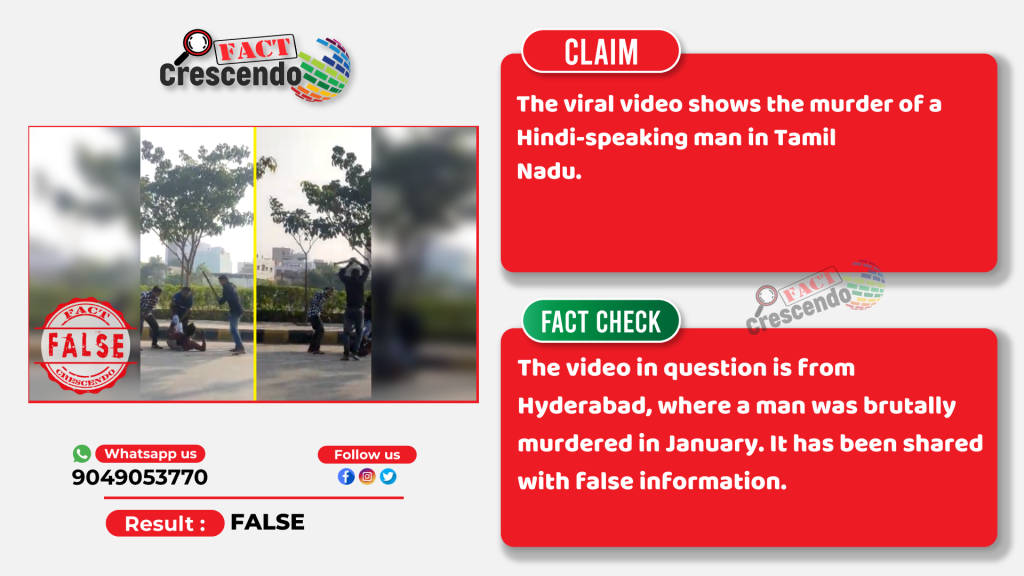 Multiple disturbing videos depicting violence have surfaced online amidst allegations of attacks on labourers from North India in Tamil Nadu. Among these, a video showing three attackers brutally assaulting and murdering a man on the road is being claimed as the murder of a Hindi-speaking man in Tamil Nadu.
Fact Crescendo received the viral video on our WhatsApp Tipline (9049053770) with fact-check requests.
We found that the video in question is from Hyderabad, where a man was brutally murdered in January. This unrelated video was falsely shared, linking it to alleged attacks on Hindi-speaking individuals in Tamil Nadu.
WHAT'S THE CLAIM?
The viral video appears to show three men chasing the victim on the street in a broad daylight. As bystanders look on in terror, they brutally attack him with swords and hunting sickles to death. The video was captured by a passenger who was traveling in a nearby rickshaw.
FACT-CHECK
After a close inspection of the video, one can hear people speaking in Telugu and notice a vehicle with an Andhra Pradesh registered (AP) number plate at the 0:15 mark.
Taking clues from it, we performed a keyword search and came across several news reports about a murder in Hyderabad. 
According to TV-9 NOW, a Telugu news channel, three people killed a man on Jiyaguda bypass road near Puranapul in Hyderabad. The incident took place on 22 January 2023 under Kulsumpura police station limits.
The victim has been identified as Jangam Sainath (32) of Amberpet. The police have identified and apprehended three individuals named Akash, Tillu, and Sonu in connection with the murder.
Initial police investigations suggest that the attackers were drunk, and the brutal killing ensued as a result of a fight.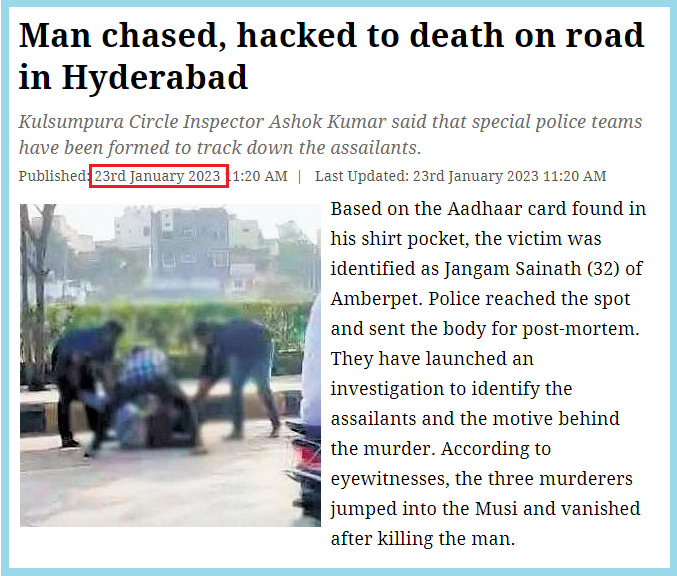 Warning Against Fake News
After several videos of alleged attacks on Hindi-speaking people in Tamil Nadu surfaced on the internet, the Tamil Nadu Police put out a clarification on Twitter and denied the viral reports of attacks.
"Rumors are being spread on Social Media and other media platforms that North Indians & Hindi-speaking people are being assaulted in Tamil Nadu. The contents are posted without verifying the facts. Please don't believe or spread such rumors. People are advised not to spread such false information, failing which legal action will be taken," reads the tweet.
CONCLUSION
The viral video of the gruesome killing is not from Tamil Nadu. It depicts a murder in Hyderabad. This unrelated clip has been falsely shared as an alleged attack on Hindi-speaking people in Tamil Nadu.
If you come across any news, videos, or images that seem too good (or bad) to be true, don't hesitate to send them our way. Our team of fact-checkers will look into it and then share our findings with you. Together, we can fight the spread of fake news and misinformation.
Our WhatsApp number is 9049053770. To stay updated, follow us on Facebook, Twitter, or Instagram.

Title:Video of Murder in Hyderabad Viral as Attack on Hindi People in Tamil Nadu
Fact Check By: Mayur Deokar
Result: False