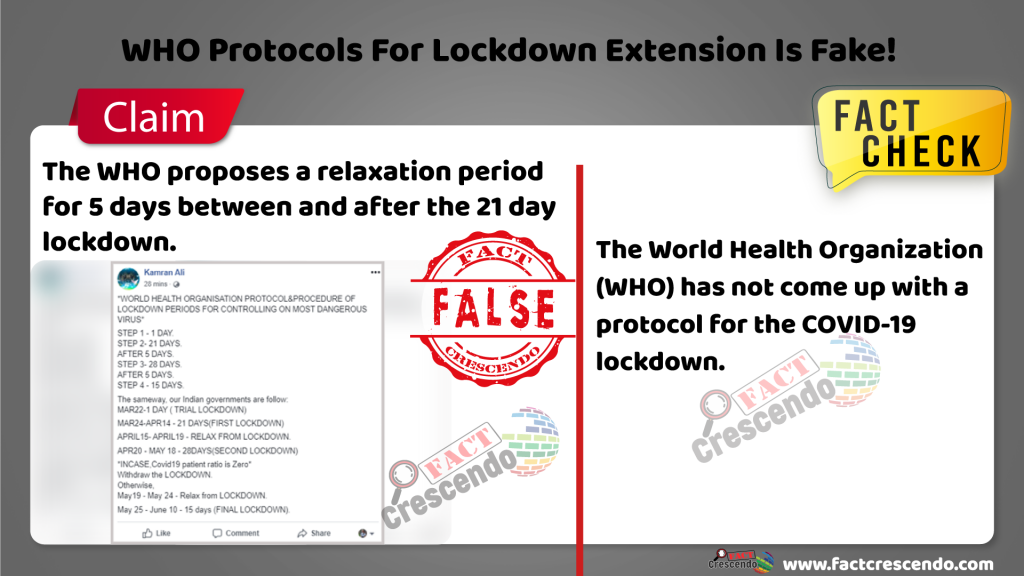 India's PM Narendra Modi announced a 21 day nationwide lockdown on the 24th March 2020 to control the spread of Coronavirus . Now several social media users claim that this lockdown may be extended. Fact Crescendo earlier debunked a similar claim of the lockdown extension till 4th May 2020.
Now, a viral post on social media gives a timeline of a proposed extended lockdown and relaxation in between that needs to be implemented to curb the transmission of the COVID-19 and bring the COVID-19 patients ratio to zero. Additionally it also claims that this timeline is a protocol issued by the World Health Organization. The message claims that WHO proposes a relaxation period for 5 days between and after the 21 day lockdown. According to this post, by following this timeline the lockdown will be extended till the 10th of June 2020. This message is widely circulating on Facebook, WhatsApp and Twitter.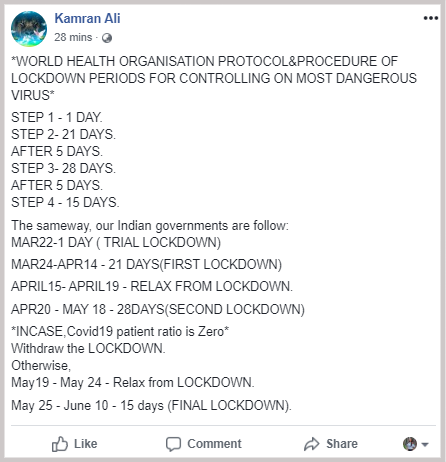 Facebook Post | Archive Link | Tweet Archive Link
Fact Check-
We started our investigation by using a simple keyword search on Google which led us to a clarification tweet published by WHO South East Asia on 5th April 2020. The tweet mentions that "Messages being circulated on social media as WHO protocol for lockdown are baseless and FAKE. WHO does NOT have any protocols for lockdowns."
We also came across a clarification tweet published by PIB Fact Check which mentions that WHO has NOT issued any such protocol mentioning the timeline of lockdown in India.
Further we also found a news article by Business Standard stating "Two Indian-origin researchers from the University of Cambridge in the UK have come up with a new mathematical model that predicts a flat 49-day nationwide lockdown — or sustained lockdown with periodic relaxation extending over two months — may be necessary to prevent Covid-19 resurgence in India."

However neither the news article nor the research paper mentioned that the protocol was issued  by the WHO.
Conclusion- Fact Crescendo found the above mentioned post to be False. The World Health Organization (WHO) has not come up with a protocol for the COVID-19 lockdown.

Title:WHO Protocols For Lockdown Extension Is Fake!
Fact Check By: Aavya Ray
Result: False