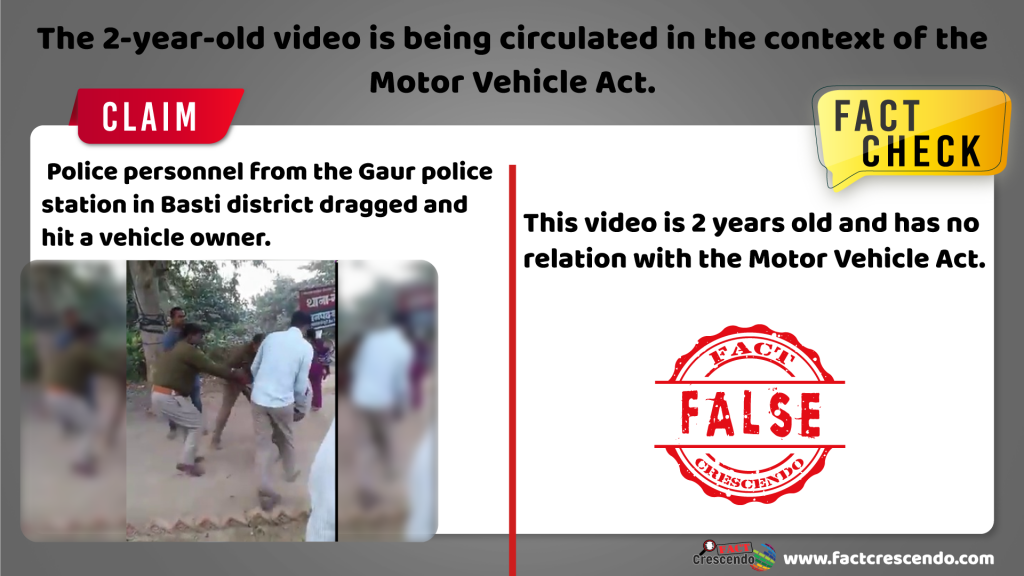 On September 14, 2014, a Facebook user named "Mohammad Ashraf Ansari" posted a video, which reads, "Today on Saturday, police personnel from Gaur police station, dragged the vehicle owner cruelly in the name of vehicle checking, and killed him. Today is 14th, the police personnel  of Gaur police station in Basti district should take immediate action against these people. In the video, we can see the police brutally beating a man and dragging him to the police station. This video is being shared on social media, and it is being claimed that the incident is from the Gaur police station of Uttar Pradesh where the police brutally beat up the owner of the vehicle in the name of vehicle checking. By the time the fact check was done, this post had received 5400 responses.
In the beginning of the investigation, we found a news related to this video using key words like "Basti Gaur police beating man" on Google. As a result, we found a news broadcast on November 14, 2017 by News Plus. The title of the news reads, "The dreaded face of the UP police: police beat up a man in Basti". According to the news, this person was beaten up by the police on the charges of disturbing the peace.
After this, we found a tweet from the official account of Basti Police on 14th September 2019. This tweet clarify's that "The said video is from the year 2017 and not from the current year. This incident appears to be quite old. If you look at the video carefully,you will notice that the uniform worn by the Police personnel is part of their winter uniform, while at present, the Police can be seen wearing the summertime ununiform.The tweet also clarifies that this incident is not about any vehicle checking. " 
According to the news published on November 14, 2017 in Patrika, the man was fined for breaching the peace. The police also claimed that the man was abusing people while he was in a drunken state. He was brought to the police station where he allegedly abused the police as well, hence he was beaten up.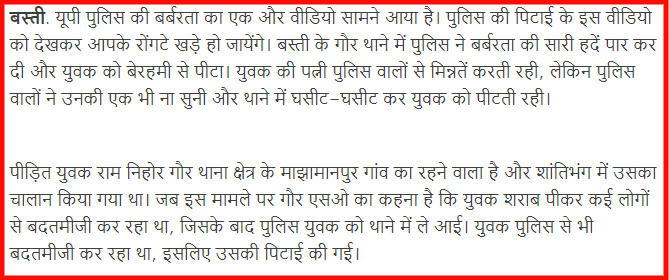 After this we spoke to SP Pankaj Kumar of Basti, Uttar Pradesh, he told us that "this incident is two years old and this video has no relation with the traffic challan rules."
Conclusion: After fact-checking, we have found the above post to be wrong. Since the new traffic rules came into effect from 1 September 2019, under the Motor Vehicle Act 2019, heavy fines were imposed on the violators. Videos of the police enforcing the act are being widely shared. This video however is two years old and this video has nothing to do with the new Motor Vehicle Act.

Title:The 2-year-old video is being circulated in the context of the Motor Vehicle Act.
Fact Check By: Ruchika M
Result: False