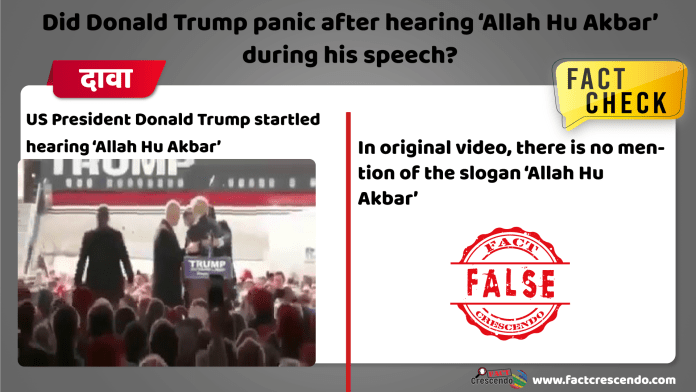 On 11 July 2019, a Facebook user named Aliyar Khan posted a video titled "watch the fear of Allah Hu Akbar slogan. US President Donald Trump was giving a speech when somebody shouted from behind 'Allah Hu Akbar'. After that, just see what happened. You can see in a 40 second long viral clip that Trump was giving a speech. During his speech, we can hear anyone from the crowd saying 'Allah Hu Akbar'. This leaves Trump startled or a while and his security personnel immediately surround him for safety. After that in the clip, Trump can be seen resuming his speech. Through this video, it is being claimed that while Trump was giving his speech, someone screemed Allah Hu Akbar'. Trump was shocked to hear this. This video is being spread on social media and this post received more than 200 reactions until the facts were checked.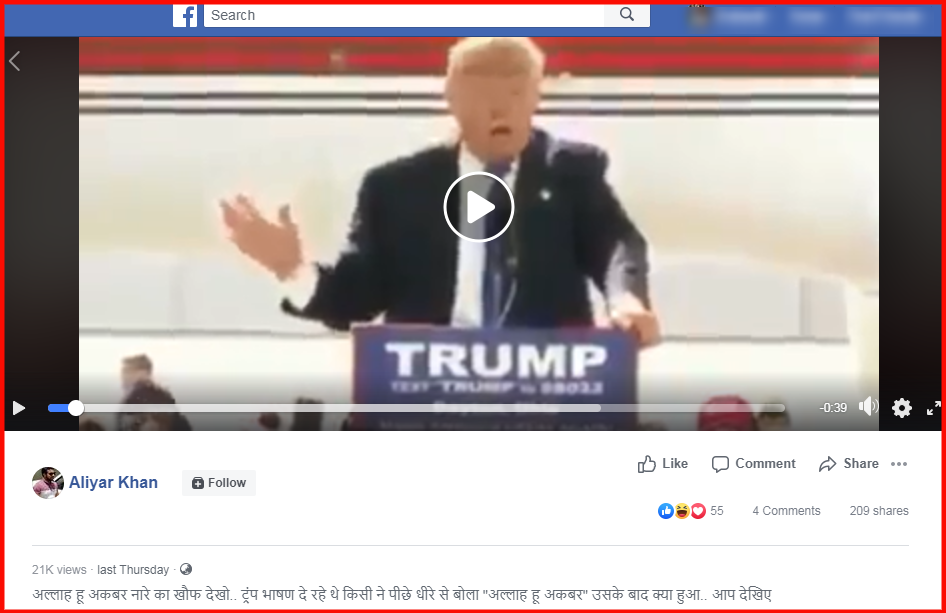 We started the investigation by using a screenshot of this video by doing google reverse image. As a result, we received a video published by CNN published on 12th March 2016. The title of the video says "Trump on stage with a swarm of security personnel". The narration of 'Allah hu Akbar' can not be heard in the video. Which means that audio has been added to the original video.
According to NBC News, this incident took place in Dayton, Ohio, USA in May 2016, when an activist tried to breach the security buffer of Trump, due to which the security security service agents make a wall around him for his safety. It has been written in the news that "a spokesperson for this campaign said that a person started an incident in Dayton , Ohio. When he tried to breach Trump's security but Trump's security personnel were smart enough and immediately caught the person. Dayton Airport police Department's Chief Mike told NBC News that the person was identified as 32-year-old Thomas Dimassimo and charges of disorderly conduct and indecency have been imposed on him. He tried to breach the security and climb to the platform by jumping on the bike rack, but the secret service agent stopped him there.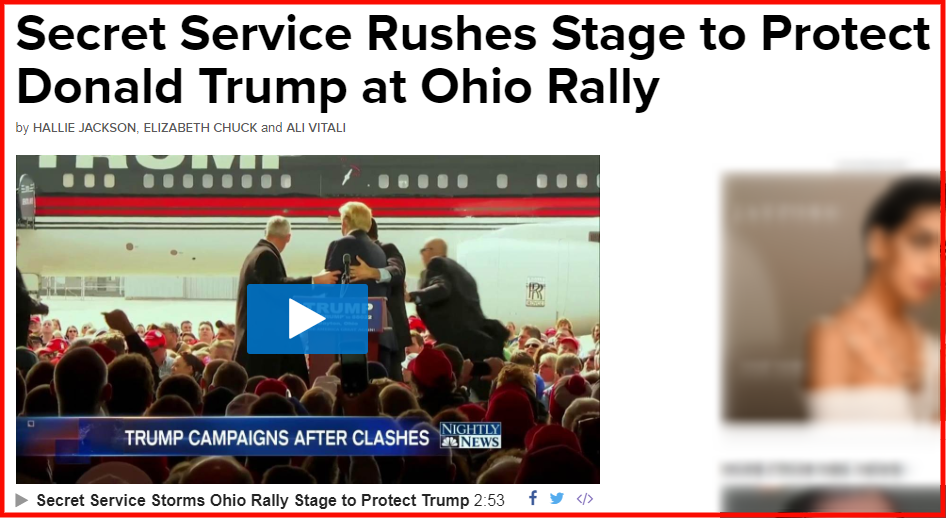 Daily News and ABC News have published news relate to this incident. However, there is no mention of the 'Allah Hu Akbar' slogan as claimed in the viral post 

We found other videos also related to this incident. They have been shoot from a difernet angle and they clearly show breach of security.  
You may have a look at the translated video and the original video down below
Conclusion: After checking the facts, we found the above post to be incorrect. This is a 2 year old video of security breach in the US president Donald Trump's Rally in Ohio, which is being shared on social media by giving a communal angle. In this video the slogan of 'Allah Hu Akbar' while tampering with this video. 

Title:Did Donal Trump panic after hearing 'Allah Hu Akbar'?
Fact Check By: Ruchika M
Result: False