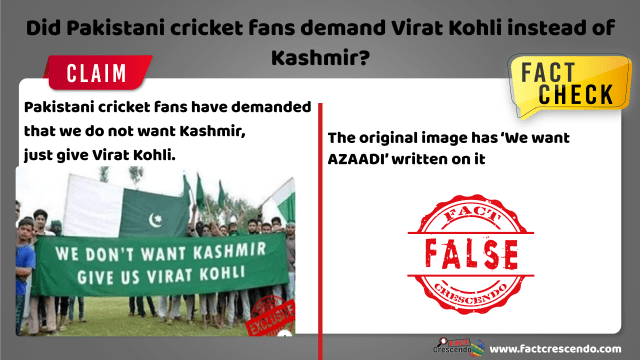 A Facebook page named 'Sakshi' shared a post on 18 June 2019. Some demonstrators appear in the photo with Pakistan's flags and a green banner in their hands, which says – WE DON'T WANT KASHMIR, GIVE US VIRAT KOHLI. The post quotes, "Kashmir or Kohli for Pakistan?" As we are aware that currently the ICC Cricket World Cup is going on in London and India defeated Pakistan in the match on Sunday 16th June 2019. Therefore, this post claims that after this defeat, Pakistani cricket fans have demanded that they do not want Kashmir, just give Virat Kohli. Let us see what the facts are!  
NARRATIVE ON SOCIAL MEDIA
FACT CHECK:
We first did a reverse image of the shared photo in the post. What we got in the search is below: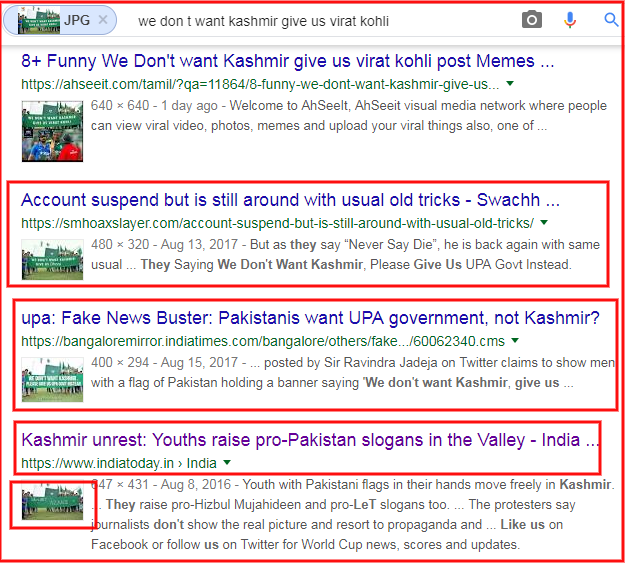 In this search result, we got a news by INDIA TODAY, which had the similar photograph to the shared picture in the above post. However, in the hands of people the banner quotes 'WE WANT AZAADI'. This means that the original banner picture, there is freedom written on it. In this news broadcast dated 8 August 2016, it is stated that the local people are keen on administration in the Kimoha village of Kulgam district of south Kashmir and Pakistan, Lashkar-e-Taiba, Hizbul Commander Burhan Wani are openly supporting them. He has defeated the map of Jammu and Kashmir everywhere. After the death of Burhan Wani in a shootout on 8 July 2016, this kind of demonstration is being performed almost every day.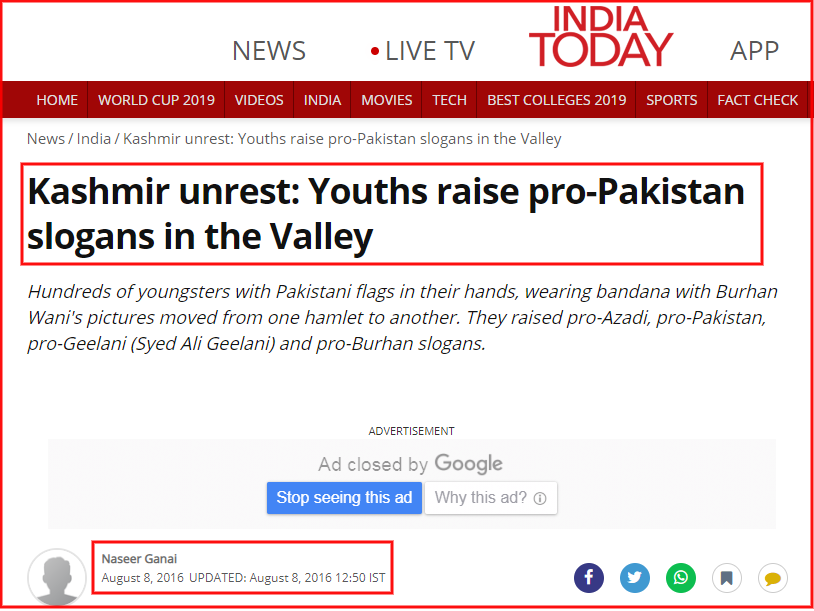 From this search, we also get to know that this picture has been viral with other demands before too. We received a fact check dated 15 August 2017 by 'Bangalore Mirror'. The picture that has been debunked has WE DON'T WANT KASHMIR, PLEASE GIVE US UPA GOVT INSTEAD written on it.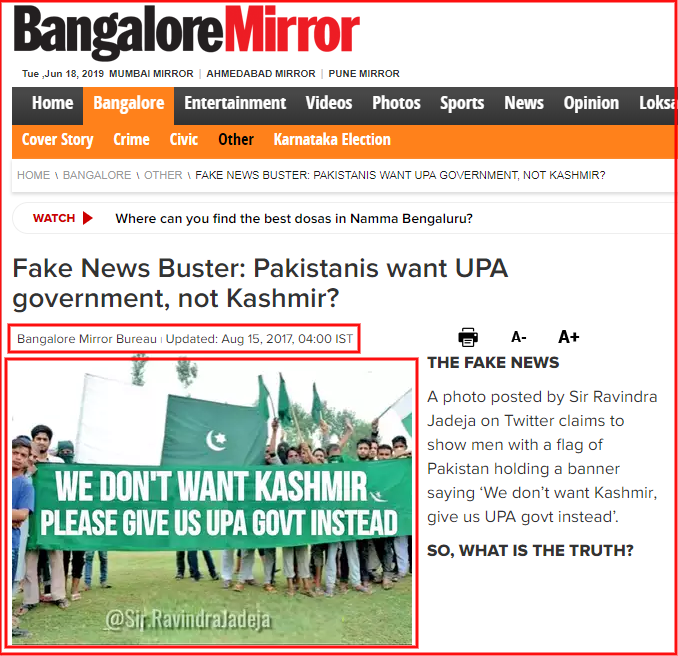 BangaloreMirrorPost | ArchivedLink
Apart from this, we also got an article by 'smhoaxslayer.com', in which a Twitter account has been mentioned that this account was banned when photo-shopped images were viral. But he has become active again. In this article, the original photo has been used for comparison, with the banner 'WE WANT AZADI' written on the banner.
SMHoaxSlayerPost | ArchivedLink

you can see the comparison of both photos.
IN CONCLUSION:
Fact Crescendo has fact checked and confirms that the photograph is being share in the post with a wrong narrative. We categorise the story as FALSE.
FactCrescendo advises its readers to refrain from sharing such misleading and communally biased photographs and do a self-check on the true narrative of such incidents before believing them.

Title:Did Pakistani cricket fans demand Virat Kohli instead of Kashmir? Fact Check!
Fact Check By: Nita Rao
Result: False