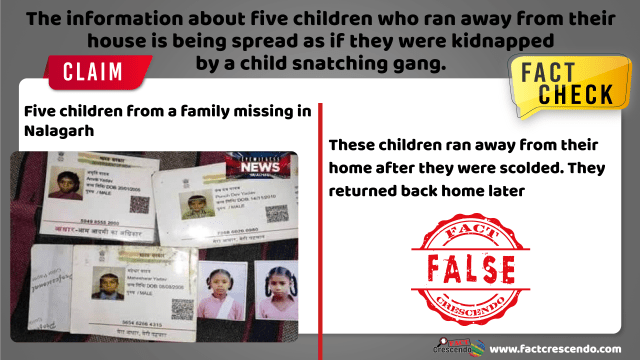 On 13th August 2019 a Facebook user named 'Himachal Diya Ronka' shared a post on Facebook. In the post, pictures of five minor children were shown with their Aadhar cards and it was claimed that "in Nalagarh five children of a family are missing. It is suspected that they have been kidnapped by a gang involved in child snatching".
Is it true? Let us find the truth
We searched for the claim made in the post with the key words '5 Missing Kids in Solan' on Google and found a news article published by three news websites. According to the news, a family went to the Shiva temple in Nalagarh village in Solan district, and five children of this family have been missing since then.They suspected that a child snatching gang was responsible for their disappearance.It has been said in the news that a complaint has been filed in the police station and inspector Rajkumar of Nalagarh has said that the police is investigating the matter. Click on the link below to read the news aired.
When we contacted inspector Rajkumar of the Nalagarh police station for information about this, he said "it was just a rumor that these children may have been kidnapped by gang of child thieves. The children were scolded by their elders and they fled to a nearby temple. No written report was filed regarding this. The parents of the children came to the police station and made a verbal complaint that the children were missing and they need help. But their children were found after three days."
When we contacted the SP of Solan district Madhusudhan Sharma, he advised us to contact SP of Baddi. Nalagarh district which is located in Baddi town. After contacting Mr. NK Sharma, Additional SP of that area, he told us that "this is sheer lie. No child theft incident has taken place in our district recently. There are rumors going on about abduction. Sometimes people are doubtful and they beat innocent people in suspicion of child theft or bring them to the police station. Such an incident happened on 9th August, when children ran away from home after they were scolded by their elders. They slept in the temple after eating the langar (food). The next day these children went back to their home and stole some money and ran away from their home. On the third day, these children were found in the temple."
From our research, it is confirmed that these five children ran away from their house after being scolded by their elders and stayed in the temple for three days. After three days, they were found in the temple and they returned back to their home. Fear and confusion is being created by the people who are describing this incident as kidnapping by a child snatching gang.
Result of investigation: This research makes it clear that the claim made in the above post that "five children from a family are missing in Nalagarh and a child snatching gang is involved in their disappearance " is completely wrong. 

Title:The information about five children who ran away from their house is being spread as if they were kidnapped by a child snatching gang.
Fact Check By: Ruchika M
Result: False