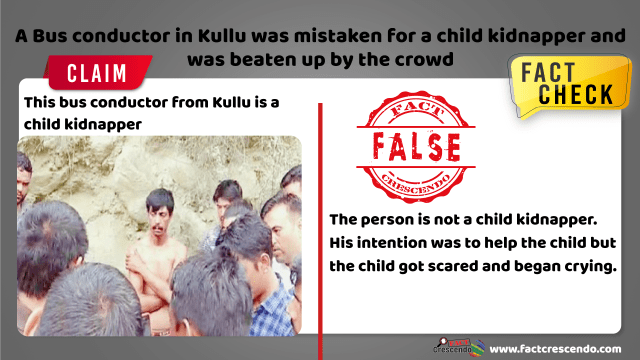 On 1st September 2019, a Facebook page called "Aah Chakk" posted a picture on Facebook. The picture was captioned "conductor who was suspected of being a child kidnapper was beaten up in Kullu #hp #child thief gang rumour. Kullu: people are horrified at the rumours of the presence of a gang of child kidnappers.There is an atmosphere of panic,which caused people to beat up a conductor who was suspected of child kidnapping.
In this case, the SP said that action will be taken against the rumour mongers and the accused.
This picture is being shared widely on social media forums and it is being claimed that the person shown in this picture is a bus conductor in Kullu. He was beaten up by the people for trying to kidnap a girl in Kullu. Our fact checking team tried to find the truth.
We started our investigation by using these keywords "bus conductor kidnapper Kullu". As a result we found a news story published by Punjab Kesari on 1st September 2019. This news has been captioned as "Bus conductor beaten up after he was mistaken for being a child kidnapper " 7 people have been arrested in this connection." It was written that in Ram Shila, adjacent to the Akhada market in district headquarters Kullu, people suspected that the conductor was a child kidnapper and beat up him. Had the police team not reached the location on time, it would have been tragic. The Police have arrested 7 people in this matter and registered a case against them.
When we contacted the DSP Ashish Sharma of Kullu, he told us that this incident happened on Sunday morning. At the Gammon Bridge, people suspected an unknown man of being a child kidnapper and beat him up. During the interrogation, we came to know that the person is from Bilaspur and his name is Rakesh Kumar. He went to the water tank to drink water and met a child. He greeted the child with a smile and inquired about the water tank. The child got scared and started crying. People doubted his intentions and mistook him for a child kidnapper.
When the child was asked why he was crying, he said that his parents had alerted him that nowadays many child kidnappers are roaming around. The people present there searched that man's belongings and found a bottle of perfume. They presumed that the perfume was some sort of a chemical which he used to render his victims unconscious. This incident is presented wrongly. The person shown in the picture is not a child kidnapper.
After investigating the facts, we can say that the above post is wrong. The person shown in the picture is not a child kidnapper. His intention was to help the child but the child got scared and started crying.
Other facts checks about child kidnapping
The video of this mentally challenged person is being widely spread on social media in the name of a child thief.

Title:A Bus conductor in Kullu was mistaken for a child kidnapper and was beaten up by the crowd
Fact Check By: Ruchika M
Result: False