The image not of Delhi's Jama Masjid. The old image is from UP's Bulandshahar.
A fierce thunderstorm, hail, and strong winds left dozens of trees uprooted and a part of the Jama Masjid damaged in Delhi-NCR after a humid afternoon. Syed Ahmed Bukhari, the Shahi Imam of the Jama Masjid, said that two pieces of the finial had fallen, while another piece was still on the roof.

Amidst this, an image of a broken dome is widely circulating on social media with the claim that it is the damaged dome of Delhi's Jama Masjid by the storm.
The caption of the post states, "The 300 kg dome of Jama Masjid getting damaged in the storm yesterday is no coincidence! This is what Lord Shiva wanted."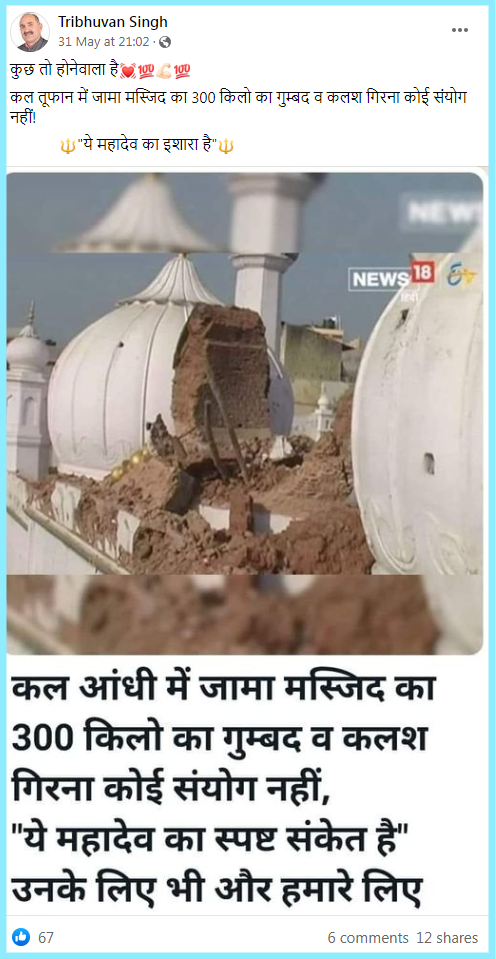 The image is widely circulating on Facebook.
Fact Check-
A reverse image search on Google led us to a news report by One India Hindi on 21 October 2017. It states that the image shows a damaged Jama Masjid in Bulandshahr in Uttar Pradesh. All the injured people were taken out from the rubble and admitted to the hospital. A 10-year-old child had died in this accident.
The minaret and dome of the famous Jama Masjid in Bulandshahr suddenly collapsed. According to the local residents, the water from the drains had engulfed the wall of the mosque, weakening the wall. During the afternoon prayer, the wall and dome of the mosque collapsed. News18 Hindi and Patrika had published the same news in 2017 with the viral image.
We also found a video of the incident in 2017 on YouTube. The caption stated that the video shows the damaged Jama Masjid in Bulandshahr in Uttar Pradesh.
Conclusion-
Fact Crescendo found the claim made along with the viral image to be Partly False. The image shows a dome of Jama Masjid in Bulandshahr in Uttar Pradesh that collapsed in 2017. The image is not related to the Delhi Jama Masjid's dome that was damaged in the recent thunderstorm.

Title:This is not Delhi's Jama Masjid Damaged in a Recent Storm
Fact Check By: Drabanti Ghosh
Result: Partly False