The video has nothing to do with Amir Khan's upcoming film 'Laal Singh Chaddha'. Kareena's old statement is being shared out of context on social media.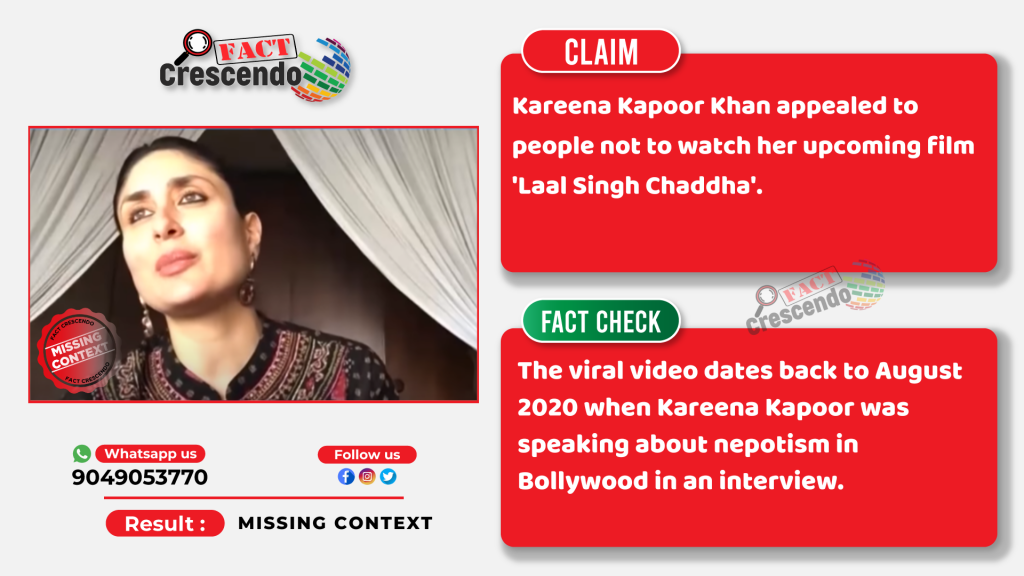 Aamir Khan's upcoming movie Lal Singh Chadda generated a lot of buzz on social media as its trailer was released on May 29th. This movie is an adaptation of iconic Hollywood movie Forrest Gump starring Tom Hanks, who won the academy award for best actor for his performance in the film.
Amidst the viral trends, a video of an appeal allegedly made by Kareena Kapoor Khan is widely circulating on social media with the claim that Kareena Kapoor Khan appeals to the masses to boycott watching Lal Singh Chaddha. Kareena is the female lead of the movie.
In the video, Kareena Kapoor says, "The audience has made us; no one else has made us. The same people pointing fingers are the ones who have made these nepotistic stars, right? Are not you going to the hall to watch the film, right? Do not go then! Nobody has forced you! I find this whole discussion is completely weird."
The caption of the post mentions, "Kareena Kapoor's appeal to the people for Lal Singh Chaddha #BoycottLalSinghChaddha" and "One of the most touching appeal of Kareena Khan for #LalSinghChaddha"
Facebook Post | Archive Link | Facebook Post
Fact Check-
A keyword search on Google led us to a report by India Times on 10 August 2020, which shows Kareena Kapoor speaking on Nepotism. We can see several tweets where Kareena is seen having a discussion with journalist Barkha Dutt.
We found this interview available on YouTube on MOJO story's channel with the caption "Kareena Kapoor has been called the Ultimate Insider. This is what she says on the Nepotism Debate." The video was posted on 13 August 2020.
The description states: "I don't have as good a story as someone who came to the city with ten rupees in their pocket. But I have also worked for 21 years. I also have a story"- Kareena Kapoor talks to Barkha Dutt on the Outsider-Insider debate, arguing that ultimately "It is the audience that makes or breaks us.
The interview was given to Barkha Dutt for her show "We the Women"
We can hear Barkha Dutt say that Kareena Kapoor has had an easier start than others have but if the audience does not like her then there is nothing she can do. We can hear Kareena's reply on this, which is going viral.
Conclusion-
Fact Crescendo found the video to be shared out of context. The viral video is not related to Amir Khan's upcoming movie Lal Singh Chaddha. The video shows a talk show in 2020 where Kareena Kapoor was speaking about allegations of Nepotism in Bollywood.
Title:Kareena Kapoor did not appeal to people to boycott Lal Singh Chaddha
Fact Check By: Drabanti Ghosh
Result: Missing Context