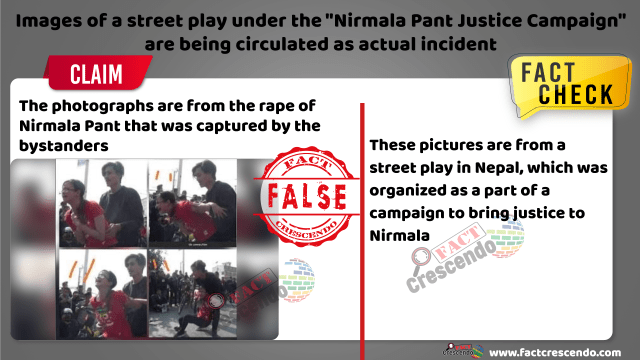 After the heinous crime in Nepal in 2018 in which a 13-year-old girl was raped and murdered, many voices were being raised in Nepal to demand justice for this girl and strict punishment for the criminals involved in this incident.The incident took place in Kanchanpur area of ​​Nepal, where a 13-year-old girl was forcibly taken to the sugarcane fields near her house and raped.
In protest against this incident, several voluntary organizations and general public in Nepal have been demonstrating in demand for justice and at the same time many news articles and claims about this incident are being seen on social forums. Some of the claims are not only misleading but they are also completely false, a similar claim related to this incident remains a topic of discussion on social forums, in which we can see some pictures showing a boy dragging a girl. We can also see bystanders recording this act on their mobile phones.
This video of the play is being spread with the claim that it is from the real incident that took place on July 26th, 2018 where a girl is being tortured in a public place and the general public is only making videos. The post also raises a question mark on the insensitivity of the Nepal Police, who are present on the spot, and are see just capturing this act in their mobile like ordinary people.
However, this is not true. The viral video is part of a street play held in Katmandu under the "Nirmala Pant Justice Campaign".  You can read the detailed research of the claims going on in this video and social forum below.
Fact Check
We started the investigation by running a Yandex Reverse image search of these pictures, as a result of which we found a video on YouTube in which the girl seen in the video was seen.
The title of this video states that-
"Heartbreaking Street Drama of Nirmala Pant's Rape and Murder Case." From the title of this video, we came to know that the viral pictures are from a street play.
Further, we tried to find more information through keyword search and found this video on the official YouTube channel of a media organization called DCnepal. The title of this video states that
Protests over Nirmala Pant rape and murder case, Street Drama on Nirmala Pant Case". The duration of the video is 2 minutes and 41 seconds.
A 4-minute long version of this street play was shared on 10th December 2018 by a Facebook page called 'Classic Nepal'. The title of this post reads, "Street play on Nirmala Pant's rape and murder."
To confirm this video, Fact Crescendo contacted Kamal Saud, a correspondent with the Nepal-based DC Nepal Media Organization, who told us that,
The video aired on YouTube was a street play in Nayabaneshwar, Kathmandu on 8th December 2018 by an organization called "Nirmalapant Nyaya Abhiyan" to bring justice to Nirmala Pant. Through its in-street place, this organization was staging such plays with the objective of pressuring the government and giving severe punishment to the criminals involved in the case. I was present during this street play and I covered this performance for DC Nepal. The scenes shown in the viral picture are taken from this play and are different from the actual event. There is no veracity of claims made on social platforms. Nepal police was also present in this protest, which is being mentioned in the present claims, the presence of police was there to maintain law and order."
After this, we contacted a senior social worker based in Nepal, Pukaar Baam who advised us to contact Bhavna Raut, the Lead Campaigner of Nirmala Pant's Justice Movement and helped us connect with her.
Fact Crescendo contacted Bhavana Raut, Lead Campaigner of this mass movement, who told us that
"These pictures are of the street play written by me. This is not a real incident. I was present on the spot during this play."
Bhavana sent us many other pictures taken from this street play which you can see below.
Conclusion: We found above claim wrong after checking the facts. The viral images are not of rape and murder of Nirmala Pant, but these pictures are of a street play.

Title:Images of a street play under the "Nirmala Pant Justice Campaign" are being circulated as actual incident
Fact Check By: Aavya Ray
Result: False