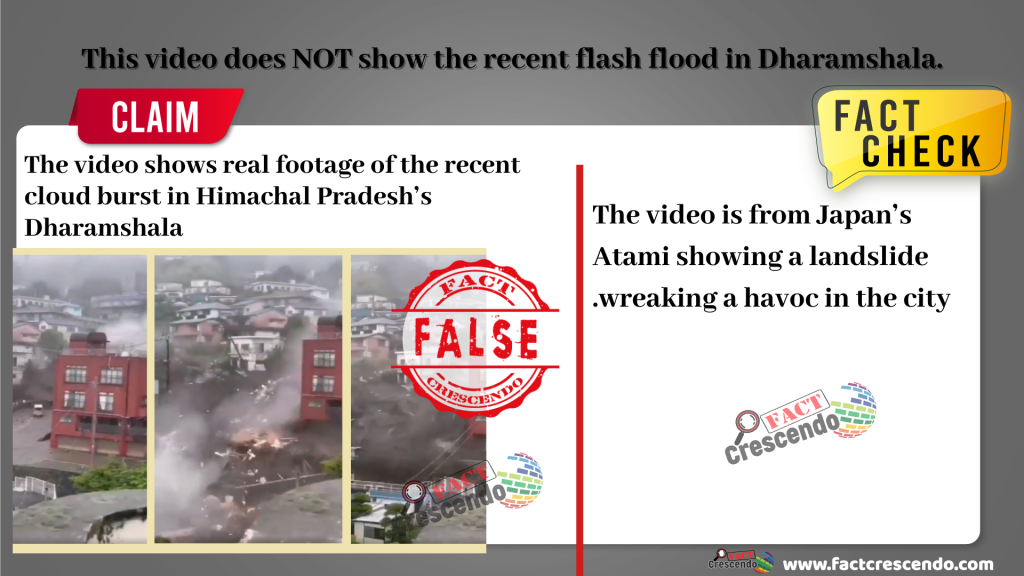 A cloudburst occurred in the Kangra district of Himachal Pradesh on 12 July 2021. It has caused severe damage to the public properties in Bhagsu village. IMD has issued an orange weather alert of heavy to very heavy rainfall on Monday and Tuesday, and yellow alert on July 14 and 15 in Himachal Pradesh.
Amidst this a video showing a landslide is being shared as real footage of the recent cloudburst that occurred in Dharamshala, Himachal Pradesh.
Fact Crescendo received this video for verification with the claim that this shows the recent flash floods in Dharamshala on our WhatsApp Fact Line number– 9049053770
The caption of the post mentions that "Cloudburst in Himachal Pradesh's Dharamshala #Shimla #Cloudburst #Dharamshala #HimachalPradesh.
Fact Check-
We started our investigation by using the InVid We Verify tool to break the video into small keyframes and ran a Google Reverse image search on the frames. The results led us to the same video published by the official handle of Twitter on 4th July 2021. The caption of tweet mentions that "Twenty people are missing following huge landslide in Atami, Japan."
Atami is a seaside city on Japan's Izu Peninsula, in the Shizuoka Prefecture southwest of Tokyo.
Taking a cue from this, we ran a keyword search on Google to find relevant news reports which led us to a news report published by the "The Weather Network" on their official Twitter handle which carried the same video with the caption "Rescuers in Japan continue to search for 80 people believed to be missing two days after landslides tore through the seaside city of Atami, destroying houses and burying roads under mud and rock." You can read the news report here.
Visuals from the same incident have been used in a news bulletin by Al Jazeera and CBS Evening News to report about the disaster.
Conclusion– Fact Crescendo found the claim made along with the viral video to be False. The viral video does not show the footage of the recent cloudburst in Dharamshala. The video is from Atami city of Japan.
Title:This video does NOT show the recent flash flood in Dharamshala.
Fact Check By: Aavya Ray
Result: False