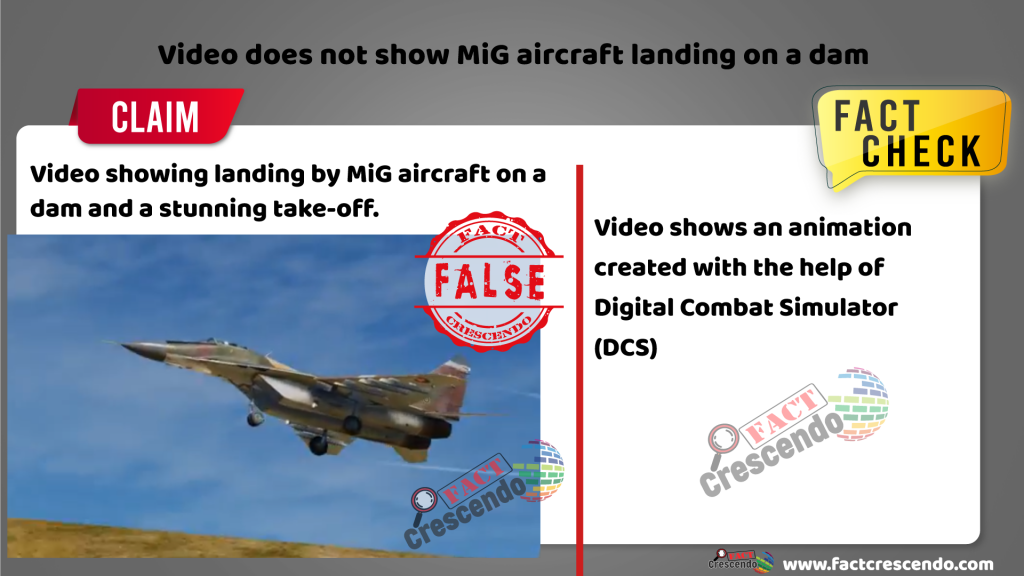 A video clip showing an aircraft soaring over treetops and descending on a path on top of a dam, coming to a halt, before turning and taking off again, is being widely circulated on social media platforms claiming to show a MiG aircraft landing on a dam. The video is claimed to be an original footage of a MiG landing on a dam.
Fact Crescendo received this video for verification on our WhatsApp Fact line number– 9049053770
The caption of the video mentions that "Beautiful landing by a #MIG aircraft on a dam and even more stunning take off."
Facebook Post | Archive Link

This video is being widely circulated on Facebook.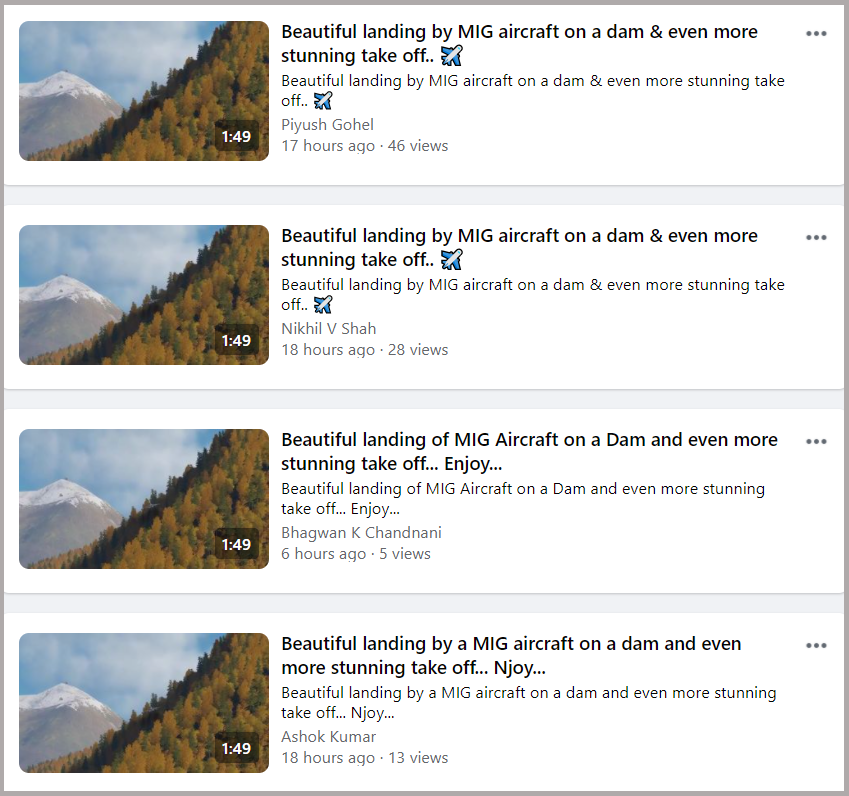 The video has been viewed over 95,000 times and was also retweeted by the verified Twitter handle of the chairperson of RPG Group, Harsh Goenka.
Fact Crescendo found that the viral video clip was actually from a flight-simulation video game called Digital Combat Simulator World and was uploaded on YouTube by a player. The video was digitally created using Computer Generated Imagery (CGI).
Fact Check-
We started our investigation by carefully observing the video which led us to few discrepancies like the parachute automatically disappearing or asymmetry in lighting and shadows. These points make us doubt the authenticity of the video.
Next, we ran a keyword search on social media platforms which led us to a reply by India Today's Executive Editor, Shiv Aroor which mentioned that this video is not real and it belongs from a popular combat stimulator.
We found another user commenting below a video which stated that "This is DCS digital combat simulator game. cpt VLK a U-tuber posted it on Oct 2020."
We found that this video was uploaded on YouTube with the caption "MiG 29 landing on the dam" on October 17, 2020
With a further keyword search we found that the video was posted on YouTube on 24 November 2018 by a channel named "Lazzy Seal". The caption of the video mentioned "DCS MiG-21 Inguri Dam landing challenge".
We also found a video uploaded on 17 October, 2020 by YouTube user 'cptVLK' titled 'MiG 29 landing on the dam 😉 DCS'. In the comments section under the video, the uploader had interacted with other users and confirmed that the video was from Digital Combat Simulator World, popularly known as DCS World, a PC game and shared a download link for the same.
What is DCS (Digital Combat Simulator)?
It (DCS) is a free-to-play combat flight simulation game developed by Eagle Dynamics and The Fighter Collection. A gamer can create animated videos of aircraft manoeuvring with the help of this simulation game.
Conclusion- Fact Crescendo found the viral claim made along with the video is False. This is an animation created with the help of Digital Combat Simulator (DCS), a free-to-play combat flight simulation game.
Title:Video does not show MiG aircraft landing on a dam
Fact Check By: Aavya Ray
Result: False