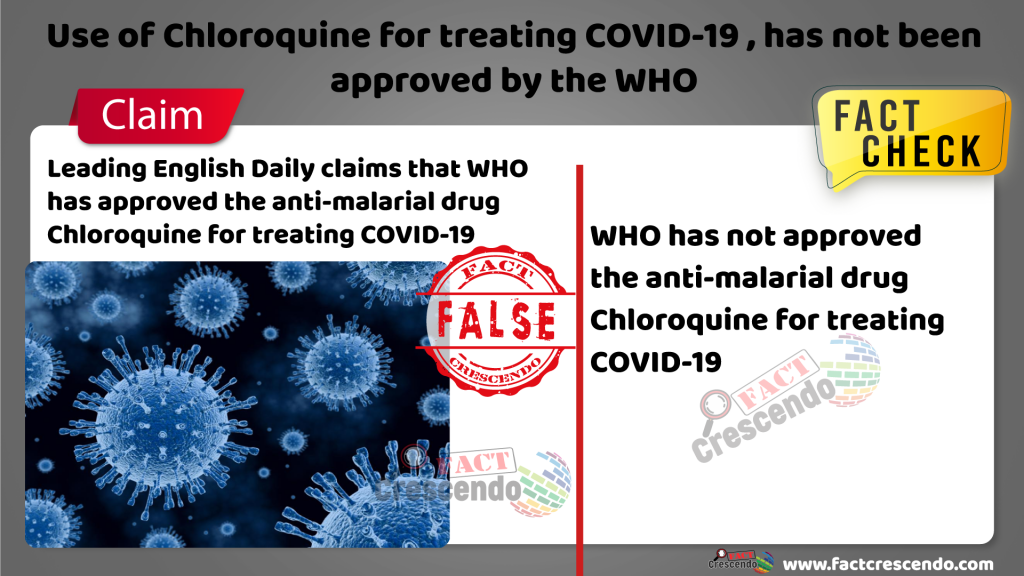 The World Health Organization declared Coronavirus a pandemic and health emergency on 11th March 2020. The virus has taken about 6606 lives globally until now. On 17th March 2020 we received a scanned copy of the printed edition of a leading english daily, Economic Times which claimed that "WHO has approved anti-malarial drug Chloroquine for the treatment of COVID-19."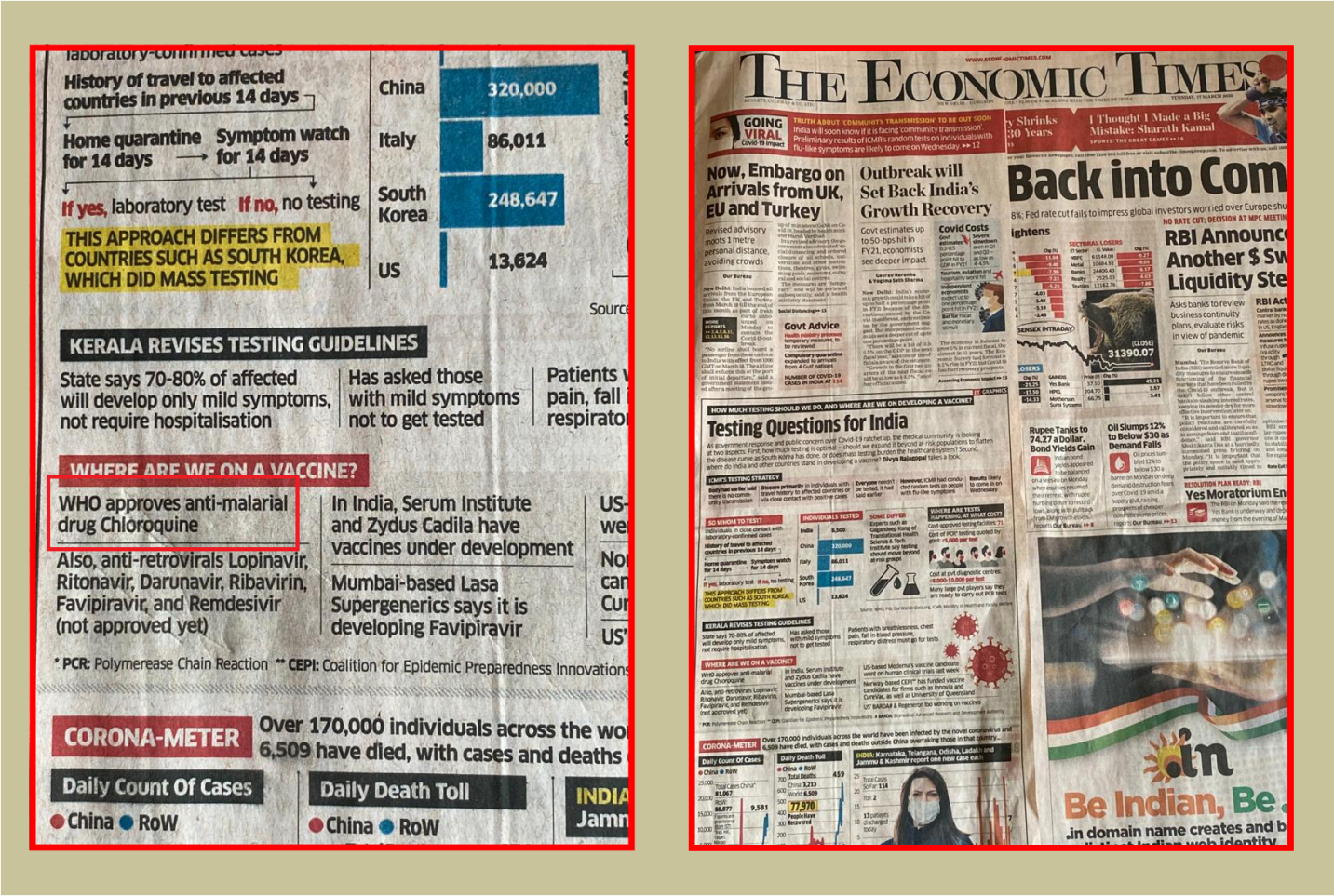 Fact Check-
Fact Crescendo has Fact Checked a similar claim on social media regarding Chloroquine being a cure for COVID-19 infection on 12th March 2020 and found the viral posts to be False. You can read our Fact Check here.
We searched on the WHO's website and we came across a press conference on 20th February 2020, where Janet Diaz, head of clinical care at the WHO Emergencies Programme, said, "For Chloroquine, there is no proof that that is an effective treatment at this time." 
He mentioned, "At this moment in time there is no proven effective treatment for COVID-19 so that is clear. However, there are ongoing clinical trials being done in China as well. The two that we have already discussed are testing the priority therapeutics that were prioritised by the WHO R&D blueprints and that includes lopinavir and ritonavir as well as remdesivir. For chloroquine, there is no proof that it is an effective treatment at this time. We recommend that therapeutics be tested under ethically approved clinical trials to show efficacy and safety."
The actual transcript can be read below:
We came across a list of possible therapeutics by WHO published on 17th February 2020, which suggested that Chloroquine is being used a trial medicine to treat COVID-19 but there is no confirmation that this medicine can be used as a treatment for COVID-19. Neither did the list mention that WHO has approved Chloroquine as a treatment for COVID-19.

Fact Crescendo contacted WHO's official in SEARO who confirmed to us that WHO has not approved or recommended Chloroquine as a medicine that can be used to treat COVID-19.
Fact Crescendo also got in touch with WHO's representative in Sri Lanka via email, when questioned about WHO approving Chloroquine as a treatment drug for COVID-19, they replied that "to date, there is no vaccine and no specific antiviral medicine to prevent or treat COVID-2019. However, those affected should receive care to relieve symptoms. Currently, the most effective ways to protect yourself and others against COVID-19 are to frequently clean your hands, cover your cough with the bend of elbow or tissue, and maintain a distance of at least 1 meter (3 feet) from people who are coughing or sneezing."
We also searched for medicines and remedies for Coronavirus on WHO's website. We found that WHO clearly states that as on date, there is no specific medicine recommended to prevent or treat the new coronavirus (2019-nCoV). However, those infected with the virus should receive appropriate care to relieve and treat symptoms, and those with severe illness should receive optimized supportive care. Some specific treatments are under investigation, and will be tested through clinical trials.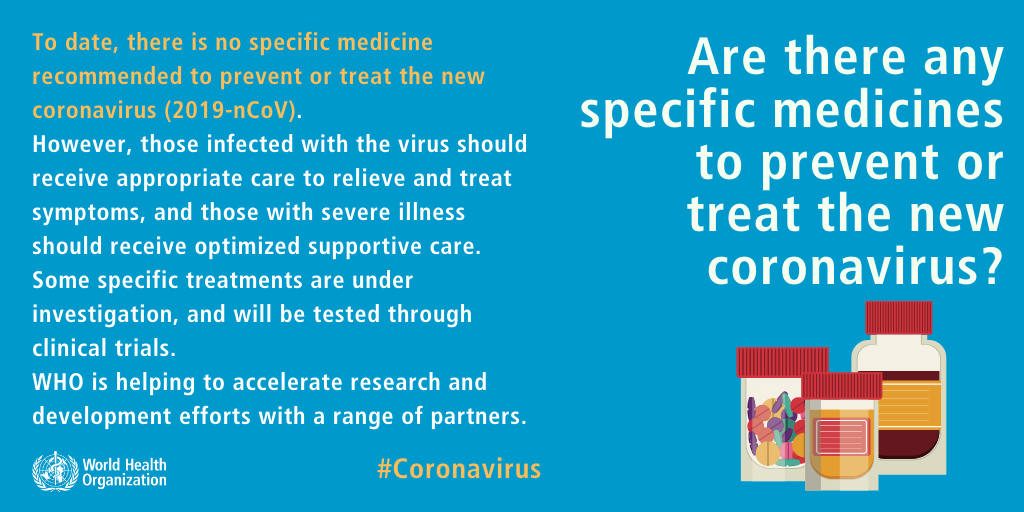 Conclusion- Fact Crescendo found the details mentioned in the news published by Economic Times to be False. WHO has not declared, approved or recommended anti-malarial drug Chloroquine as a treatment medicine for  COVID-19. 

Title:Use of Chloroquine for treating COVID-19 , has not been approved by the WHO
Fact Check By: Aavya Ray
Result: False