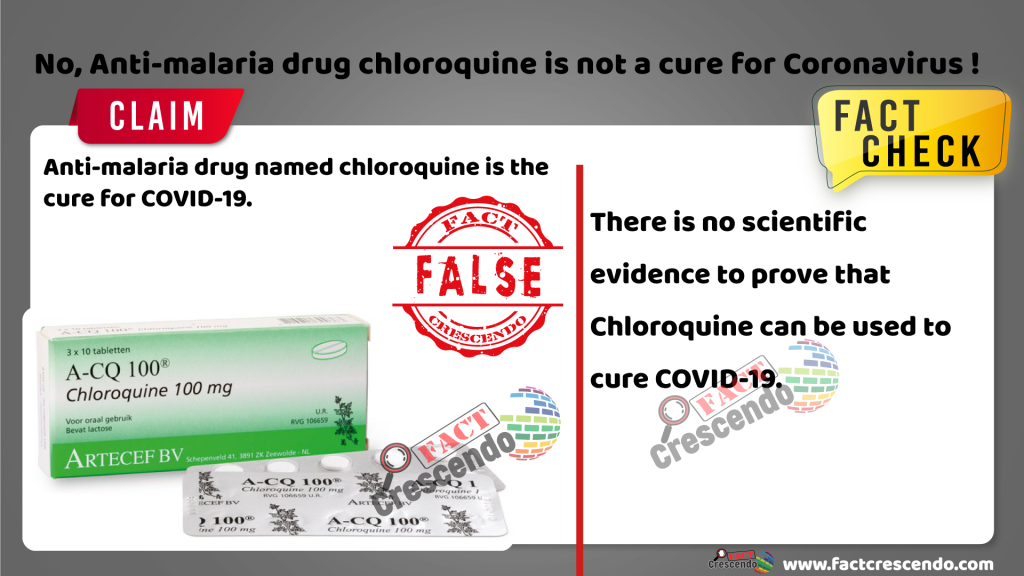 The World Health Organization declared Coronavirus a pandemic and health emergency on 11th March 2020. The virus has taken about 4292 lives globally until now. Amidst all the absurd social media posts claiming about different precautionary measure, remedies and cure for the virus.A viral message is doing the rounds on social media. According to the post, an anti-malaria drug named chloroquine is the cure for COVID-19. Additionally the post also claims that this medicine has been in existence since a long time and is very effective in curing Coronavirus symptoms.
Fact Check- 
We started our investigation with using Google search about the medicine and its effects. Anti-malaria drug chloroquine is banned in Nigeria since 2005 after a WHO recommendation warned of high treatment failures and drug resistance in some parts of the world. However, we found that it is still being used in South Africa but is not recommended as primary treatment for malaria due to high resistance.

We searched further on WHO's website and we came across a press conference on 20th February 2020, where Janet Diaz, head of clinical care within the WHO Emergencies Programme, said, "for chloroquine, there is no proof that that is an effective treatment at this time." 

He says, "At this moment in time there is no proven effective treatment for COVID-19 so that is clear at this moment in time. However, there are ongoing clinical trials being done in China at this moment as well. The two that we have already discussed are testing the priority therapeutics that were prioritised by the WHO R&D blueprints and that includes lopinavir and ritonavir as well as remdesivir. For chloroquine, there is no proof that it is an effective treatment at this time. We recommend that therapeutics be tested under ethically approved clinical trials to show efficacy and safety."

We also searched for medicines and remedies for Coronavirus on WHO's website. We found that WHO clearly states that as on date, there is no specific medicine recommended to prevent or treat the new coronavirus (2019-nCoV). However, those infected with the virus should receive appropriate care to relieve and treat symptoms, and those with severe illness should receive optimized supportive care. Some specific treatments are under investigation, and will be tested through clinical trials.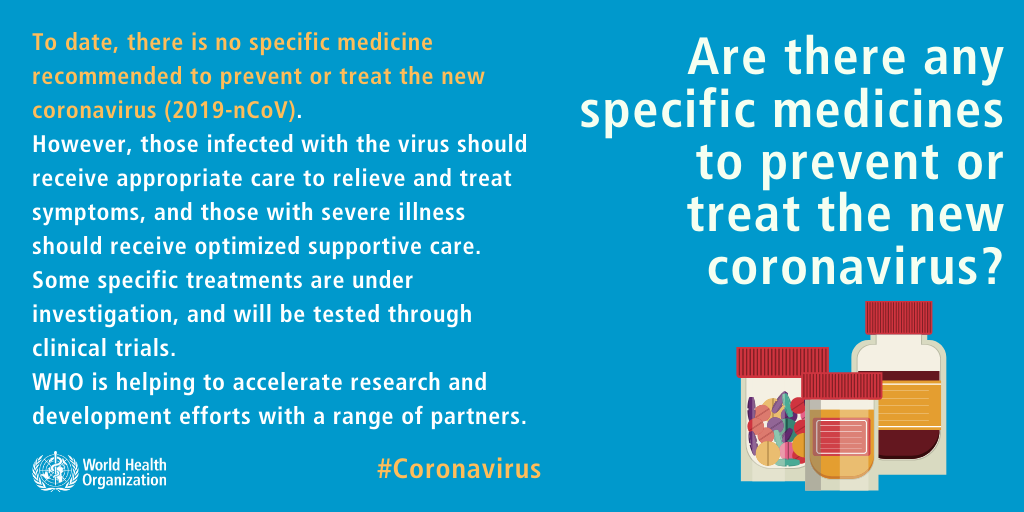 Conclusion- Fact Crescendo found the above post to be False. Anti- Malaria drug Chloroquine is not an authorized medicine to cure Coronavirus. There is no scientific evidence to prove that Chloroquine can be used to cure COVID-19. Also at present there is no cure for Coronavirus.

Title:No, Anti-malaria drug chloroquine is not a cure for Coronavirus !
Fact Check By: Aavya Ray
Result: False