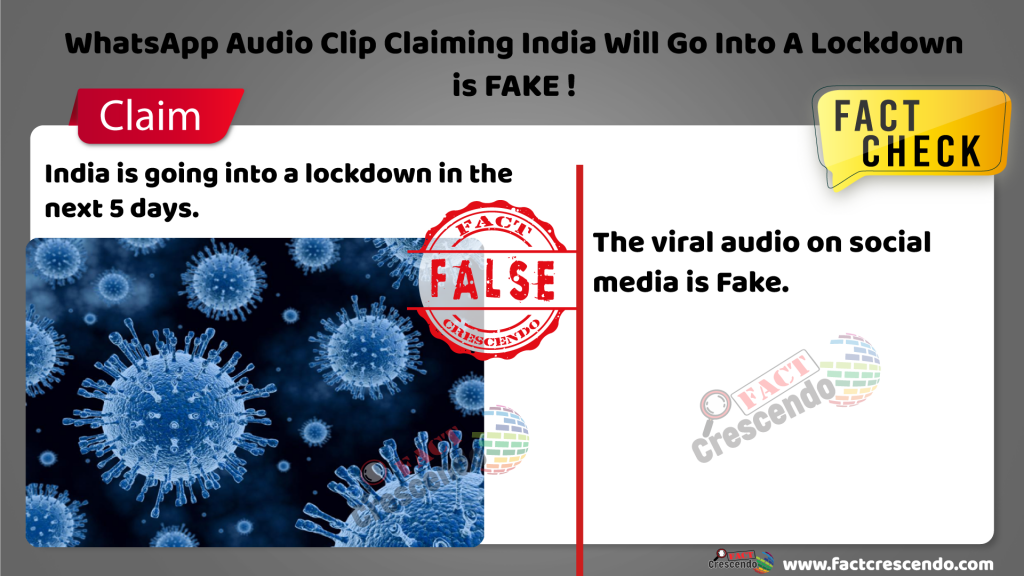 There has been a situation of panic among the citizens due to the outbreak of COVID-19 amidst which the social media is flooded with hoaxes related to the disease. Recently we came across a viral audio sent to Fact Crescendo on our WhatsApp Number 9049053770 for verification. The audio clip in question is a recording of a girl who claims that her father is a medical practitioner with the Indian armed forces, and that he told her that he had confirmed information that the country will go into a complete lockdown mode from next week.

Further the girl says, "All the army hospitals are now in direct contact with the Ministry of Health and now they have been ordered to create quarantine facilities everywhere." She also mentioned that her father is in-charge of one of the army hospitals which is being prepared for quarantine. She also mentions that her father informed her that the Ministry of Health has instructed that the country is going to go on a lockdown for at least a month in the next five days.
She appeals to the listeners to decide whether "they want to go to their houses soon" or stay back wherever they are , "as the situation will get worse." In the later part of the audio clip, she claims that the lockdown has been announced till April 15 and that the country will come to a standstill during this period. Later, she claims that the information is completely legitimate, as her 'father is in direct contact with the ministry.'

The caption with the audio mentioned "Some girl saying her army officer dad is in contact with the ministry of health who says, Country will go into lockdown within 5 days."
Fact Check-
We started our investigation by using relatable keyword search on Google which resulted in a tweet published by Additional Directorate General of Public Information- Indian army's official twitter account. The tweet mentioned that "Fake audios & messages are being circulated on social media platforms to create panic. Citizens should exercise due diligence & follow guidelines given by Ministry of Health."
We also came across a tweet by PIB Fact Check's official account. The tweet read "There is an audio clip being shared on WhatsApp that claims India will go into a lockdown. The assertions made in the audio clip is fake and pure scaremongering. Please do not forward it."
Conclusion- Fact Crescendo found the above-mentioned post to be False. The viral audio in circulation has no authenticity. India is not going into a lockdown in the next 5 days.

Title:WhatsApp Audio Clip Claiming India Will Go Into A Lockdown is FAKE !
Fact Check By: Aavya Ray
Result: False