Social media users are actively reporting number of Coronavirus patients in India. With the increasing number of Coronavirus patients, social media is filled with misreports of positive tested patients in India. Currently, as of 13th March 2020, 5 pm there are 81 confirmed positive coronavirus patients in India. We came across a viral post claiming that a worker from Prince hotel in Mehdipatnam (Hyderabad) has tested positive for Coronavirus. The post also advices readers to be careful and not eat outside in hotels and restaurants.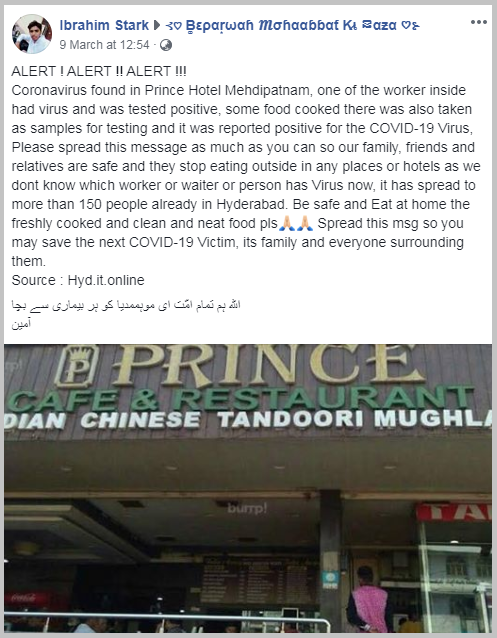 Fact Check–
We began our investigation by a related keywords search on Google, but we were unable to find any news reports or press releases mentioning anything about a confirmed Coronavirus patient in Hyderabad working at Prince hotel in Mehdipatnam. Next, we visited the "Ministry of Health and Family Welfare" website, which contains the number of confirmed cases of Coronavirus reported in every state. We found the Telangana state has only one confirmed patient.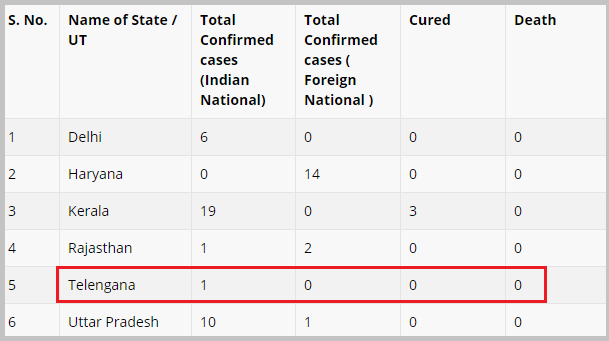 Archive Link

We also found news reports published on 2nd March 2020 by NDTV claiming that a man with travel history to Dubai was tested positive for Coronavirus in Telangana. The case was reported on 2nd March 2020 i.e. prior to  9th March 2020 when this Facebook post about the worker from Prince hotel was posted.

Archive Link 
Next, we searched for the confirmed patient in Telangana. We came across a tweet by ANI on 11th March 2020, which mentioned that the Health Minister of Telangana, Mr. Eatala Rajendra mentioned that as of 11th March 2020 there are no positive cases of Coronavirus in Telangana. One person with a travel history to Dubai who tested positive earlier has now tested negative. He also added that as per protocol they have done a second test, which also resulted negative. The patient is likely be discharged within the next 2 to 3 days.

This clarifies that the confirmed patient has also recovered.
Conclusion- Fact Crescendo found the above post to be False. The post stating that a worker of Prince hotel in Mehdipatnam, Hyderabad has tested positive for Coronavirus is fake.

Title:There are no positive COVID-19 patient working in Prince hotel at Hyderabad
Fact Check By: Aavya Ray
Result: False