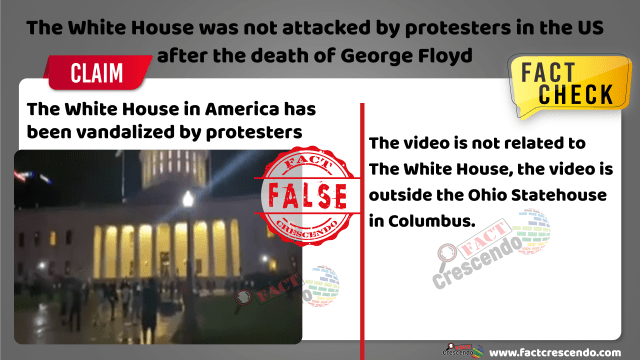 There are widespread protests throughout America following the death of George Floyd, an African-American man in police custody in the city of Minneapolis.
Images and videos of these protests are being widely shared on social media, along with misleading interpretations about these demonstrations. A similar video is being circulated on social media forums with the claim that protesters have attacked the White House in the US, firing at the East Gate, as well as sources suggesting that the US President Trump has fled to Kansas with his family. This video was sent to our Whats App helpline number 9049053770 for a fact check, the message reads that "The protesters set fire inside the White House after which President Trump fled to Kansas with his family."
We started the investigation by watching the viral video closely, as a result of which we came to know that this video is not of the White House. While it was reported that the US President Donald Trump was taken inside an underground bunker after protesters gathered outside The White House on the night of Friday 29th May. We did a comparative analysis of the building shown in the video and the building of the White House and came to the conclusion that this video is not related to the white house.
The result of Yandex reverse image search of the screenshot of this video revealed  that this building is the Ohio Statehouse located in Columbus, Ohio. After that we searched the keywords "Protests in Ohio Statehouse" on Google, as a result of which we found a news report related to the above claim.  According to a Newsweek report, "Several windows were smashed and the American flags were burnt at the Ohio Statehouse on Thursday, May 28th by a mob of people protesting the death of George Floyd." We received a news bulletin, which ran the video of the incident on NBC 4 Columbus, an Ohio-based news TV channel.
Conclusion: We have found the above post False after checking the facts. The video shows an incident that took place outside the Ohio Statehouse in Columbus and not the White House.

Title:The White House was not attacked by protesters in the US after the death of George Floyd
Fact Check By: Aavya Ray
Result: False