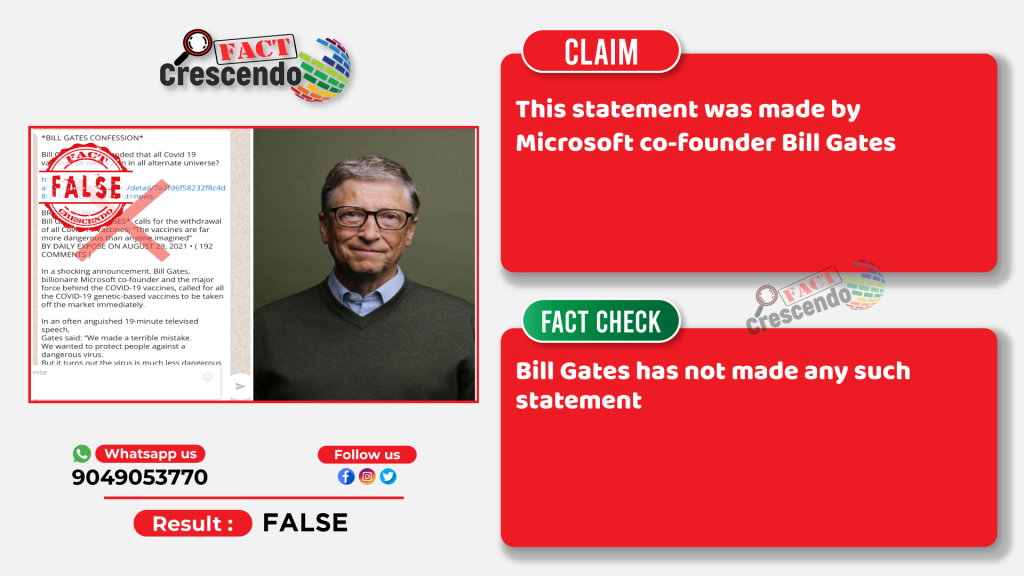 With the number of COVID-19 positives on the rise again, social media is also getting flooded with misinformation related to the infection as well as the vaccines.
One such message being forwarded on instant messaging apps claims that Bill Gates has confessed that the vaccines are harmful and has called for all Covid-19 vaccines to be taken off the market immediately. The almost 1400 word long message appears to have been copy-pasted from an article published on a website and claims that Gates talked about this in a 19-minute televised speech.
The message claims "BREAKING NEWS
Bill Gates *CONFESSES* calls for the withdrawal of all Covid-19 Vaccines; "The vaccines are far more dangerous than anyone imagined"
BY DAILY EXPOSE ON AUGUST 29, 2021
In a shocking announcement, Bill Gates, billionaire Microsoft co-founder and the major force behind the COVID-19 vaccines, called for all the COVID-19 genetic-based vaccines to be taken off the market immediately."
The message goes on to state that Gates made this statement in a 19 minute televised speech said that "the reporting system is a sham" and that these vaccines are killing people "left and right". It also states about an "urgent Citizen Petition filed by Robert F. Kennedy Jr.'s Children's Health Defense organization calling on the U.S. Food and Drug Administration to immediately withdraw all the COVID vaccines from the market."
The message also states about Gates' "relationship with Jeffrey Epstein" and that whistleblowers who have been pointing out about the "spike in protein" after vaccines were "absolutely correct." It also claims that "Shortly after his speech, the Bill & Melinda Gates Foundation announced that it is setting up a special $50 billion fund in tandem with the vaccine manufacturers to provide fair and just compensation for Covid vaccine victims and their families." It also claimed that "the fake vaccines were rolled out by President Donald Trump on an unsuspecting, badly informed public."
We received requests to verify the above message on our 24×7 WhatsApp Tipline number- Factline 904 905 3770. Archived Link
Fact Crescendo found that the message is False. Here's how:
Fact Check Methodology
At first we ran a Google Search with relevant keywords to check if Bill Gates has said anything like the text in the viral message. But, instead we saw that he has been encouraging people to take the vaccines. Here is one such recent news report published on December 22, 2021 on the site Moneycontrol with the Headline "Microsoft co-founder Bill Gates urges people to get vaccinated as Omicron could usher in 'worst part of pandemic."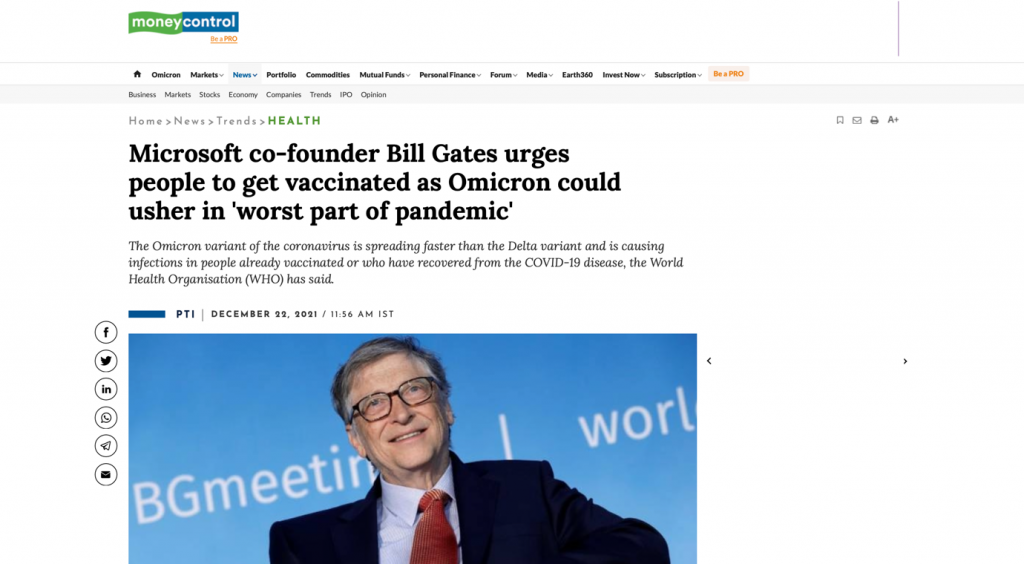 We also found this article published on December 14, 2021, on the CNBC website with the headline "Bill Gates: 'Conspiracy theories that unfortunately involve me' are keeping many Americans from the Covid vaccines." You can read it here.
We then checked for the website on which the claim seems to have been published and saw that The Exposé has been publishing a lot of misinformation related to Covid-19. Here is an analysis on their articles: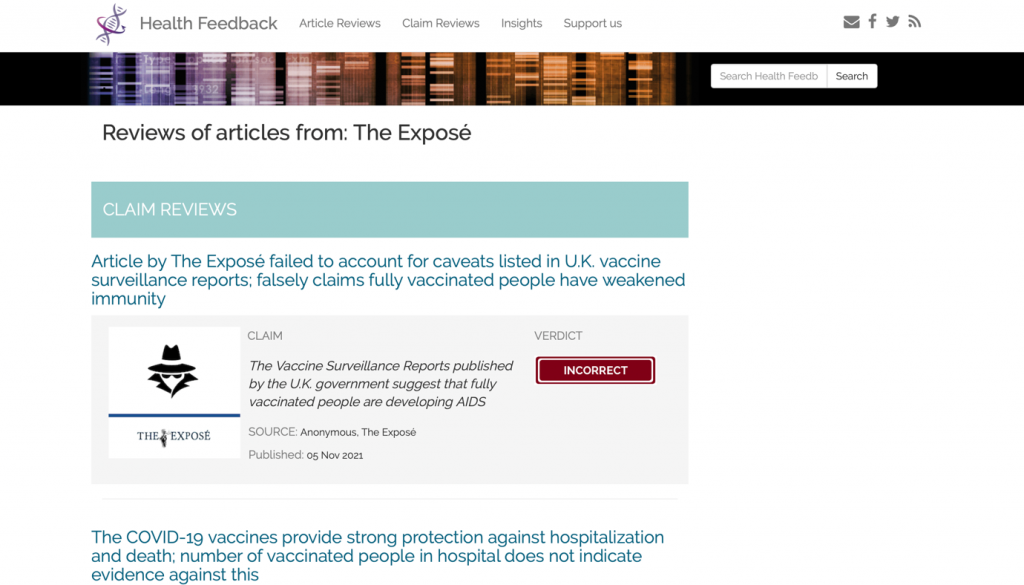 Fact Crescendo reached out to the media relations team of Bill and Melinda Gates Foundation who replied that the claim is False.
We had even earlier debunked claims about such statements attributed to Gates ever since the pandemic broke. You can read them here and here.
Conclusion
Bill Gates has not made any such statement and it is clearly an attempt by anti-vaxxers to spread misinformation and create confusion in the minds of social media users. We would like to request our readers not to forward such messages without verification. Readers can send in such messages to us at our WhatsApp Factline number 904 905 3770 and we will verify the information for you.
Title:No, Bill Gates did not "confess" that Covid-19 vaccines are harmful and should be withdrawn immediately
Fact Check By: Manjori Borkotoky
Result: False