Neurologist Dr. Sushil Razdan has clarified in an interview that the viral video is shared falsely in his name. He also insists people to maintain COVID-19 appropriate behaviour. Dry ginger powder will not prevent or cure COVID-19.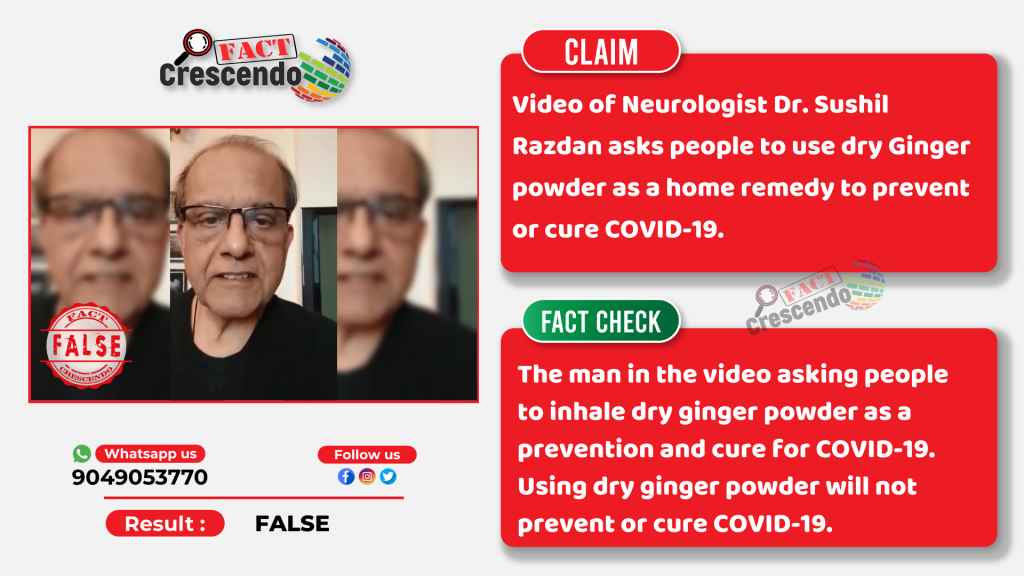 As Covid-19 cases in India rise rapidly and threat of a third wave of COVID-19 continue to loom over the country, a video is circulating on social media that claims Ginger powder can cure COVID-19. The man seen making the claim is alleged to be Dr. Sushil Razdan, a Neurologist from Kashmir. He suggests that one can cure the Covid-19 disease by inhaling dry ginger (saunth/सौंठ in Hindi) or ginger powder.
In the video, we can see the person is inhaling ginger powder to explain the process. He claims that this can help to prevent a person from contracting the omicron variant of Coronavirus.
He explains that dry ginger is highly alkaline and has a high PH value. When a person inhales this, it helps to kill all the mucus and infection in the throat, which is high in acidic value. He further tells that since the Covid-19 virus travels from the nostrils to the throat, inhaling dry ginger will help to prevent the omicron variant and other infectious viruses.
The caption of the post states, "Dr. Sushil Razdan is a top neurologist from Kashmir (now in Jammu)
Facebook Post | Archive Link | Facebook Post
Fact Check-
We started our investigation by running a keyword search on Google, whose result led us to a website named Vaidam from where we found that Dr. Sushil Razdan is a neurologist working at Medanta hospital in Gurgaon, India. They also mentions that Dr. Razdan is well known for his epidemiological work in South Kashmir focussed on deaf-mutism as well as disability in children. Next, we compared the pictures of Dr. Sushil Razdan with the person seen in the viral video. The comparison makes it very clear that the viral video does not show Dr. Sushil Razdan.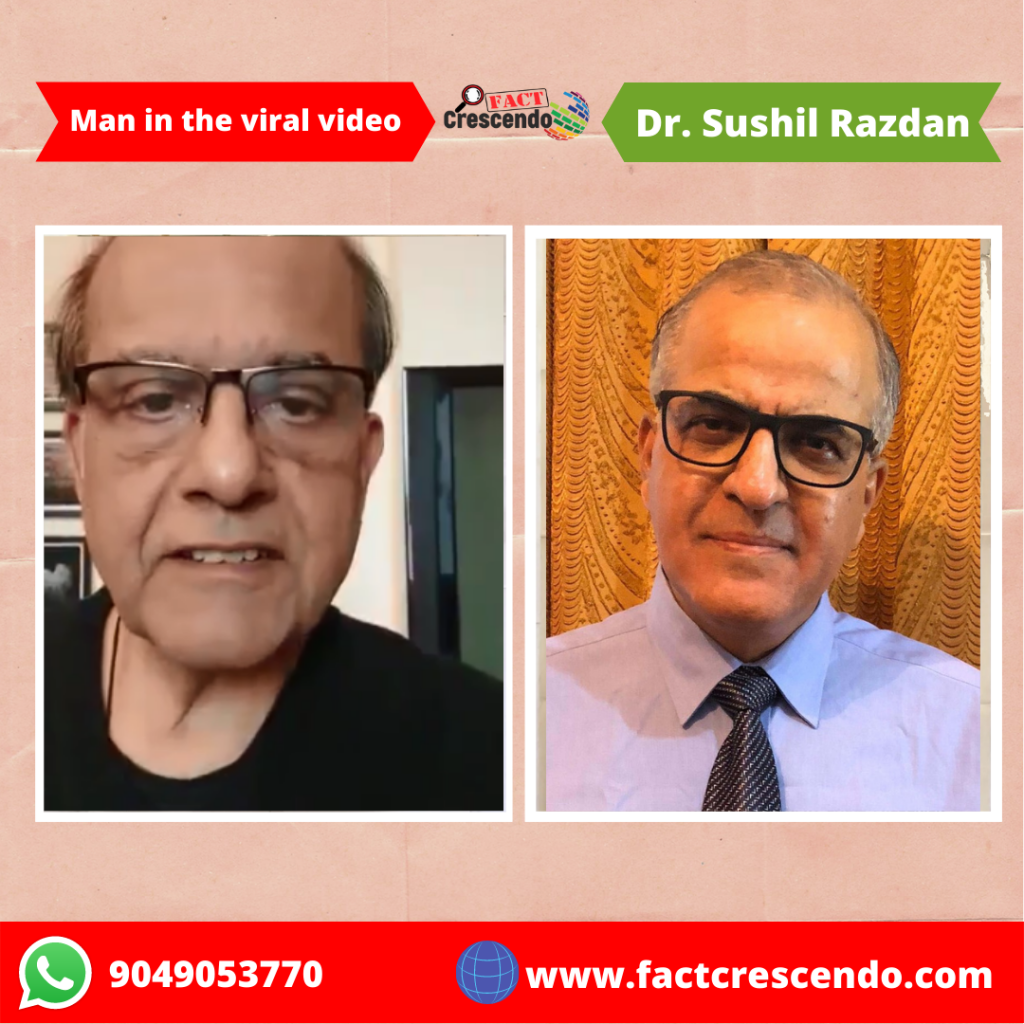 We also came across several videos where Dr. Razdan can be seen sharing his knowledge about COVID-19. They can be seen here, here, here and here.
Next, we keyword searched about the viral video and found several Kashmiri media reports that states that the viral video is not of Dr. Sushil Razdan. Further, we found a video clarification given by Dr. Sushil Razdan confirming the news as fake and he asked the viewers to maintain COVID-19 appropriate behaviour to avoid being infected by the virus. He can be seen clarifying the same in an interview RJ Nasir on Facebook.
Thus, it is clear that the viral video does not show Dr. Sushil Razdan from Kashmir speaking about ginger powder as a Covid-19 precaution.
Does usage of dry ginger powder cure or prevent COVID-19?
Denying the viral claim, the National Academies of Sciences, Engineering, and Medicine mentioned that ginger does not prevent or cure Covid-19.

Viral infections spread in your body when the virus enters your cells and makes copies of itself and then those copies enter new cells and repeat the process. Ginger will not destroy the virus in your body or stop the copying process.
Dr. Yasir Alvi from Hamdard Institute of Medical Sciences & Research (HIMSR) in New Delhi warns against taking any treatments without consulting the doctors.
"Coronavirus is a complex health problem. One should not resort to any treatments and cures received via social media. Ginger may have some antimicrobial and anti-inflammatory properties but one should take them under expert's guidance," Dr. Alvi said over a telephonic conversation with us.
The World Health Organization (WHO) has also debunked several such myths that is going viral as preventive measure or a cure for the COVID-19.
We found that ginger, honey and pepper powder have proved to a good remedy for cold, cough, and to boost immunity but none of the reports claim that it is a remedy to cure or prevent COVID-19. You can read the reports here, here and here.
Conclusion-
Fact Crescendo found the claim made along with the viral video on social media to be False. The man advising dry Ginger powder as a remedy for the COVID-19 virus is not Dr. Sushil Razdan.
(If you also have any suspicious messages, posts, photos, videos or news, send them to our WhatsApp Fact line Number (9049053770) for Fact Check. Follow Fact Crescendo on Facebook, Instagram and Twitter to read the latest Fact Check.)
Title:Man falsely claiming Ginger Powder can cure COVID-19 in the viral video is not Neurologist Dr. Sushil Razdan
Fact Check By: Aavya Ray
Result: False