Media outlet Knews has clarified that the viral screenshot is digitally edited and they have not published any such news.
With the upcoming assembly elections in Uttar Pradesh a screengrab of a breaking news is widely circulating on social media. The image claims that UP chief minister Yogi Adityanath has threatened to leave the BJP party and join the SP if Amit Shah talks of changing the Chief Minister.
The caption of the post states, "Big Breaking, Delhi, Today, Amit Shah talked about changing the candidate for the Chief Minister of Uttar Pradesh, Chief Minister Yogi Adityanath threatened to join "SP" The inside thing BJP_Clean"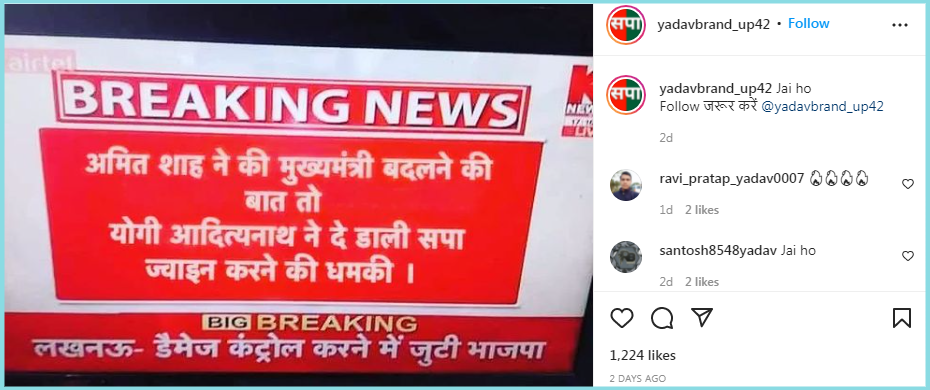 Instagram Post | Facebook Post
Fact Check-
We started our investigation by using keyword search on Google to find relevant news reports that states that Yogi Adityanath has threatened to leave BJP. Had Amit Shah or Yogi Adityanath had made such statement it would surely make the headline in the new reports. However, we did not find any such reports anywhere else.
Upon noticing the viral screengrab, we noticed the logo of K News in the right top corner. We found that Knews is a news channel based out of Kanpur. Upon searching whether they have published any such news report regarding Yogi Adityanath and Amit Shah. Upon searching their website, YouTube, Facebook and Twitter accounts we could not find any news report that corroborated the same.
We came across a tweet posted by the Twitter handle of Knews on 12 January 2022 that clearly clarifies that the viral screenshot in circulation made with their template is fake and that they have not published the viral news. The viral screenshot is edited. They also said that the people who have spread this fake news have damaged their reputation and they will seek legal action against the perpetrators.
Conclusion-
Fact Crescendo found the claim made along with the viral image on social media to be digitally altered. A morphed screenshot of 'Knews' channel is shared as Yogi Adityanath has threatened to leave the BJP and join the Samajwadi Party if Amit Shah talks of changing the Chief Minister.
(If you also have any suspicious messages, posts, photos, videos or news, send them to our WhatsApp Fact line Number (9049053770) for Fact Check. Follow Fact Crescendo on Facebook, Instagram and Twitter to read the latest Fact Check.)
Title:Did Yogi Adityanath threaten BJP that he will leave the party if not made CM again?
Fact Check By: Aavya Ray
Result: Altered