A viral video showing a man clad in saffron listening to Bhajan is being shared in the name of UP CM Yogi Adityanath. However, the IPRD fact-checking handle on Uttar Pradesh has refuted the viral claim.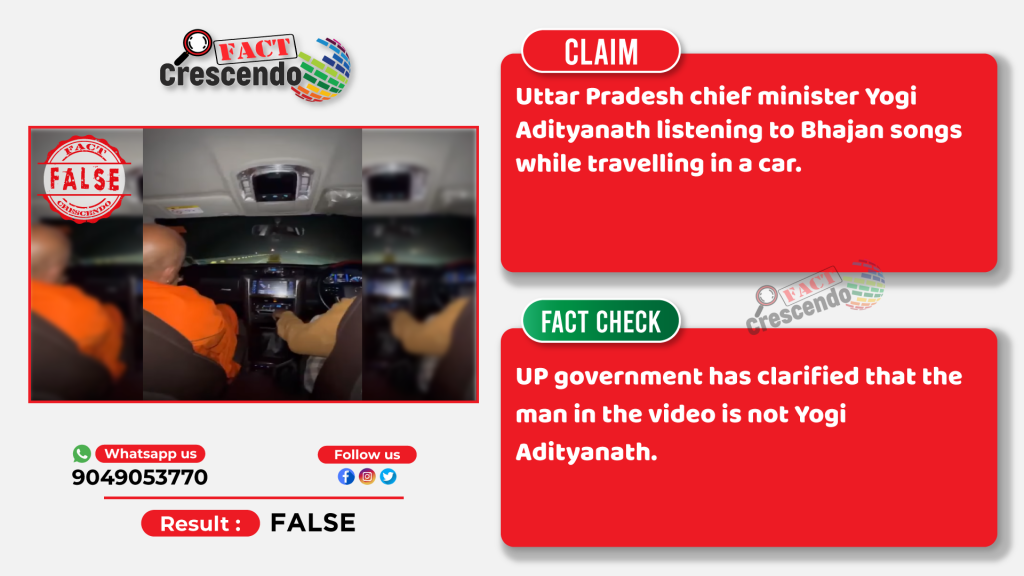 A video showing a man dressed in saffron sitting in the front seat of the car and listening to Bhajan with his hand folded is widely circulating on social media. Some social media users claim that the video shows Uttar Pradesh's chief minister Yogi Adityanath listening to bhajans on his music system while travelling.
Since the video is recorded from the backseat of the car, we cannot see the face of the person wearing saffron robes. These robes and the baldhead of the man have led to the assumption by some social media users that he is UP CM Yogi Adityanath.
The caption of the video states "This is our adorable Pujya Maharaj ji Jai Pujya Maharaj ji. You are not just millions of heartbeats Maharaj ji MYogiAdityanath"
This video is widely circulating on Facebook.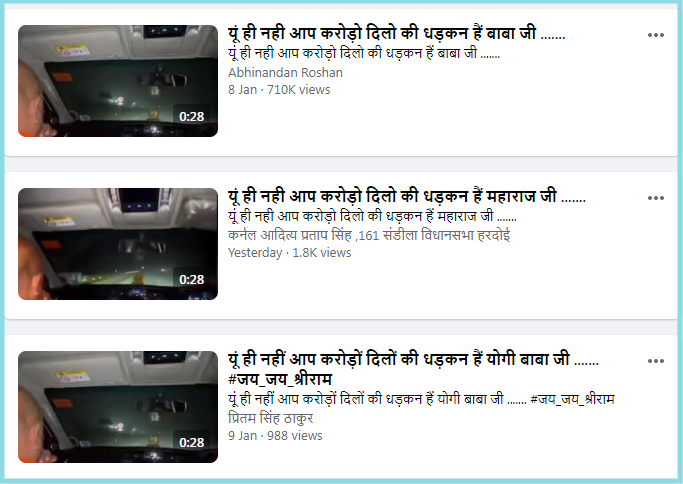 Fact Check–
We started our investigation by running a reverse image search on google on one of the keyframes of the video. However, from the results we could not find any similar video or information.
Next, we checked the official handles of Yogi Adityanath on Twitter and Facebook to find relevant information on the video. However, we were unable to find the viral video on his profile either.
Moving on, we came across a tweet by Uttar Pradesh government's IPRD fact checking handle that refuted the viral claim made along with the video. According to the tweet, the person seen in the viral video is not Chief Minister Yogi Adityanath. Further, the tweet requested readers to avoid sharing this claim, as it is misleading and untrue.
We are trying with the CM's office for a comment but haven't received a word from them yet. The article will be updated with their response upon receipt. We also could not identify the person sitting in the car. Any information we get regarding the identity of the person will be updated in this article as well.
Conclusion-
Fact Crescendo found that the claim made along with the viral video on social media to be False. The viral video does not show UP chief minister Yogi Adityanath. The Uttar Pradesh government's IPRD fact checking handle has themselves refuted the claim stating that the man in the video is not Yogi Adityanath.
(If you also have any suspicious messages, posts, photos, videos or news, send them to our WhatsApp Fact line Number (9049053770) for Fact Check. Follow Fact Crescendo on Facebook, Instagram and Twitter to read the latest Fact Check.)
Title:Man listening to Bhajan in a car in the viral video is not Yogi Adityanath…
Fact Check By: Aavya Ray
Result: False