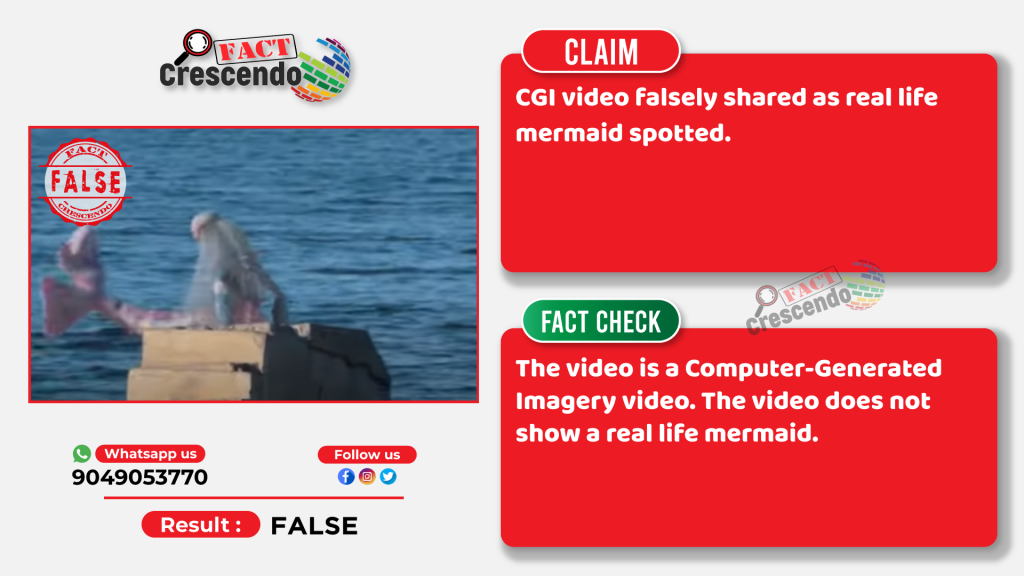 A viral video circulating social media claims to show a real life mermaid trying to climb the shore of the waterbody. However, we found that the viral video is not of a real life mermaid.
The caption of the video states, "This is a real life mermaid."
Fact Check-
We started our investigation by running a keyword search on Youtube, whose results led to a video posted on 16 February 2021. A channel named "JJPD Producciones" posted the video.
The caption of the video states, 'Shocking Mermaid Caught on Camera in the Xiloá Lagoon of Nicaragua – in the Real Life 2021.'
The description of the video mentions that the video is a fictional and has been created by using Computer-Generated Imagery (CGI). The Creature Creation and Video Editing was done by Jose Joaquin Perez and Jimmy Jose Perez did the 3D animation and montage. It further states that these videos are created for entertainment purpose.
We also found another video posted by the same channel, which explains the processes of creating the animated visuals.
Conclusion- Fact Crescendo found the claim made along with the video to be False. The viral video in circulation does not show a real life mermaid. The video is fictional and was created entertainment purpose. The video is a Computer-Generated Imagery video.

Title:CGI video falsely shared as real life mermaid spotted.
Fact Check By: Drabanti Ghosh
Result: False