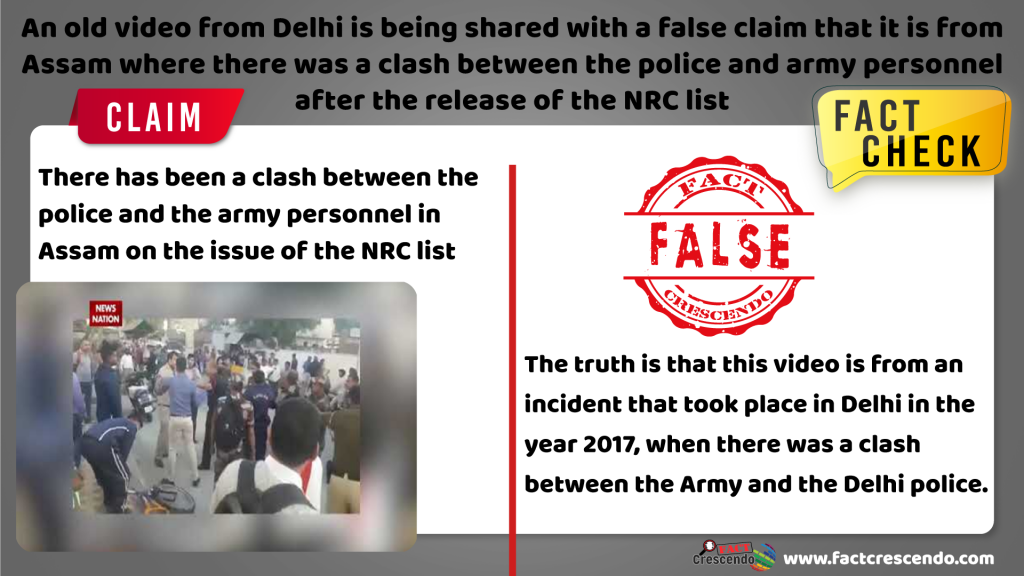 Rumors are doing rounds on the social media regarding the NRC list.This video shows army personnel beating policemen. It is been widely shared on social media and it is being claimed that a clash took place between the Assam police and the Indian Army, allegedly related to the NRC list that was released recently. Names of more than 11 Lakh people of Assam have not been included in this list.
In the beginning of the investigation, we closely analysed the video and noticed a logo of a hindi news television channel "News Nation" at the left corner of the screen. At 60 seconds in the video, a viewer can be heard saying " what happened in Delhi?" This made us think that may be this
video is from Delhi. Thereafter, we did a google search using the keywords "army police clash Delhi news nation". As a result, we found a video aired by News Nation TV channel on 26th February 2017. In the title of this video it is mentioned "there was a clash between army personnel and police in Delhi's cantonment area".
Regarding this incident, a news report was aired by Times of India on 27th February 2017. According to this news, there was a clash in the cantonment area of Delhi between the army personnel and the police for two hours, when an officer of police allegedly insulted an army soldier.
Conclusion: After checking the facts, we found the above post to be incorrect. This is an old video of a clash in the cantonment area of Delhi between the army personnel and the Delhi police. It is in no way related to the NRC list of Assam.

Title:Old clash video from Delhi shared as NRC List clashes in Assam
Fact Check By: Ruchika M
Result: False