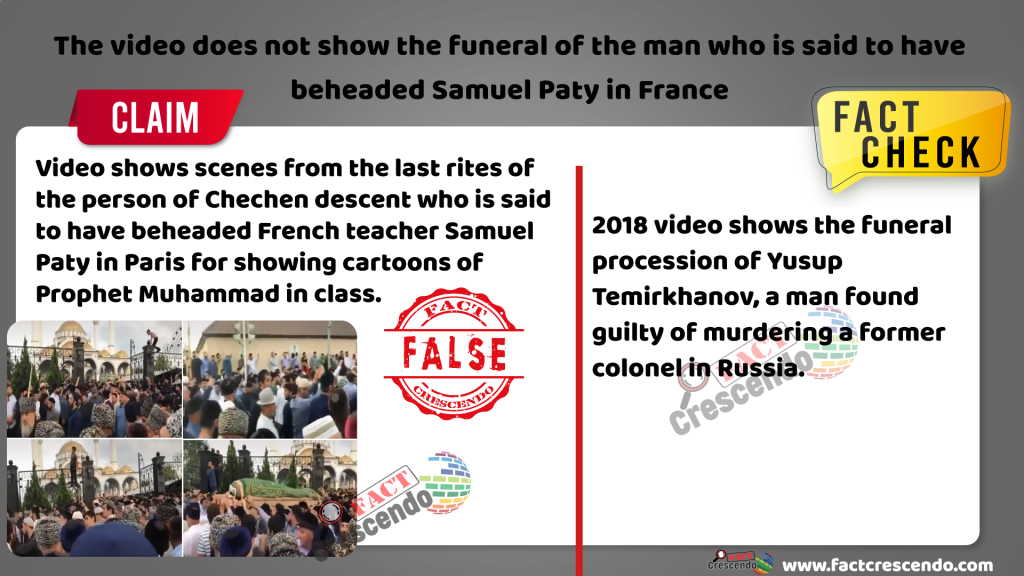 Protests are being held by the Muslim community in France as well as many other countries following the killing of a teacher in France and a subsequent "Free Speech" remark by the French President over a sketch of the Prophet Mohammed.
A video of a mass Islamic funeral procession is circulating on social media, claiming that it is the funeral procession of the person of Chechen descent who is said to have beheaded the French teacher Samuel Paty in Paris for showing his class sketches of the Prophet Muhammad that were considered objectionable by some. It says that his mortal remains were brought back to Chechnya and buried.
The caption of the post reads "The Chechen youth who shot and killed Samuel, the teacher who insulted the Prophet Muhammadh in France, was shot dead by the police there! His body was brought to Chechnya and buried. Inna lillahi wa inna ilahi rajion"
Fact Check-
We started our investigation by running a reverse image search on a keyframe by InVid-We Verify which led us to the same video published on 5th August, 2018 by the Facebook page of a Russian online magazine "Spectrum". The description of the video translated from Russian reads, "The funeral of Yusup Temirkhanov, who in 2011 was found guilty of the murder of former Colonel Yuri Budanov, was held in Chechnya. Tens of thousands of people gathered for the funeral, and the head of Chechnya, Ramzan Kadyrov, also attended."
Below you can see a comparison image between the screengrab of the viral video and the video we found on Facebook published in 2018.

We also found a similar video of the same incident on Youtube published on 5th August 2018. The headline translates to "TEMERKHANOV YUSUP-KHAJI GELDAGEN HERO OF THE CHECHEN REPUBLIC, MECHKAN TEZET 08/04/2018 (30)"
Next, we searched for similar news reports which mentioned that on August 4th, 2018 the funeral of Yusup Temirkhanov, who died in the colony after being convicted for killing the serviceman Yuri Budanov, was attended by the head of Chechnya, Ramzan Kadyrov. He declared Temirkhanov innocent of assassinating the officer.
According to the reports, the funeral procession was held at the Chechen village of Geldagen which was Yusup Temirkhanov's village. Upon searching on Google Maps, we found a mosque, which looks similar to the one seen in the background of the viral video.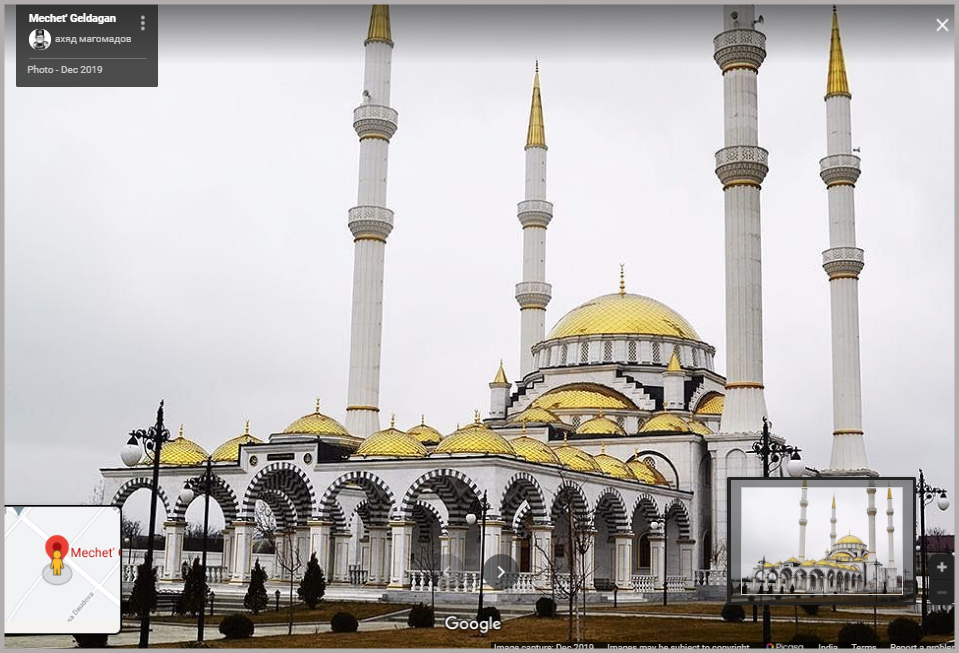 Conclusion- Fact Crescendo found the viral video to be False. This video is more than two years old and shows the funeral procession of Yusup Temirkhanov, a man found guilty of murdering a former colonel in Russia.This video has no relation with the funeral of the Chechen descent who beheaded the school teacher, Samuel Paty. 

Title:The video does not show the funeral of the man who is said to have beheaded Samuel Paty in France
Fact Check By: Aavya Ray
Result: False