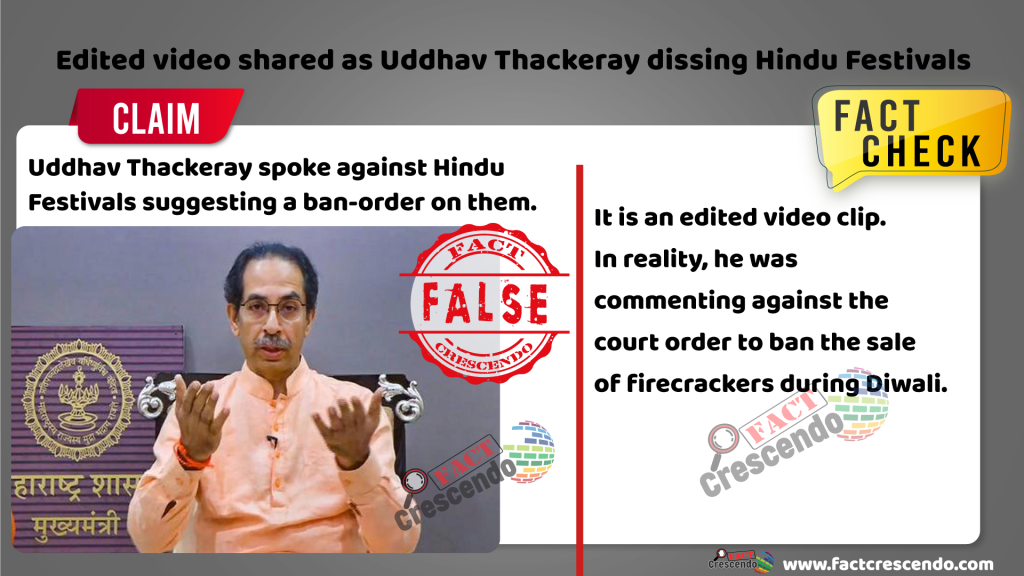 Amidst the growing pressure for reopening the temples in the state and the debate over the use of firecracker's on Diwali, a video purportedly showing Maharashtra CM Uddhav Thackeray dissing Hindu Festivals is going viral on social media.
Taking it at the face value, many people expressed their anger over Thackeray's alleged disparaging comments about festivals.
Many readers sent this video clip on Fact Crescendo's Factline (9049053770) for a fact-check.
We found that the viral clip is old and selectively edited to mislead people. In the original 2017 video, Uddhav Thackeray had criticized the Supreme Court's decision of banning firecrackers.
WHAT IS THE CLAIM?
In a 30-second clip shared by users on social media, Uddhav Thackeray seems to express his displeasure suggesting a ban-order on meaningless festivals.
He can be heard saying – "Throw away Panchang (Hindu calendar and almanac) and tell people that their meaningless festivals have been banned. Be pleased that you are alive. Settle this by issuing such an order. So that the problems regarding festivals will be not bother us. There will be no firecrackers and no festivity. I think extreme measures to keep 'peace' will cause the 'explosion' of discontent among people. Anyway, our festivals have been losing their sheen. Different taxes…" (Marathi Translation)
FACT CHECK
In order to get the full context of CM Thackeray's comments, we needed to find the original video. After selecting key-frames and doing a Yandex reverse image search, we found a Zee24 Taas video that was published on 11th October 2017.
In the original video, Thackeray was interacting with the media after his visit to the Metro-3 project site at Azad Maidan in Mumbai.
Expressing his disapproval of the Supreme Court's decision of banning the sale of firecrackers in Delhi-NCR in 2017, Thackeray had made such remarks.
The viral clip on social media edited out the last sentence of Thackeray's original comment, which goes like this – "…Different taxes and regulations have diminished the enthusiasm of the festivity. Shiv Sena will not tolerate it if anyone stop's people from celebrating."
The Context
The Supreme Court had reinstated its ban on the sale of firecrackers in and around New Delhi on 10th October 2017.
On the same day, Maharashtra's then-Environment Minister and Shiv Sena leader Ramdas Kadam supported the court's ban and said he would request the chief minister (Devendra Fadnavis) to ban the sale of firecrackers in the state too.
The next day (11th October 2017), Uddhav Thackeray spoke against the court's decision. After the party chief's stance, Kadam promptly retracted from his earlier statement, "Shiv Sena will not support anything that goes against Hindu sentiments."
Thackeray's statement was widely reported in the media. The Hindu, NDTV, Free Press Journal, CNN News18, and others have reported it as "Uddhav Thackeray opposed the ban on Diwali crackers."
In the Hindustan Times report, it is clearly highlighted that Thackeray was actually speaking against the court order.
Original News – Hindustan Times | Archive
CONCLUSION
A clip edited out of a 2017 video is falsely being shared to mislead people that Maharashtra CM Uddhav Thackeray spoke against Hindu Festivals. In reality, he was commenting against the court order to ban on the sale of firecrackers during Diwali.

Title:Edited video shared as Uddhav Thackeray dissing Hindu Festivals
Fact Check By: Mayur Deokar
Result: False