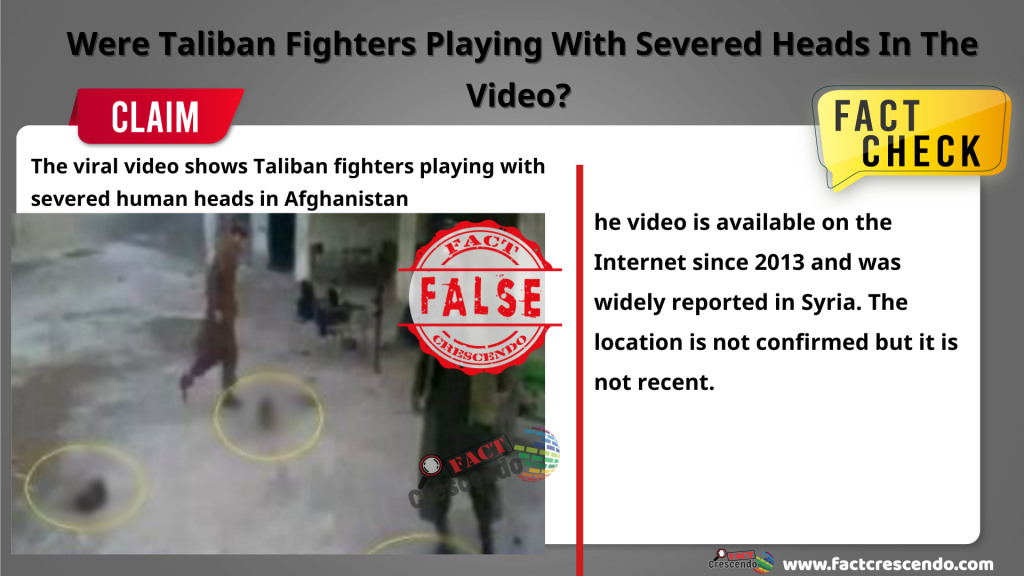 A video of a group of people playing with a cut-off human head like a football is going viral on social media. Many have been sharing this video along with a claim that it shows the barbarity of Taliban fighters in Afghanistan.
Fact Crescendo received many fact-check requests about this video on our WhatsApp FactLine (9049053770).
We found out these claims are false. The video is old and from Syria.
WHAT'S THE CLAIM?
We can see men kicking what appears to be decapitated human heads in the viral clip. The caption along with this video read: These Taliban terrorists are playing with severed human heads like a football. It is a sad day for humanity. Do you want to leave your children at their mercy or wipe out them from the earth instead? Think about it.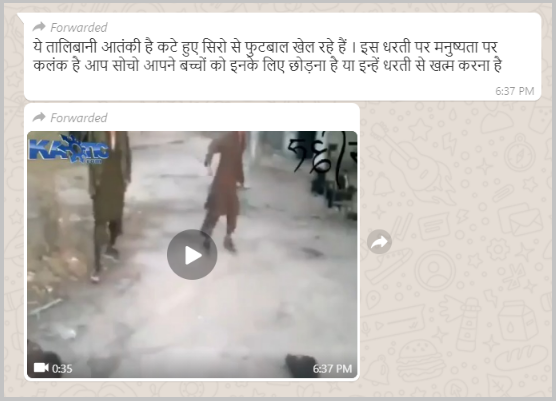 FACT CHECK
Using In-Vid Tool, we performed a reverse image search on key frames of the video. The results showed a Facebook post by Tahrir News in which the same viral video was shared on 29 December 2013.
According to the Arabic caption of the post, this video is from Syria where ISIS terrorists were seen playing football with severed heads. The same information was also given on another Facebook page and Vimeo video.
Taking clues from it, we looked for more information about this video. An Arabic news website Abna 24 had reported at the time that the same video clip was aired on Syrian TV news channels. According to them, the video shows violent acts of ISIS terrorists in the city of Adra.
Although the video was widely circulated in 2013 in Syria, it was also pointed out the attire and appearances of the men seen in the video were not from Syria. The conclusive evidence were not available at the time also.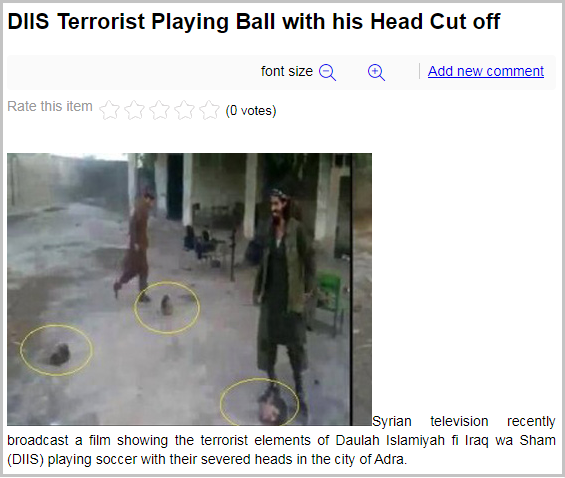 CONCLUSION
The viral video claimed to be from Afghanistan was not recent. It is available on the Internet since 2013. Syrian TV channels had broadcasted this video at the time reporting it to be from the city of Adra. But Fact Crescendo could not verify its authenticity independently.
Title:Were Taliban Fighters Playing With Severed Heads In The Video?
Fact Check By: Mayur Deokar
Result: False