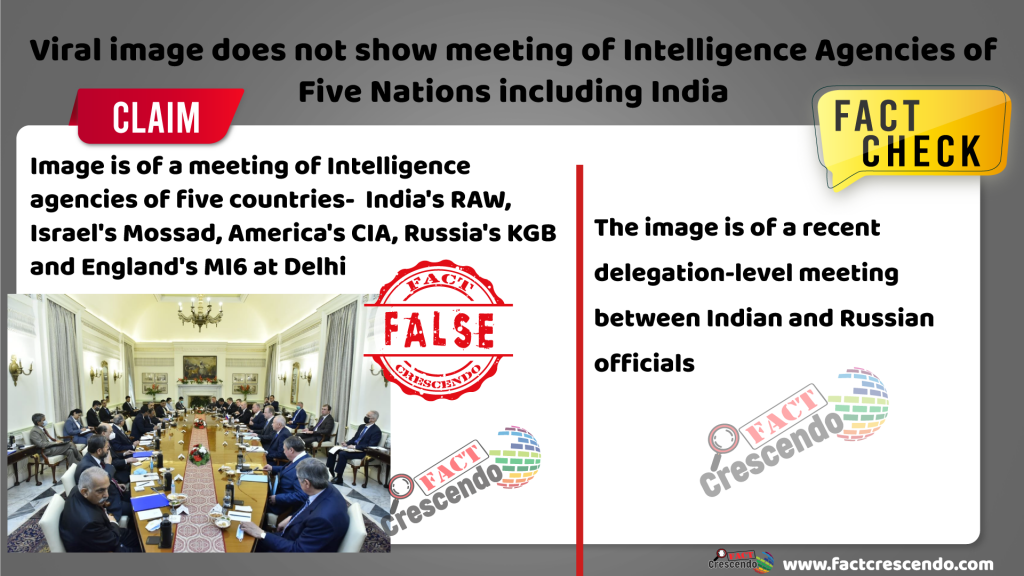 A photo of a meeting is being shared on social media with captions claiming that shows intelligence agencies from 5 nations including India's RAW, Israel's Mossad, America's CIA, Russia's KGB and England's MI6 met at Delhi recently.
The photo went viral on social media, leaving many users believing that there was a meeting in New Delhi that involved World's top Intelligence agencies. However, this viral image was found to be old and not related to any intelligence meeting. We found that this image is of a bilateral talk held between India and Russia over Afghanistan. Let's see how we found out the fact behind the image, but first let us understand the narrative that is being propagated on Social Media platforms with the help of this image.
Narrative Around Viral Image On Social Media
Some examples of posts sharing the viral image with the misleading narrative can be seen below. The caption of these posts read as follows:
"Now in Delhi !!
India RAW
Israel MOSSAD
America CIA
Russia KGB
England MI6
First time ever that the top five intelligence agency of the world are sitting together for a high level meeting in Delhi. This is the power of new India 🇮🇳"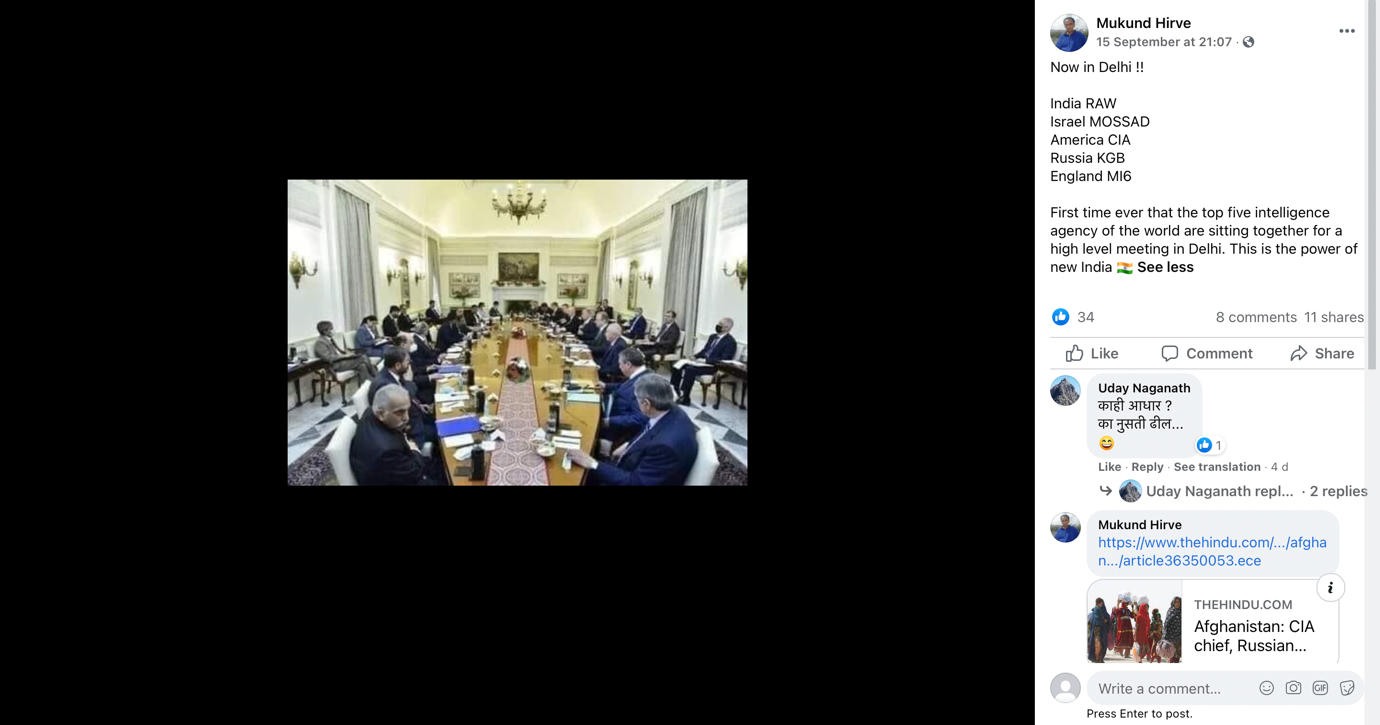 Fact Crescendo received the same image on its 24×7 Factline Number 904 905 3770 with a request to verify the information. Archived Link. Did the top agencies of the World meet R&AW officers for collaborating in Intelligence Sharing? Let's find out…
Fact Check Methodology
First, we ran a Google Reverse Image Search of the viral photo and found a Twitter Post from September 8, 2021 by DD India having the same image and captioned "A delegation-level talk of National Security Advisors (NSA) between India & Russia underway in New Delhi."
A delegation-level talk of National Security Advisors (NSA) between India & Russia underway in New Delhi. pic.twitter.com/X7bk4khawf

— DD India (@DDIndialive) September 8, 2021
We found this image in a news report published on the same date by the Hindustan Times which states : "National Security Advisor (NSA) Ajit Doval and his Russian counterpart Nikolay Patrushev on Wednesday held wide-ranging talks in New Delhi on the prevailing situation in Afghanistan following its takeover by the Taliban and its security implications for India, Russia and the Central Asian region. In a statement, the Russian embassy said the duo discussed the military, political and socio-economic situation in the war-ravaged country." Hindustan Times Link
We also found a news report, headlined "India, Russia agree to coordinate approaches in multilateral formats on Afghan settlement," published on September 8, 2021 on the Daily Excelsior. This report also stated that during the meeting, National Security Advisor Ajit Doval and his Russian counterpart Nikolai Patrushev discussed Moscow and New Delhi joint efforts aimed at creating conditions for launching a peaceful settlement process on the basis of an intra-Afghan dialogue. This news report also had the viral photo.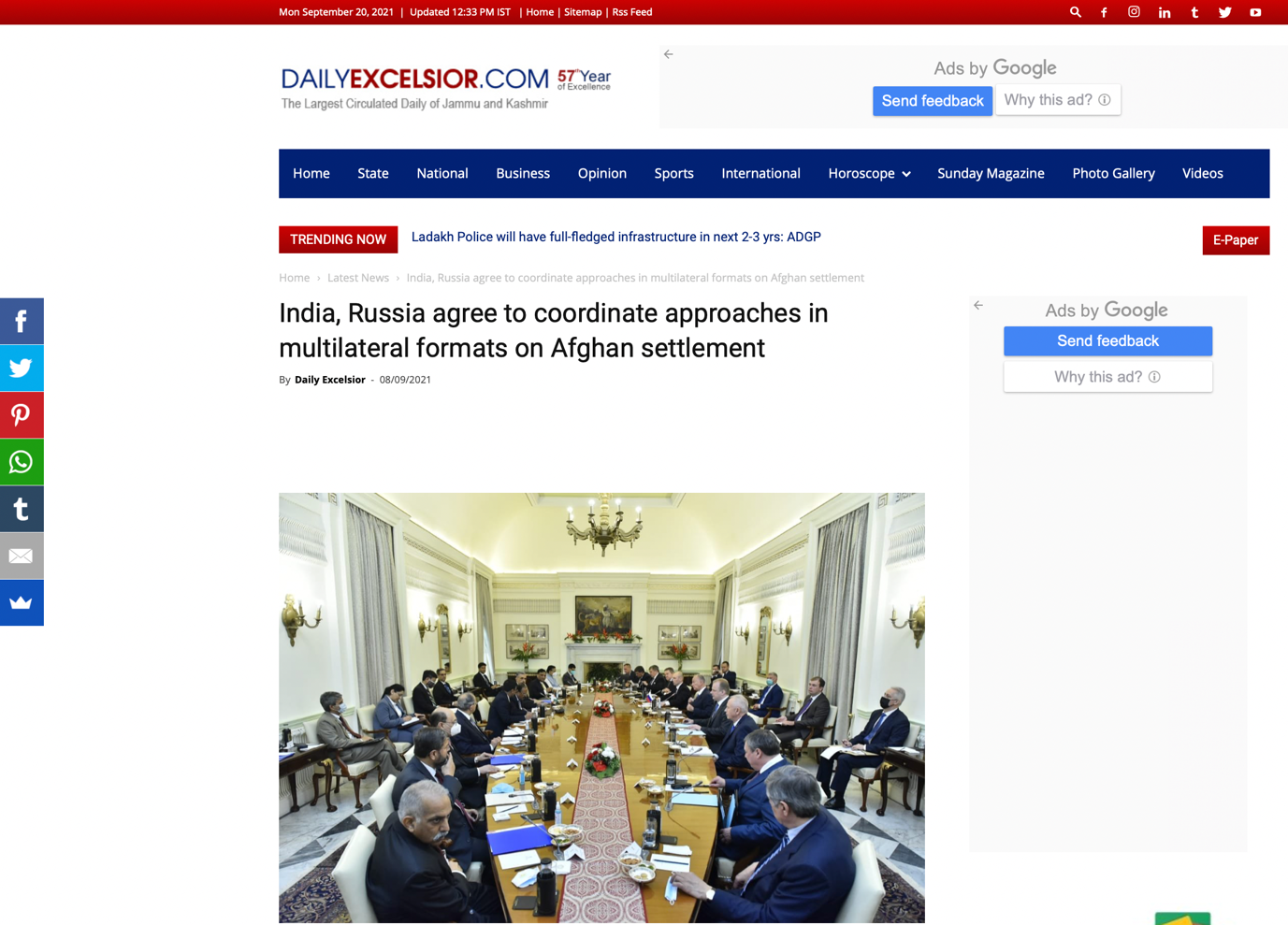 There was, however, a meeting of major domestic intelligence agencies recently in Delhi. The meeting was convened to discuss the implications of Taliban takeover of Afghanistan and how Pakistan may exploit this situation to work against India. The meeting consisted of head of the NIA from different states of India along with officers from CBI and R&AW. You can read more about this in a report by NDTV, by clicking on this link.
Conclusion
It is clear from the investigation that the photo is from the meeting of the National Security Advisors of India and Russia and not of the officers from top intelligence agencies across the world with officers from R&AW. There are no news reports of any such meeting conducted recently in New Delhi either.
Title:Unrelated Image of an Indo-Russian Bilateral Meeting Goes Viral As Multi-National Intelligence Agencies Meeting in New Delhi…
Fact Check By: Manjori Borkotoky
Result: False