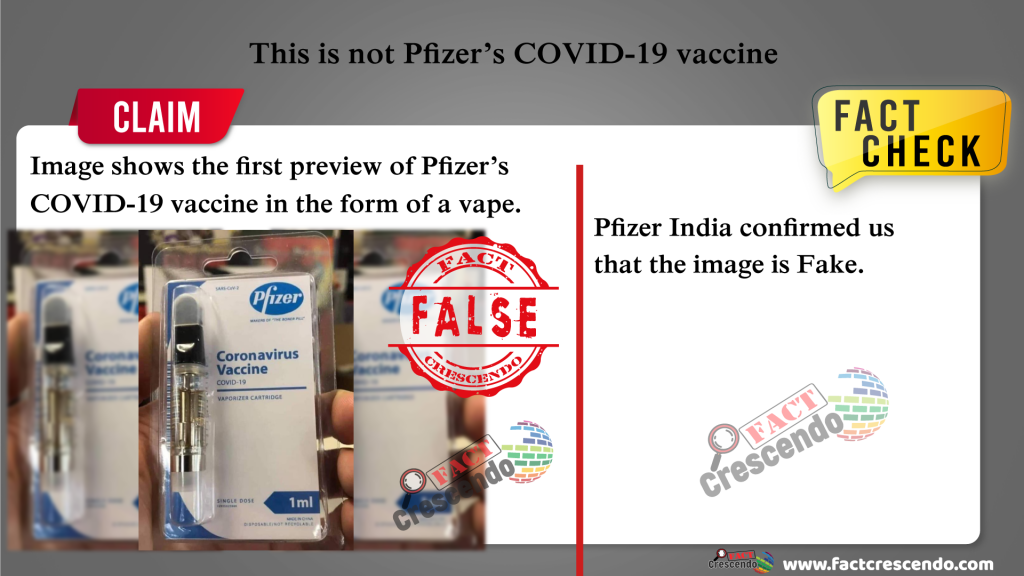 There is a wave of misinformation related to the COVID-19 pandemic and its vaccine circulating on social media. With reference to the COVID-19 vaccine a photo showing a package containing a cartridge that would be used in an electronic cigarette and inhaled as a vapor is gaining a lot of attention on social media. It carries a Pfizer-style branding and is described as a "single dose" vaccine cartridge. The packaging says that it is a Coronavirus Vaccine (COVID-19). The box describes Pfizer as "makers of 'the boner pill". The image has been shared by users as the first look of the upcoming COVID-19 vaccine by Pfizer in India.
OnePrint India | Archive Link | Punjab Kesari | Archive Link
Fact Check-
We started our investigation with a relevant keyword search to find the image on Pfizer's official website, Twitter and Facebook handles. However, we could not find any relevant product image on their website.
Next, we observed the packaging which mentions that the product is "Made in China". According a press release on Pfizer's website the real vaccine is being made using Pfizer and BioNTech's combined manufacturing network in Germany, Belgium and the United States.
The press release also states that BioNTech will hold the regulatory authorization in the U.K., and, if granted, in the U.S., the EU, Canada and other countries. Pfizer will have the commercialization right worldwide with the exception of China, Germany and Turkey.
Next, we observed the logo of Pfizer on the viral image which seemed to be a bit different from the original logo on Pfizer's website. Below you can see an image comparison for the same which clearly shows that the viral image of the vaporizing cartridge is not a Pfizer product.
When we compared the company's tagline, we found them to be different. While the viral image claims it is "Pfizer-Makers of the boner pill", the original company's logo mentions "Pfizer- Working together for a healthier world".
We also found a press release which states that the real Pfizer vaccine is injected into the upper arm and given as two doses 21 days apart (here), whereas the package in the image mentions a single dose and is in form of a vaporizer cartridge.
Further ,Fact Crescendo contacted Pfizer India who confirmed that the vaporiser cartridge is fake and is not a Pfizer product.
Conclusion– Fact Crescendo found the viral image on social media to be False. The image does not show the first preview of Pfizer's COVID-19 vaccine.

Title:This is not Pfizer's COVID-19 vaccine
Fact Check By: Aavya Ray
Result: False