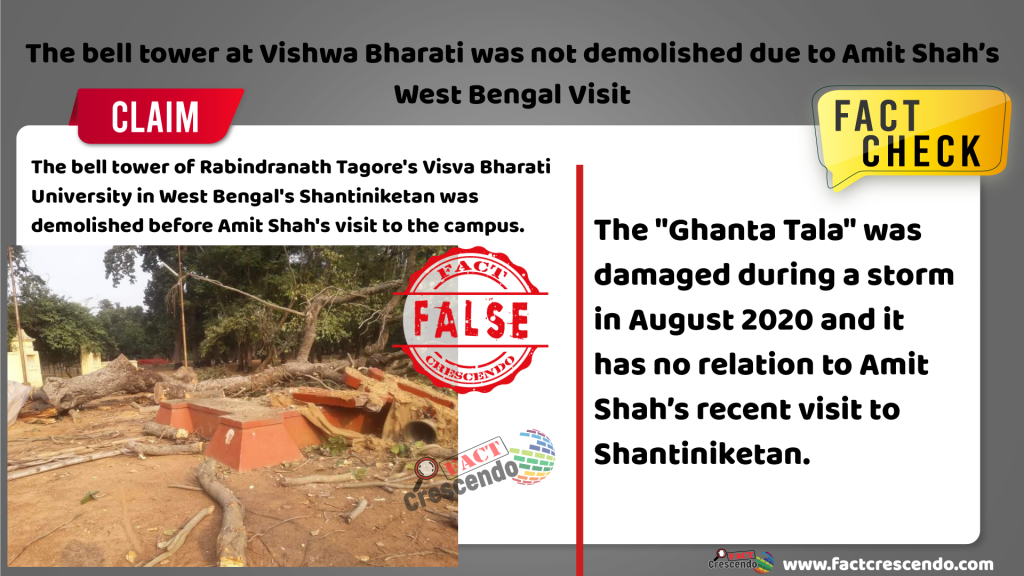 Ahead of the upcoming Bengal elections several political leaders have been visiting Bengal for election campaigning. Amidst this Home Minister Amit Shah visited Shantiniketan on December 20th and paid homage to Tagore at Rabindra Bhavan. His two-day visit to West Bengal triggered a social media controversy after some social media users claimed that a heritage structure at Visva Bharati University, founded by Rabindranath Tagore, was pulled down for the Union Home minister's visit to Shantiniketan.

An image of a damaged "Ghanta Tala", a century-old bell tower is being shared claiming that it was demolished ahead of Amit Shah's visit to Shantiniketan.
The image was also shared by the official account of Agnivo Niyogi claiming that "The iconic 'Ghonta Tola' of @visva_bharati demolished ahead of @AmitShah visit to Santiniketan. Every last vestige of Rabindranath is being slowly erased. History is being rewritten!!! Weep, my countrymen, weep!!!"
FACT CHECK-
Fact Crescendo found that the viral image is from August 2020 and has no relation with Amit Shah's recent Bengal visit.
We started our investigation by running a relevant keyword search on Google to find new report regarding the demolishing of the Ghanta Tola at Shantiniketan, however, we could not find any news report on the incident.

Fact Crescendo contacted Ashok Kumar Mahato, the registrar of Visva Bharati University, who confirmed us that no such incident has taken place. "Amit Shah was not supposed to visit or pass through Ghanta Tala. No such activity has taken place at Shantiniketan. The Ghanta Tola collapsed back in august due to a storm when a banyan tree fell on the bell. The incident is old and has no relation with Amit Shah's recent visit to Shantiniketan."

Next, we did a keyword search on google and found a relevant news report about the uprooting of the banyan tree on the bell tower. News 18 Bangla reported this incident on 26th August 2020 stating that due to heavy rains the banyan tree beside the bell tower collapsed and fell on the bell tower (Ghanta Tola). You can see the image below.

Archive Link

Conclusion- Fact Crescendo found the above-mentioned claim to be False. The viral image claiming that the bell tower was demolished due to Amit Shah's visit to Shantiniketan is false. The "Ghanta Tala" was damaged during a storm in August 2020 and it has no relation to the Union Home minister's visit to Shantiniketan..

Title:The bell tower at Vishwa Bharati was not demolished due to Amit Shah's West Bengal Visit
Fact Check By: Aavya Ray
Result: False