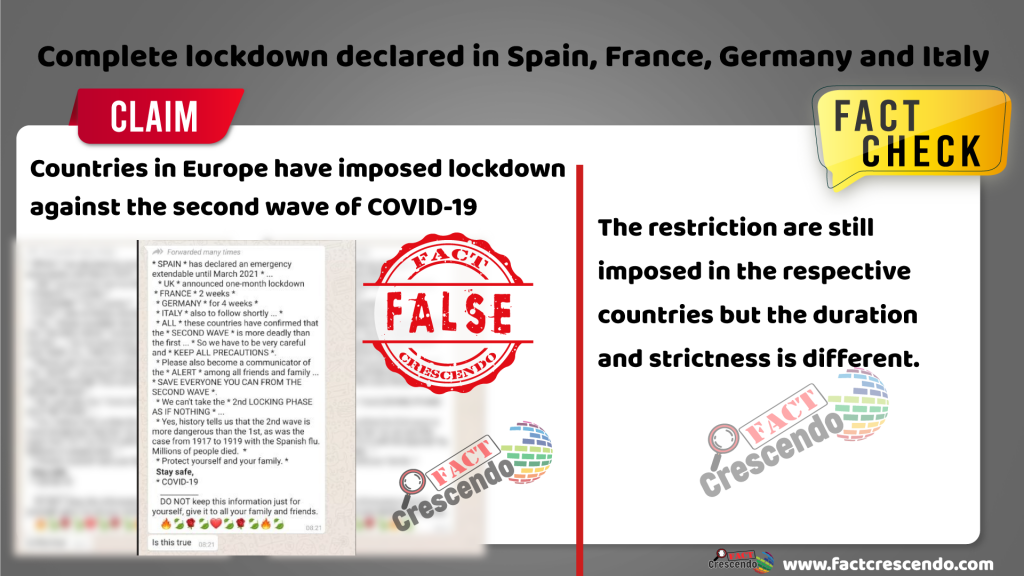 According to a report published by WHO on December 21, the United Kingdom called for a meeting as the new rapidly-spreading COVID-19 variant, known as N501Y, is spreading across London and south-east England. Preliminary reports by the United Kingdom are that this variant is more transmissible than previous circulating viruses, with an estimated increase of between 40% and 70% in transmissibility.

In context to the new coronavirus variant, a post has been going viral on social media claiming that lockdown has been enforced in various parts of Europe as a precautionary measure against the second wave of coronavirus. It states that Spain has declared an emergency till March 2021, United Kingdom has declared one month of complete lockdown while France has announced 2 weeks of complete lockdown and Germany has declared a lockdown period of 4 weeks.

The message reads, "Spain has declared an emergency extendable until March'21 UK announced one-month lockdown France-2 weeks, Germany-4 weeks, Italy also to follow shortly. All these countries have confirmed that 2nd wave is more deadly than the first.We have to b very careful&take all precautions."
FACT CHECK-
We started our investigation by running a keyword search on Google to find out relevant news reports about the lockdown extension in respective countries.

Claim 1- Germany declared holiday for 4 weeks
According to a news report published on December 13 by BBC, it stated that Germany is to go into a strict lockdown over the Christmas period as the number of deaths and infections from the coronavirus reached record levels. German Chancellor, Angela Merkel announced lockdown between 16 December to 10 January to tackle with the rising COVID-19 cases in Germany.

Claim 2- France declared lockdown for 2 weeks
According to a report by NDTV published on October 29, 2020 it stated that French President, Emmanuel Macron announced the imposition of a lockdown till December 1. The same article quoted Macron who said, 'Curfew for Paris and other major cities were imposed two weeks ago but failed to curb second wave of COVID-19." Another news report by TOI published on 21st December 2020 stated that the coronavirus restrictions were eased in the country and the national authorities have replaced it with a general night curfew from 8 pm to 6 am to prevent a surge in Covid-19 cases during the holiday celebrations. The report also stated that the peak of the second Covid-19 outbreak in France is believed to have been reached on November 7, when nearly 87,000 fresh cases were detected in a day. Thus, it is clear that France is under a night curfew and not a strict complete lockdown as claimed in the viral message.

Claim 3- UK declared lockdown for one month
National Herald reported on November 1 that Boris Johnson, Prime Minister of Britain announced the imposition of lockdown for one-month starting from November 5. The restrictions were announced after the cases in Britain surged past 1 million.

We found another report by The Sun that said  Britain has come out of the lockdown on December 2. Despite, the lockdown came to end, a three-tier-restrictions were imposed across Britain so that people can enjoy Christmas season with precautions. Boris Johnson said, "These restrictions will be imposed in Spring when most people who need the vaccine will be able to get it."
Claim 4- Italy declares complete lockdown
According to a report by France 24 published on December 19, it said, "Italy imposes lockdown over Christmas and New Year to curb spread of COVID-19." Italian Prime Minister Giuseppe Conte on December 18 announced the closure of shops, bars and restaurants and banned travel between regions.

We also found that BBC reported, Red Zone restrictions will be imposed on Italy on 24 to 27 December, 31 December to 3 January, and 5 to 6 January. Under the restriction people can leave the house only for reasons of work, necessity and health.

Claim 5- Spain declares emergency extendable till March 2021

We found that ABC News reported on October 30, "Spain's parliament has voted to keep the country's state of emergency in place until May 2021 to try to rein in the resurging coronavirus pandemic." The Parliament of Spain took this decision after the coronavirus cases in Spain crossed the mark of 1 million with over 35,000 fatalities.
Conclusion- Fact Crescendo found the viral message to be Partially False. Most of the restriction are still imposed in the respective countries to curb the spread of COVID-19, thus the viral message is partially True.

Title:Fact Check- Complete lockdown declared in Spain, France, Germany and Italy
Fact Check By: Aavya Ray
Result: False