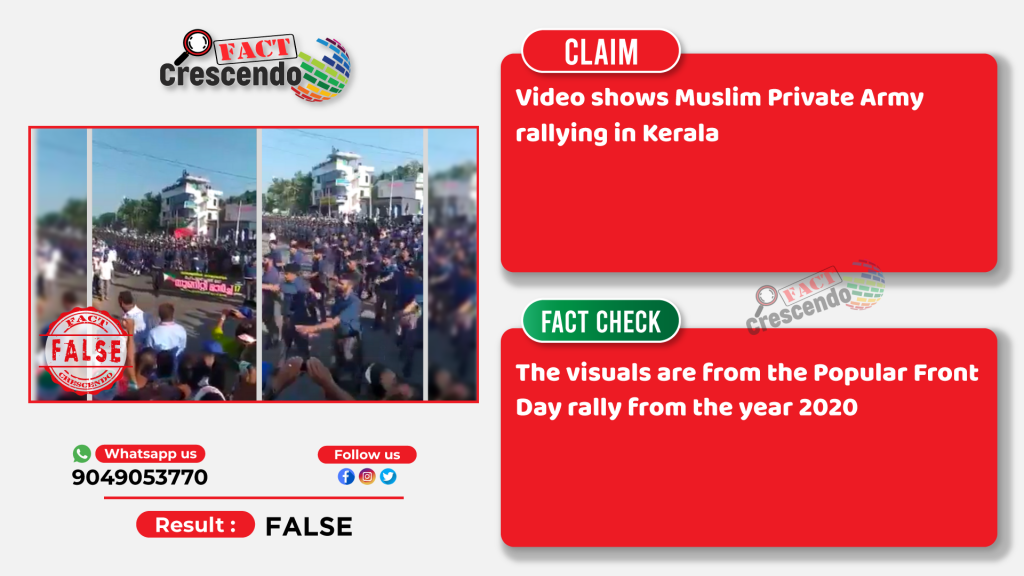 A video which shows a considerable number of uniformed participants rallying in a disciplined manner is being shared on social media with captions stating that they are members of the Muslim Private Army marching in Kerala.
The participants can be seen holding a banner reading "Unity March" in Malayalam.
The same video was shared with us on our WhatsApp Factline number 904 905 3770 with a request to verify the information accompanying the video. Archived Link
The caption reads:
"👆👆
🤔 Muslim Private Army marching in Kerala. Left front government is a silent spectator.👺
Where is the nation heading? Do you shiver or rage watching this Video? ⁉️
"God Save Bharat."
🙏🙏"
Our Fact Check shows that this March took place in February 2020, on the occasion of Popular Front's foundation day. Here are the details of the investigation:
FACT CHECK METHODOLOGY
We saw that Fact Crescendo Malayalam had fact checked the same video which had gone viral with a different claim during the controversy following the Hijab Ban in Karnataka. Here's the Fact Check:
We came to know that the footage is from the Unity March and Mass Rally that was organized in Ernakulam as part of the nationwide celebration of Popular Front Day on February 17, 2020. This occasion is observed to mark the day of formation of the Popular Front of India, with the message of defeating the politics of hatred.
State General Secretary of Popular Front of India Abdul Sattar, had also confirmed to our colleague that the footage is indeed from the Unity March held by the Popular Front on February 17, 2020, in Ernakulam District.
Ravi Chandran Batran, a Dalit activist and head of the news website Dalit Camera, addressed the gathering after the rally. The Popular Front also used the opportunity to protest against the CAA and NRC. SDPI State President P Abdul Majeed Faizi addressed the public meeting after the Bahujan General.
CONCLUSION
The video shows footage of the 2020 Popular Front's mass rally in Ernakulam. They are not of the Muslim Private Army as is being claimed.

Title:Visuals of Popular Front's Foundation Day 2020 rally shared as Muslim Private Army marching in Kerala
Fact Check By: Manjori Borkotoky
Result: False