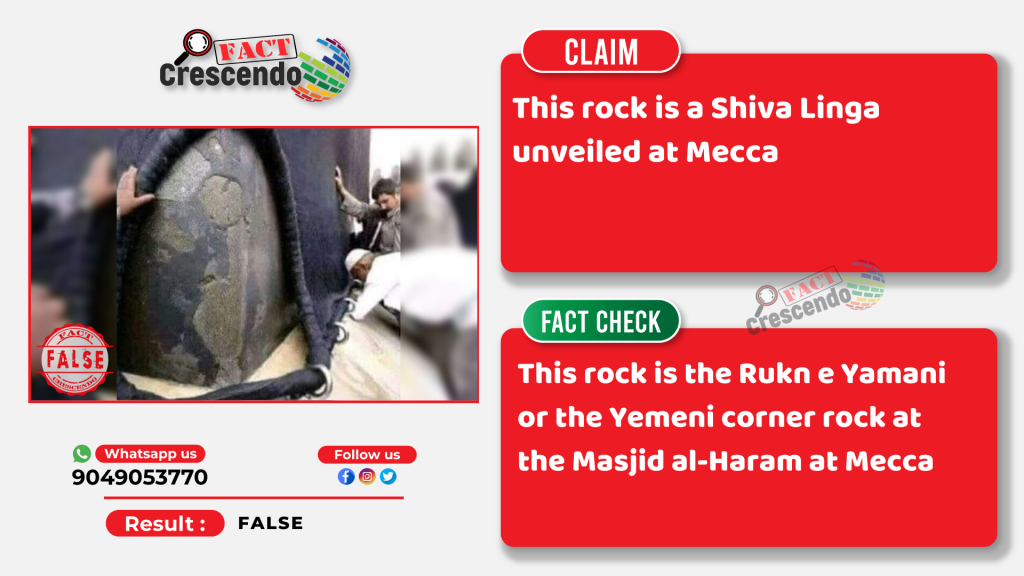 An image of a partially covered rock is being shared on some social media platforms with captions claiming that it is a photo of the first Shiva Linga to be unveiled at Mecca Medina. The image shows some people are uncovering the rock.
The same image with such a claim has been sent to Fact Crescendo's 24×7 Whatsapp Factline number 904 905 3770 with a request to verify the information. Archived Link.
Fact Crescendo found that the claim is False. It has nothing to do with Hinduism or Shiva Linga.
FACT CHECK METHODOLOGY
At first we ran a reverse image search on Yandex and found a Pinterest Pin that says the rock is Rukn e Yamani corner of Kaaba.
We searched for the term and saw a website named Islamic Landmarks that it means The Yemeni Corner at the Masjid al-Haram in Mecca, Saudi Arabia. It states "This corner of the Ka'bah is called the Rukan Yamani because it is situated on the side of the Ka'bah which faces the land of Yemen. It is on the wall opposite to that of the Hajar al-Aswad."
We found an article on a website Life In Saudi Arabia with the headline "6 facts about Rukn e Yamani of the Holy Kaaba," which has more details about the rock which marks the Yemeni Corner.
CONCLUSION
The claim stating that this is an image of the first Shiva Linga to be unveiled in Mecca is False. The rock is, in fact, a cornerstone at the Masjid al-Haram in Mecca, Saudi Arabia, marking the direction of Yemen. It is called the Rukn E Yamani of the Kaaba which means the Yemeni Corner.
(If you also have any suspicious messages, posts, photos, videos or news, send them to our WhatsApp Fact line Number (9049053770) for Fact Check. Follow Fact Crescendo on Facebook, Instagram and Twitter to read the latest Fact Check.)

Title:This partially covered rock is not a Shiva Linga unveiled at Mecca
Fact Check By: Manjori Borkotoky
Result: False