The video is scripted and does not have any communal angle related to it.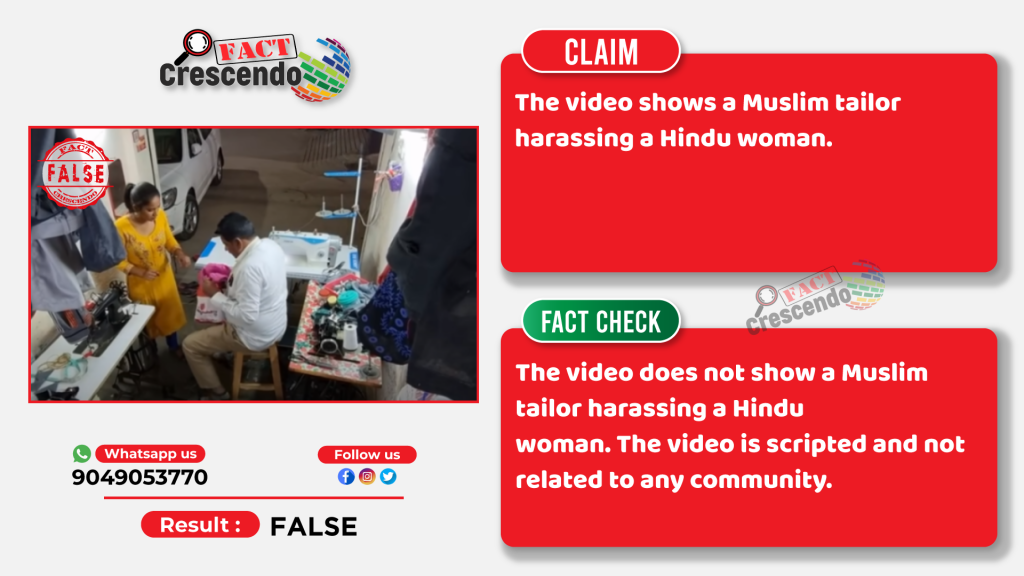 A video showing being inappropriately touched by a tailor during her measurements is widely circulating on social media with the claim a Hindu woman was molested by a Muslim tailor. A police officer later caught him when he tried to molest her as well. The users further suggested Hindu woman not to go to Muslim vendor for tailoring, mehndi and haircuts.
The caption of the post, "Hindu sisters and daughters are requested not to go to the shop of Muslims, they are people of wrong mentality, they have dirty thinking. Do not get them clothes and mehndi and hair cutting."
(Hindi: हिन्दू बहिन बेटियों से निवेदन हैं कि मुस्लिमो की दुकान पर न जाये ये गलत मानसिकता के लोग है इनकी गन्दी सोच हैं | इनसे कपड़े व मेहदी और हेयर कटिंग न करवाये)
Fact Check-
We started our investigation by running a reverse image search on Google on one of the screenshot of the video, whose results led us a YouTube channel named "3 RD EYE" who had posted the same video on 12 March 2022. The caption of the video mentioned "Fitting Master Social Awareness Video By 3rd Eye | Ideas Factory"
The description of video also clearly stated that this a video created to social awareness. According to the description of the channel they make video to show the reality in an entertaining manner.
The description states "Thank you for watching! Please be aware that this Channel features scripted dramas and parodies to Aware People in Different Situations. This Channel Brings Social Awareness Videos. These short films are for entertainment purposes only!"
Thus, it is clear that the video is scripted and has no communal angle related to it.
WHY DO YOU NEED MORE CONTEXT?
Users may wonder that staged or not, the video intends to spread awareness about a social evil.
However, Fact Crescendo has debunked several such staged and scripted videos, which were viral with communal claims.
Many times these fictional videos are shared to spread misinformation and create communal tension.
For example:
1. A "staged" video was shared with a false communal claim that Muslim men duped Hindu girls posing as Hindu boys. (Read Fact-Check)
2. A "scripted" video was shared with a baseless claim that a Muslim boy was captured stealing the bike of a young girl. (Read Fact-Check)
3. A "fictional" video was shared as a real incident of child kidnapping. In India, rumors of child kidnappings have already led to several deaths in mob lynchings. (Read Fact-Check)
4. A "made-up" video from the same Sanjjanaa Galrani page went viral as a real incident of a man being electrocuted while using mobile phone plugged for charging. (Read Fact-Check)
5. A scripted video went viral as a real incident of a dowry case where the groom refused to marry the bride because of less dowry. Times of India falsely reported this video as well. (Read Fact-Check)
In the name of "social awareness" or "motivational" videos, these scripted videos are solely made to garner views and hits on social media.
Sometimes they are shared out of context and sometimes with outright false and dangerous communal claims. Therefore, users need to know the full context of these videos.
Conclusion-
Fact Crescendo found the claim made along with the viral video to be False. The video does not show a Muslim tailor harassing a Hindu woman. The video is scripted and does not have any communal angle related to it.

Title:The video of a tailor inappropriately touching a woman is scripted
Fact Check By: Drabanti Ghosh
Result: False