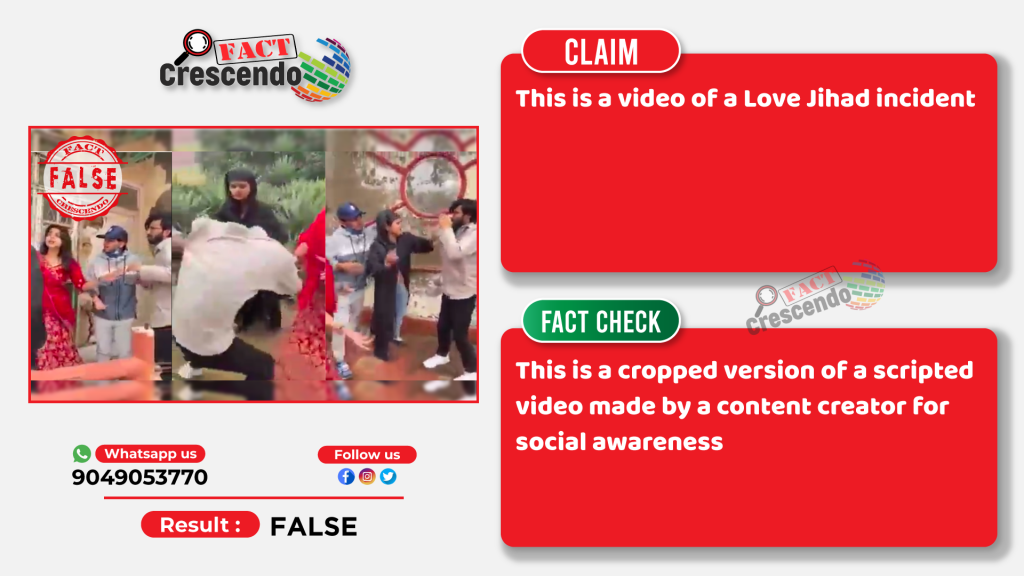 A video, showing a scuffle between a few people, consisting of two women, is going viral on social media with a claim that this is a video of a Love Jihad incident. The claim is that Muslim men duped Hindu girls posing as Hindu boys. The video shows a woman in a burqa hitting a man and crying, in Hindi, that he is her husband, while another woman in a red saree keeps saying that she is about to get married to the same man. Some people also intervene but the scuffle goes on. The viral video is of 5.33 mins duration.
Here's one such post: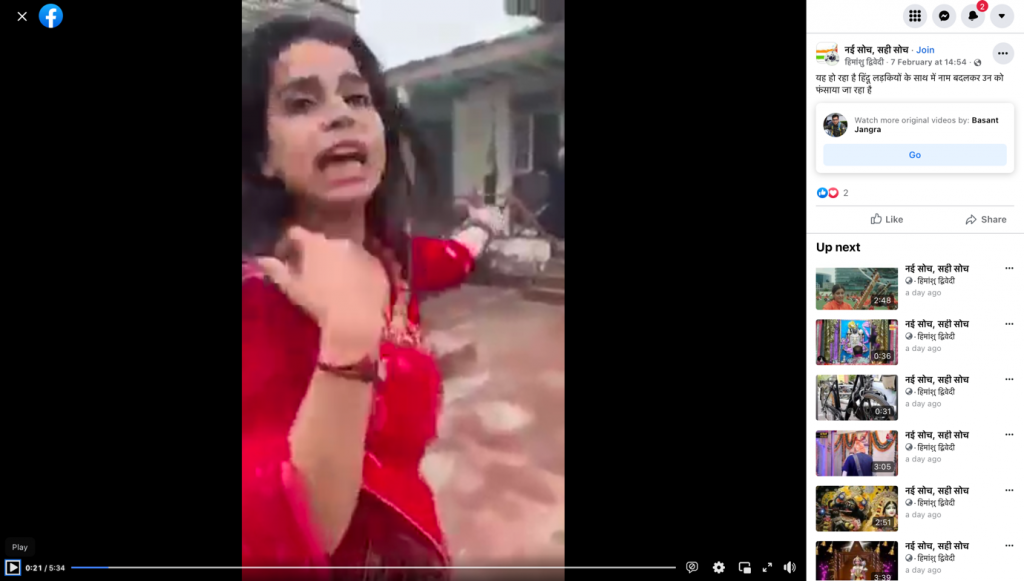 We came across multiple posts with the same video and same claim.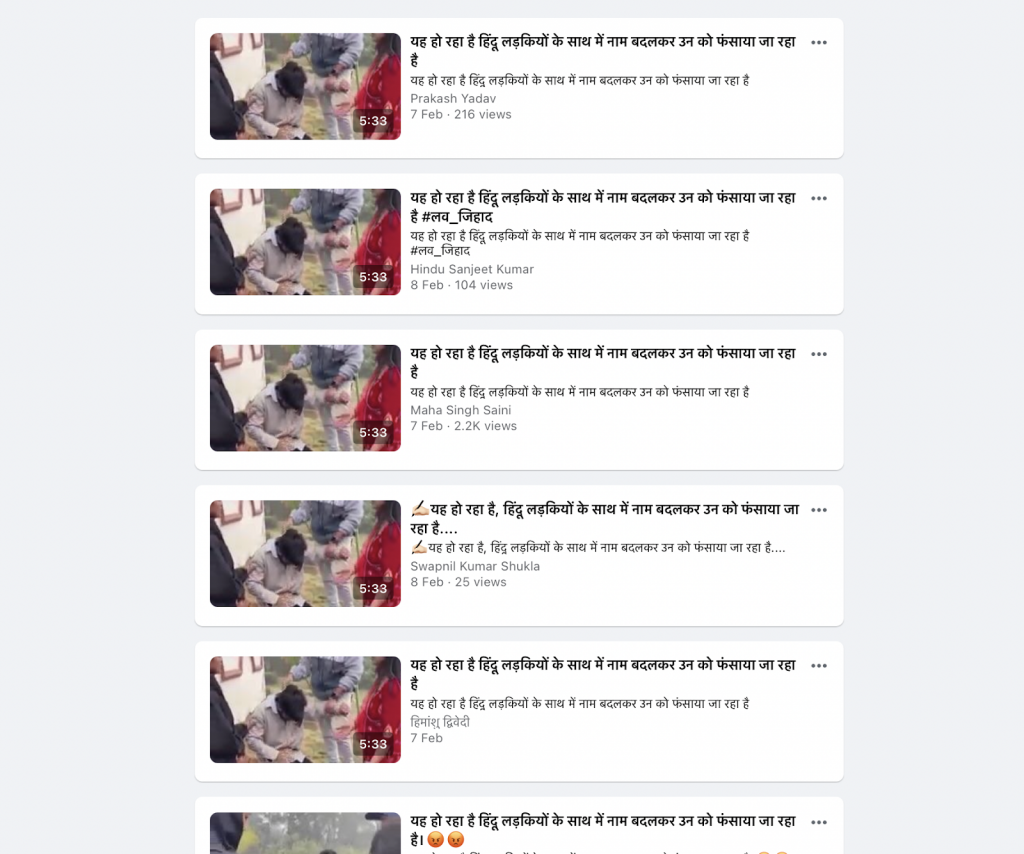 Fact Crescendo found that the video is actually scripted and was first uploaded by a content creator. Here are the details:
FACT CHECK METHODOLOGY
At first we studied the post closely and saw that a dialogue box appears next to it that says : "Watch more original videos by Basant Jangra."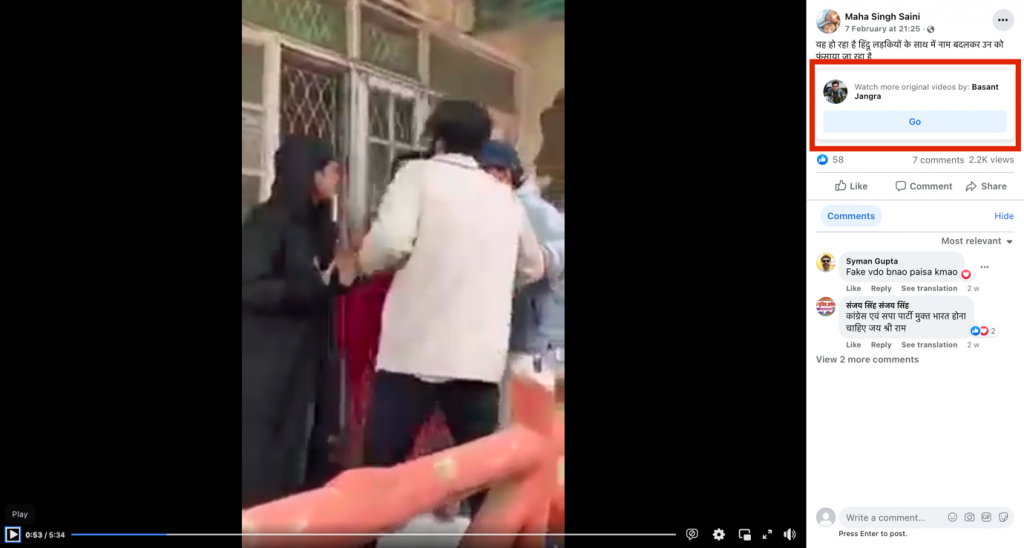 So, we searched for Basant Jangra's videos and that led us to a page with the same name. We saw that the page has many videos, some humorous and some with social messages.
While going through the videos, we came across an 8 min long video which has the same content. Here's the video:
We realized that the viral video is a cropped version of this 8 min video, posted on the page Basant Jangra on February 2, 2022 with the caption: "Apni Wife Ko De Raha Tha Dhokha Ye Ladka," in Hindi which translates into "This boy was cheating on his wife."
We tried to see if there was any disclaimer anywhere stating that this isn't a real incident but failed to find any such information anywhere.
Following this we got in touch with the content creator, Basant Jangra, via email, as his mail id was listed on the page. Basant Jangra responded stating "All video Only for Social Awareness And Scripted…"
CONCLUSION
Our fact check proves that the viral video is actually a cropped portion of a scripted video and made by a content creator Basant Jangra, and it is not of an incident of "Love Jihad." The claim is False.

Title:Scripted Video goes viral as incident of Love Jihad
Fact Check By: Manjori Borkotoky
Result: False