the events shown in the video are scripted and dramatized. It also does not have any communal angle to it.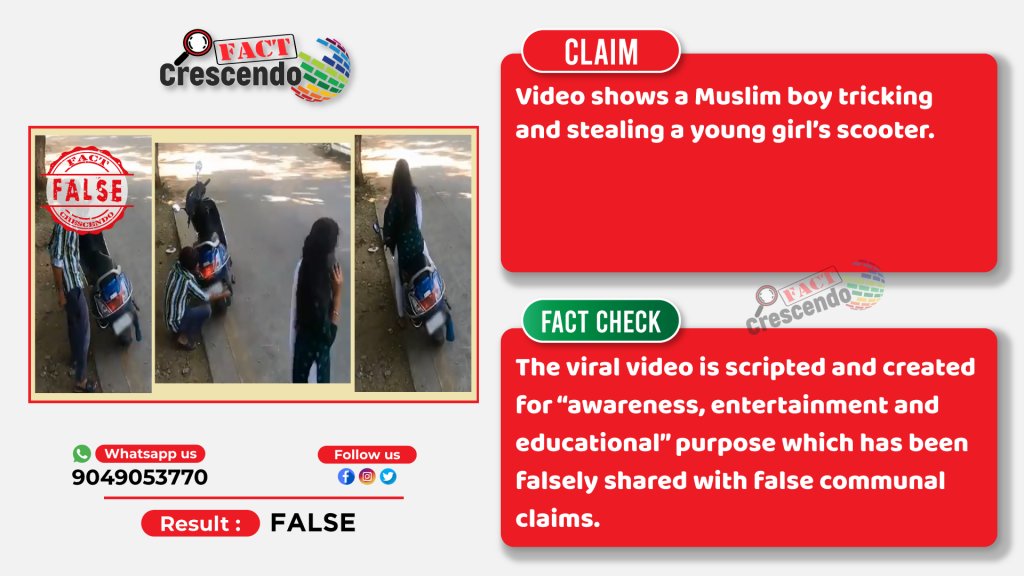 A video showing a boy stealing a moped from a girl after offering to fix her scooty is circulating on social media with a communal claim. The claim made along with the video is that a Muslim boy was captured stealing the scooty of a young girl. The video is in a form of a CCTV footage dated 22 December 2021.
What is shown in the video?
The boy can be seen inserting a piece of cloth in a scooter's silencer as the scooter is parked unattended. After this, when the girl comes back and tries to start her scooty, she is unable to do so. The boy offer help to her. Later as the girl gets busy on her phone, the boy rides away on the scooter as the girl follows and shouts in vain.
"See how a Muslim boy took away a girl's Activa. Captured on CCTV camera," mentioned the caption of the tweet.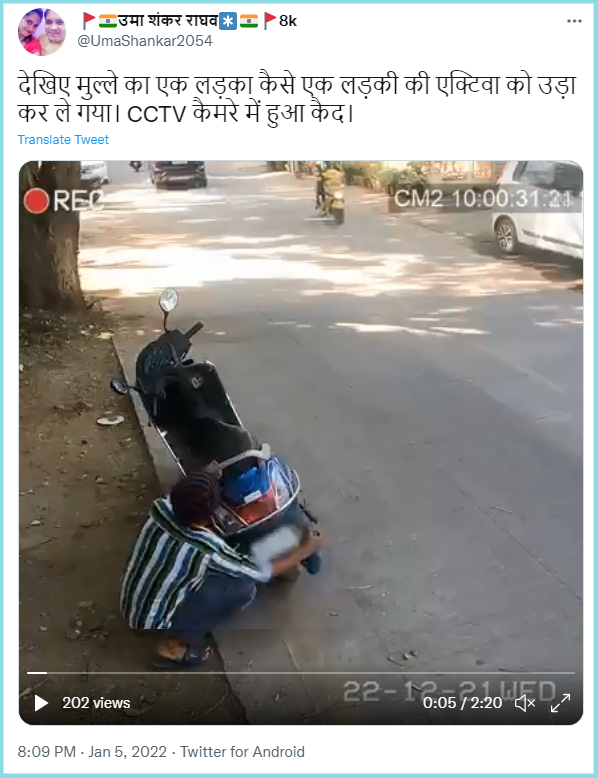 ---
ALSO READ- Scripted video created for awareness shared with false communal claims.
---
Fact Check-
The viral video gave away a hint at the end of the video as we can see that the video asks their viewers to be alert and thanks them for watching. We have previously fact checked several such videos with such disclaimers. Usually the people who peddle misinformation as such clip away the portion where the disclaimer is given to make the video look realistic.
Keeping this in mind we checked on the pages of the users on Facebook who is known for sharing and uploading such scripted videos for entertainment and educational purposes.
We found the viral video on the verified Facebook handle of Sanjjanaa Galrani on 23 December 2021. The caption of the video states, "Thank you for watching! Please be aware that this page features scripted dramas and parodies as well. These short films are for entertainment & educational purposes only!"
The user has clearly mentioned that the video is a scripted one and has been created for awareness purpose only. Thus, none of the characters is real or practices any particular faith.

---
ALSO READ- Scripted video showing a child kidnapping believed as a real life incident
---
We found that several other videos from Sajjanaa's profile has been shared with misleading and communal claims without mentioning that the video is a scripted one. You can read our fact check on such videos here and here.
Conclusion-
Fact Crescendo found the claim made along with the viral video on social media to be False. The events shown in the video is scripted and dramatized and has no relation with real life incidents. We advise our viewers to use their discretion while sharing such videos and when in doubt about the authenticity, please refrain from sharing until it gets verified.
---
ALSO READ- Scripted Video showing Group of Boys Taking Advantage of Girls by Spiking Their Food Shared with a Communal Claim
---
(If you also have any suspicious messages, posts, photos, videos or news, send them to our WhatsApp Fact line Number (9049053770) for Fact Check. Follow Fact Crescendo on Facebook, Instagram and Twitter to read the latest Fact Check.)

Title:Scripted Video created for awareness against vehicle theft shared with communal narrative targeting Muslims
Fact Check By: Aavya Ray
Result: False