The viral video is scripted and created for "awareness and educational" purpose which has been falsely shared with false communal claims.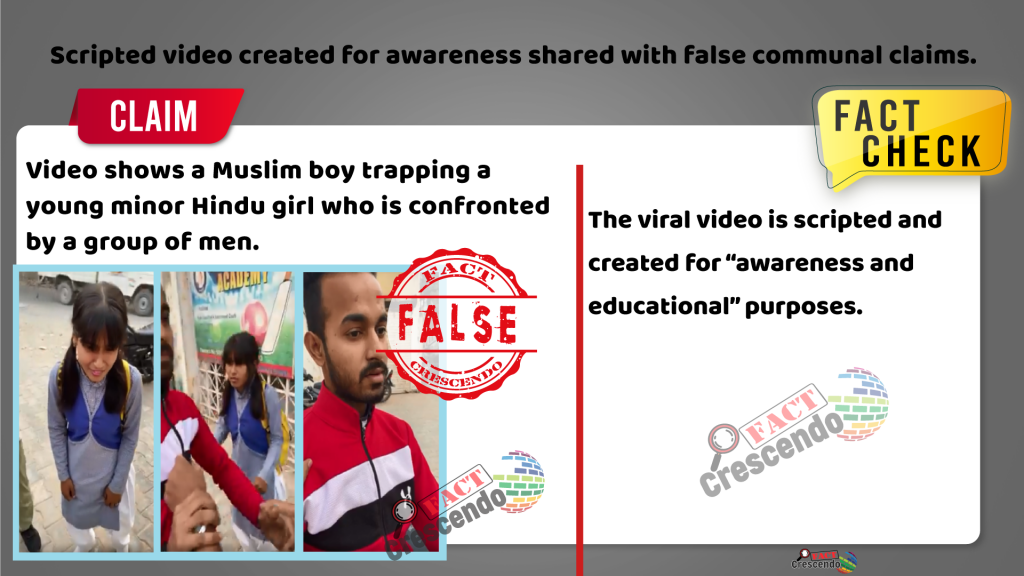 A video showing a group of men confronting a girl dressed in school uniform with a youth on his bike is widely circulating on social media claiming to be a video of a real incident. Users are sharing the video with a narrative of Love Jihad. The users claim this is how a Muslim boy traps a minor Hindu girl in pursuit of love jihad.
Recently, Fact crescendo has debunked several such videos which went viral with false communal claims. Upon our investigation, we found that all these videos are scripted and apparently shared for public awareness. These scripted videos have been taken as a real life incident.
The caption of the video states, "How these illegitimate children of Akbar Babur's harem trap minor Hindu girls in love jihad. Watch this video and keep your eyes open around. Tell others too."
Fact Check-
We started our investigation by extracting key frames from the In-Vid We Verify tool and ran a reverse mage search on Google for the same.
The results led us to a longer version of the same viral video on YouTube posted on December 4. The video is 5:38 long while the viral video on social media is 5:13 second long. A YouTube channel named "Viral Vlog Tube" has posted the video.
The headline of the video mentions, "Where do girls go in the name of school, request parents to take care of that."
Upon carefully watching the video, we found a disclaimer at the end at 5:35 seconds. The disclaimer reads, "This video is fictional work and meant for awareness purpose. And all characters are fictitious. Any harm cause to any person through this video is purely coincidental. (sic)"
We also found the same video posted by a Facebook user named "Deepika Shah" on 27 November 2021. The caption of the video translated in English states "See where this girl goes in the name of school, parents must take care." This video also carries the disclaimer that says that the video has been created for awareness purpose. We found several other scripted videos on her Facebook profile.
We found another scripted video on Deepika Shah's profile casting the same girl wearing the same school uniform as seen in the viral video on 18 December.
Conclusion-
Fact Crescendo found the claim made along with viral video on social media to be False. The viral video on social media does not show a real incident. The video is scripted and created to awareness and educate the society. The video is a fictional story. The video is being shared with a false narrative of Love Jihad.
(If you also have any suspicious messages, posts, photos, videos or news, send them to our WhatsApp Fact line Number (9049053770) for Fact Check. Follow Fact Crescendo on Facebook, Instagram and Twitter to read the latest Fact Check.)
Title:Scripted video created for awareness shared with false communal claims.
Fact Check By: Aavya Ray
Result: False