The video has no relation with the Karachi blast in December 2021. The video shows a massive blast in Beirut, Lebanon in 2020.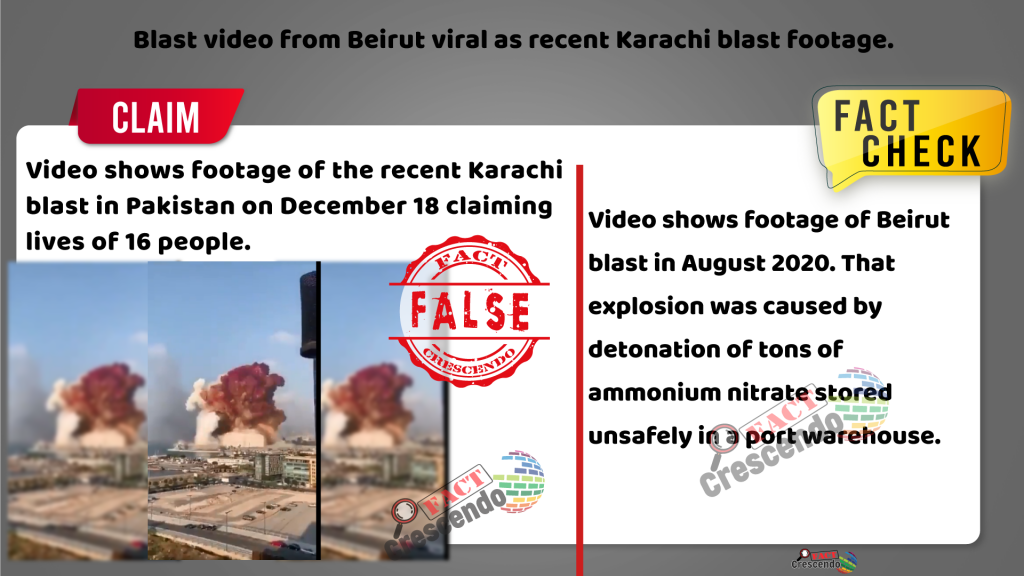 On 18 December, 15 people were injured and at least 16 people lost their lives due to a sewer blast in the financial capital of Pakistan, Karachi.
In the context of this incident, a video is circulating on social media claiming to show the visuals of the blast in Karachi, Pakistan. The video shows a massive blast in the middle of a city.
The caption of the video mentions, "Massive #KarachiBlast to day evening casualty increased to 21 and several injured #Pakistan #Karachi #terroristattack"
Fact Check-
A Google reverse image search on one of the key frames of the video extracted with the help InVid We Verify tool. The results led us to the same video published by the official YouTube channel of Sky News on 4 August 2020. The caption of the video states that it is the raw footage of the Beirut blast. Social media users caught the moment of the huge Beirut explosion on camera.
BBC News also reported this video on 5 August 2020, which mentioned that the video shows a huge blast in the Lebanese capital of Beirut which had injured at least 400 people and claimed lives of at least 219 people. This blast was caused due to a fire that triggered the detonation of 2,750 tonnes of ammonium nitrate stored unsafely in a port warehouse. The blast destroyed several buildings and ports in Beirut. The explosion was heard 240kms away on an island (Cyprus) in eastern Mediterranean Sea.
Several media houses such as Ruptly posted other videos of the blast as well.
Thus, it is clear that the viral video actually shows the Beirut blast that took place in August 2020. We also found video reports published by the Express Tribune showing the Karachi blast on 18 December. They reported that the blast took place in Karachi's Shershah Paracha Chowk area on Saturday.
Conclusion-
Fact Crescendo found the claim made along with viral video on social media to be False. The viral video does not show footages from the recent blast in Karachi, Pakistan. The video shows footages of the Beirut blast that took place in 2020.
(If you also have any suspicious messages, posts, photos, videos or news, send them to our WhatsApp Fact line Number (9049053770) for Fact Check. Follow Fact Crescendo on Facebook, Instagram and Twitter to read the latest Fact Check.)
Title:Fact Check: Blast video from Beirut viral as recent Karachi blast footages.
Fact Check By: Aavya Ray
Result: False