The Bhajan is sung by Prembhushanji Maharaj and not PM Modi.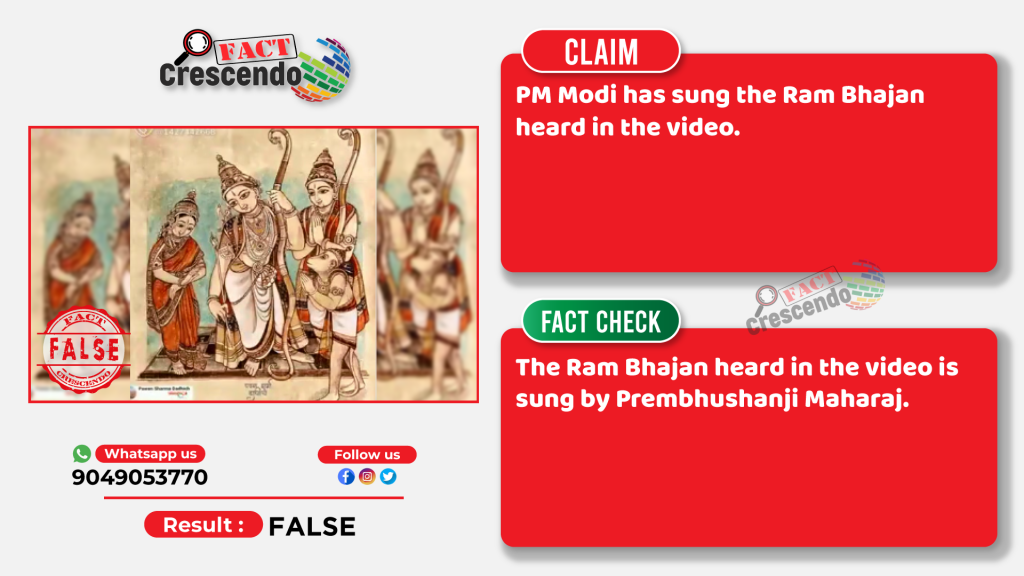 A video with the audio of man singing Ram Bhajan is widely circulating on social media with the claim that the singer of this Bhajan is PM Modi.
The caption of the post states, "If you come to know who is singing this Goddess Bhajan, you will be surprised! This is none other than the Prime Minister of our country, Hon'ble Shri Narendra Modi. Blessed is the country where the Prime Minister is the one who knows and understands faith and culture. It is a matter of great pride. He sung like a professional singer."
(Hindi: अगर आप को मालूम हो जाए कि यह देवी भजन कौन गा रहा है तो आप आश्चर्यचकित हो जाएंगे! यह और कोई नहीं है, यह हमारे देश के प्रधान मंत्री माननीय श्री नरेन्द्र मोदी जी हैं। धन्य है वह देश जहाँ का प्रधानमंत्री ऐसी धार्मिक आस्था व संस्कृति को जानने और समझने वाला हो…*
*बहुत ही गर्व की बात है। एकदम प्रोफेशनल सिंगर की तरह गाया है।)
Facebook Post | Facebook Post | Archive Link
Fact Check-
We started our investigation by running a keyword search on YouTube, whose results led us to Pujya Prembhushanji Maharaj's channel. He had posted the song on 18 March 2021 with the caption "Pujya Prembhushanji Maharaj *Bhajan * Ram Naam Ke Sabun Se Jo (Contact +916394157463)"
According to the description of the video this bhajan was performed by
Prembhushan Maharaj. We can see Prembhushan Maharaj sing the song live in front of an audience in the video.
Fact Crescendo contacted Prembhushan Maharaj's office. They confirmed to us that Pujya Prembhushan Maharaj has sung the viral bhajan in circulation. He has performed this bhajan on several occasions since 2018. The bhajan is also available on their official channels.
Upon keyword searching for news reports corroborating the viral claim that PM Modi has performed a Ram bhajan recently, we could not find any credible information.
Conclusion-
Fact Crescendo found the claim made along with the video to be False. PM Modi has not sung the viral Bhajan. A religious preacher and Bhajan singer Prembhushanji Maharaj has originally sung the song. It's his voice that we can hear in the video.

Title:Ram Bhajan in viral video is not sung by PM Narendra Modi; Here's the truth…
Fact Check By: Drabanti Ghosh
Result: False