The image is not from India. It shows religious prayers offered during the religious congregation of Bishwa Ijtema in Bangladesh in 2020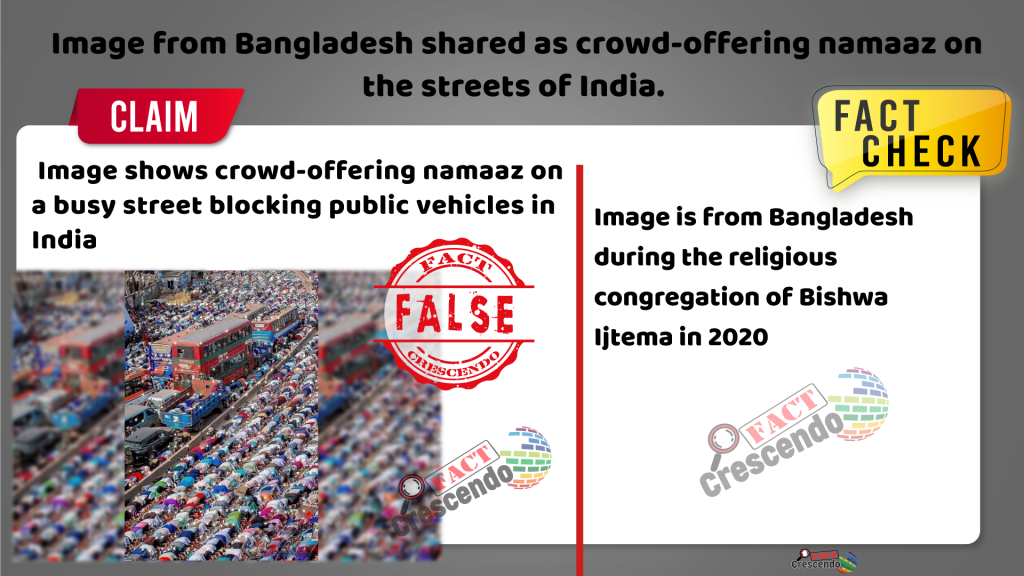 An image showing a large crowd offering namaaz on a busy street blocking traffic is widely circulating on social media. Several social media users including Pakistani-Canadian columnist Tarek Fatah have shared this image. This image is being shared as a recent incident in India where people can be seen blocking traffic on a highway to perform their Friday namaaz.
This post is getting viral amid incidences of people being stopped from offering Namaz in Public places by Right Wing organizations in Gurugram.
The caption of the post mentions, "Blocking traffic on a highway in India to perform Friday prayers. This doesn't seem to me as a prayer; it's a demonstration of numbers to intimidate others. Any attempt to ask them to move to designated prayer spaces will be labelled 'discrimination'".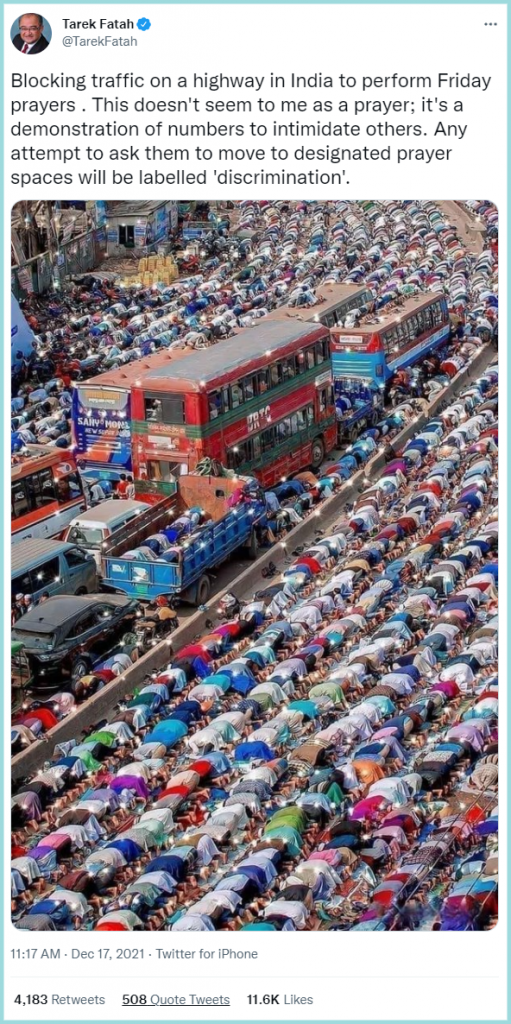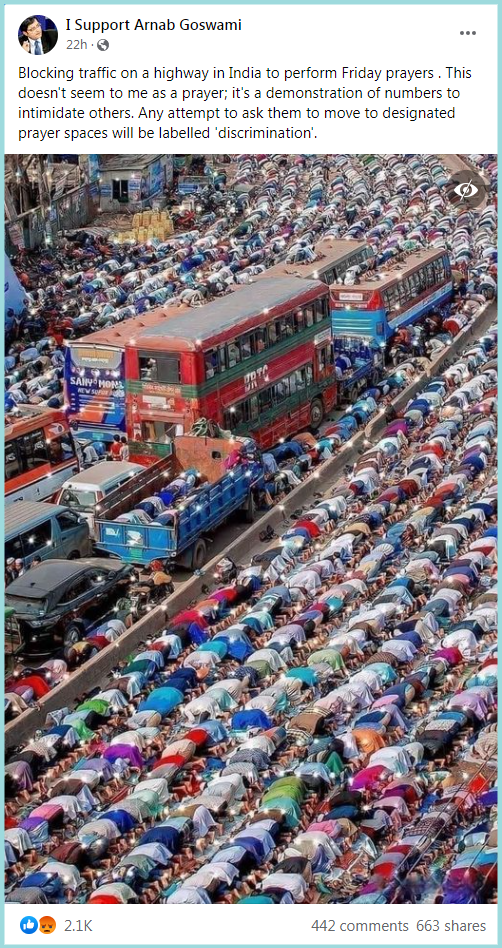 ---
ALSO READ: Video of Bangladesh brawl goes viral as Muslim mob protest outside Kali temple in Kolkata
---
Fact Check
We started our investigation by carefully observing the viral image on social media where we noticed BRTC written on the red double decker bus. We found that BRTC stands for Bangladesh Road Transport Corporation. You can see similar images of the bus on the official website of BRTC.
We ran a Google reverse image search on the same whose results led us to the same image posted on Pinterest with the watermark named as Rahul Dhar. Next, we searched for Rahul Dhar's website, which led us to the viral image with the caption "Iztema".
Taking a cue from this, we ran a keyword search on Google, this led us to a larger version of the viral image uploaded on a stock image website named Alamy stock image. According to the description of the image, this image was captured at the Bishwa Ijtema in Bangladesh that is the second largest congregation of Muslims. The caption states, "Muslims are performing Jumma prayers at The Bishwa Ijtema, the second largest congregation of the world's Muslims after Hajj."
The image was captured on 10 January 2020. Sheikh Mohammad Mahadi Hassan captured this image.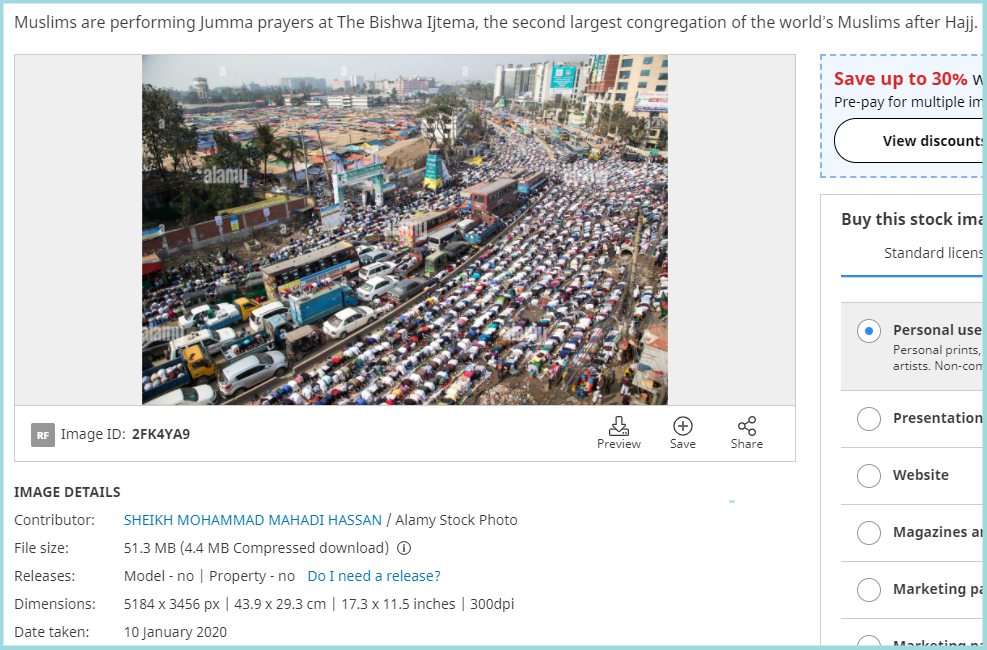 ---
ALSO READ: Image from Bangladesh viral as men offering Namaaz in the streets of India
---
Upon using InVid magnifier, we found a poster that mentioned "Bishwa Ijtema 2020 Shofol Hok" which means may Bishwa Ijtema 2020 be successful in Bangla language.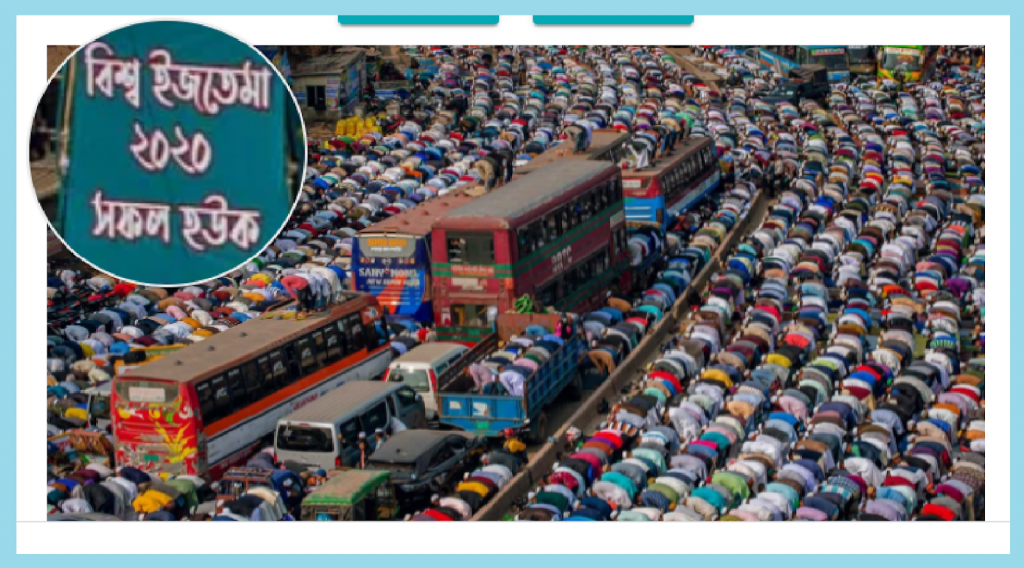 What is Bishwa Ijtema in Bangladesh?
The Bishwa Ijtema is an annual gathering of Muslims in Tongi, by the banks of the River Turag, in the outskirts of Dhaka, Bangladesh. It is one of the largest gathering of Muslims in the world. The Ijtema is a prayer meeting spread over three days, during which attending devotees perform daily prayers while listening to scholars reciting and explaining verses from the Quran.
---
ALSO READ: 2019 Image of the procession of Eid-e-Milad-un Nabi in Bangladesh is being viral as Owaisi's rally in Uttar Pradesh
---
Conclusion-
Fact Crescendo found the viral image on social media to be False. The viral was captured in 2020 during the Bishwa Ijtema in Tonga, Bangladesh. The image has not relation with India.
(If you also have any suspicious messages, posts, photos, videos or news, send them to our WhatsApp Fact line Number (9049053770) for  Fact Check. Follow Fact Crescendo on Facebook , Instagram and Twitter to read the latest Fact Check.)
Title:Image from Bangladesh shared as crowd-offering namaaz on the streets of India.
Fact Check By: Aavya Ray
Result: False