The news was published by a satire website, but people started sharing it as real after it went viral.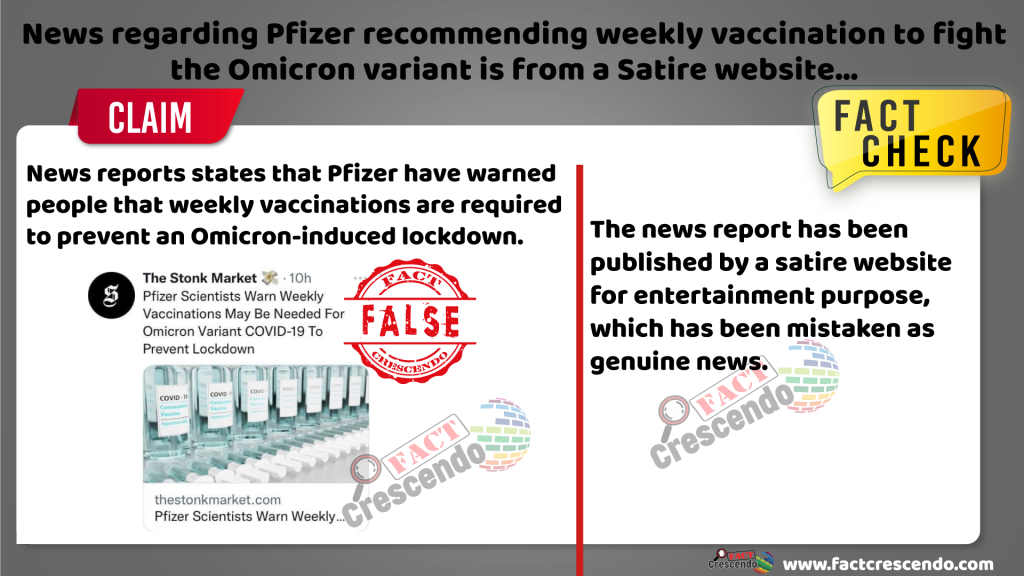 More than 100 cases of Omicron variant has been reported in India. The WHO has expressed their concern over the rising cases of this variant in the world. Amid this, a screenshot of a news report is circulating on social media claiming that the pharma company Pfizer have warned people that weekly vaccinations are required to prevent an Omicron-induced lockdown. People are also sharing the link to an article published by a website called 'thestonkmarket.com'.
The article mentions ""Pfizer Scientists Warn Weekly Vaccinations May Be Needed For Omicron Variant COVID-19 To Prevent Lockdown".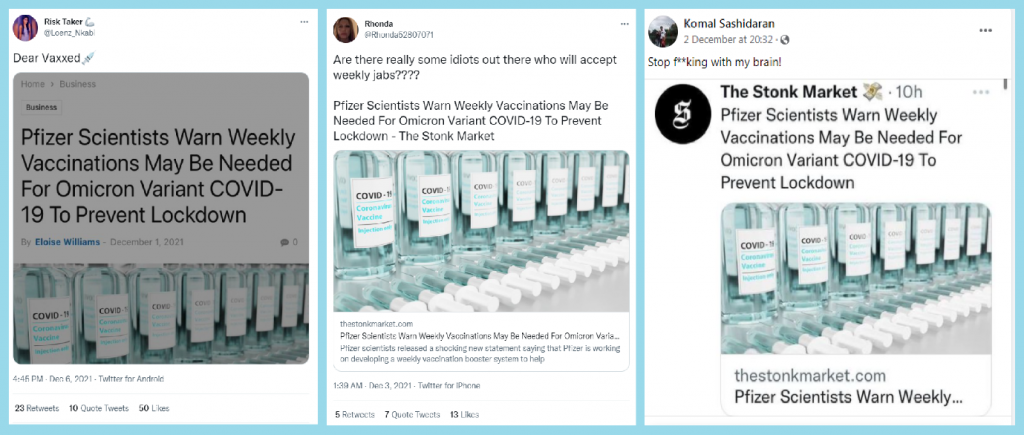 Facebook Post | Tweet Link | Tweet Link | Facebook Post | Facebook Post
Fact Check-
We started our investigation by searching the news report on the website of "thestonkmarket.com" which led us to the report, which states that Pfizer scientists released a statement saying that Pfizer is working on developing a weekly vaccination booster system to help prevent the spread of the new emerging COVID-19 mutation, Omicron. The panel of Pfizer scientists state 'Due to changes in Omicron's spike protein to traditional COVID-19 variants, weekly booster shots may be needed to keep up a level of immunity that will keep an individual resistant to Omicron. They also mentioned that the Pfizer's stocks have increased by 420% according to the news. The report was published on 1 December.

Upon checking the "About us" section of the website, we found that the website states that they are a satire website. They have mentioned that they are a financial satire site who provides a unique coverage of financial industry and stocks.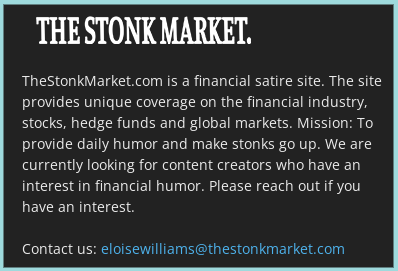 Conclusion-
Fact Crescendo found the viral image on social media to be False. Scientists all over the world are working to work on new ways to deal with the Omicron variant, but a news published by a satire website is currently being shared as genuine information on social media. The viral screenshot of the alleged news report was created by a satire website for fun. This news report is being mistaken as a genuine one.
(If you also have any suspicious messages, posts, photos, videos or news, send them to our WhatsApp Fact line Number (9049053770) for Fact Check. Follow Fact Crescendo on Facebook , Instagram and Twitter to read the latest Fact Check.)
Title:Fact Check: News regarding Pfizer recommending weekly vaccination to fight the Omicron variant is from a Satire website…
Fact Check By: Aavya Ray
Result: False