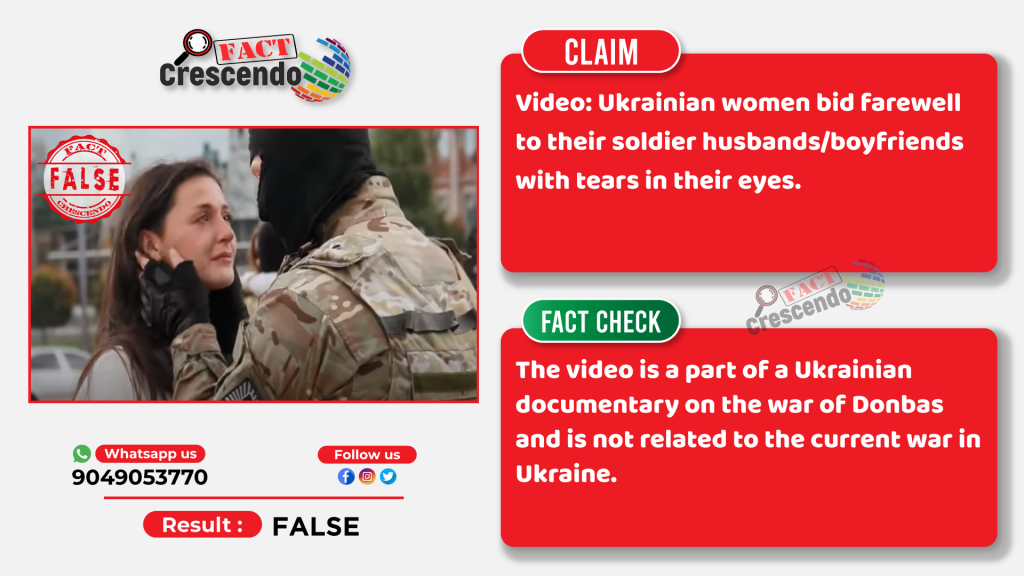 A video is being shared on social media in which some soldiers can be seen hugging and kissing their wives/girlfriends before leaving for war. The video is being shared widely as Ukrainian soldiers bidding farewell to their loved ones before joining the war.
However, when we fact checked the video we found that the video is actually a scene from a movie. The video has no relation with the ongoing war in Ukraine. Here are the details of claims made about this video on social media and its truth.
Claim on Social Media
Original Post- Facebook | Archived Link
We can see in the post above, the emotional clip of soldiers hugging and kissing their companions before leaving for the war as the teary-eyed women see them off reluctantly. The caption accompanying this video says, "In Ukraine's capital military women send thier fairwells…let's keep praying for this nation."
This is not the only post sharing the video with the same caption. A few examples of similar posts can be seen here and here. Let us check whether this video has any connection with the ongoing war in Ukraine.
Fact Check
We took numerous screenshots of the videos and searched those images on Yandex. Yandex reverse image search results yielded the following YouTube video. A channel called UATV English on Feb 16, 2018 uploaded the video. The title of the video is, "The War of Chimeras: Story of Love, Life and Death". The video is an interview of the maker of the documentary, filmmaker Anastasiya Starozhytska. The video has been timestamped to part where you can see the visuals in the viral video.
As per the description of the video, The War of Chimeras: Story of Love, Life and Death is a movie about the impact of the Donbas war in Ukraine. The scenes of soldiers lovingly embracing their wives and girlfriends can be seen in the trailer of the movie as well. You can see below the 3 min long trailer of the movie. The initial visuals are the ones that have been clipped and shared on social media platforms as real scenes of Ukrainian soldiers.
Fact Checkers across the globe have been debunking misinformation related to Ukraine ever since Russian attack. You can see below the volumes of misinformation debunked by IFCN verified Fact Checkers in various countries in a collaborative effort to fight fake news. In addition, the latest fact checks published regarding the situation in Ukraine.
Conclusion
The viral video of Ukrainian women bidding farewell to their soldier husbands and boyfriends is actually a movie scene. The clip was taken from the trailer of a Ukrainian documentary movie made by filmmakers Anastasiya Starozhytska and Maria Starozhytska on the war in Donbas.

Title:Russia-Ukraine War | Visuals from a Movie Shared as Ukrainian Soldiers Bidding Farewell To Their Wives & Girlfriends…
Fact Check By: Harish Nair
Result: False