On 6th August 2019, a video was posted on Facebook by a Facebook page named Free Indian Occupied Kashmir. In this video, at least 3-4 houses can be seen burning. It has been claimed that the Indian Army burned Kashmiri people's houses in Bandi Pura, Indian Occupied Kashmir. Is it true? Let us do a reality check.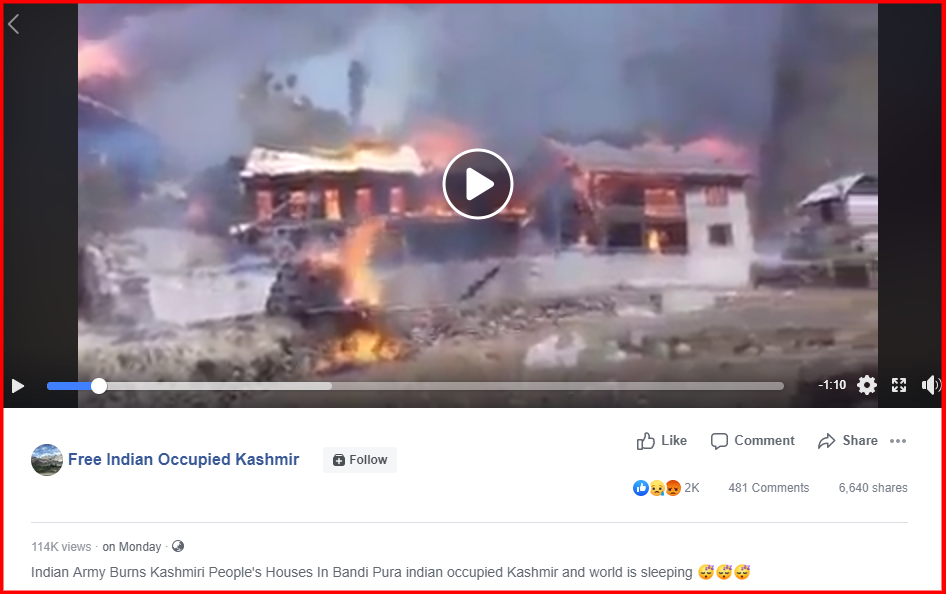 We took a screenshot of the aforementioned video with the help of Invid tool. After searching for it on Google Reverse Image Search, we found a video uploaded on YouTube by ATV News Kashmir on 27th March 2018. This video is exactly similar to the video that has been shared in the above post. In the description of this video, it is mentioned that 'Four residential houses were gutted in a massive fire incident at Lachipora Uri.'
We searched for keywords "four residential houses were gutted in a massive fire incident at Lachipora Uri" and found many news websites of Jammu & Kashmir. According to the news article published on 27th March 2018, this incident happened in Lachipora area of Uri in Kashmir's Baramulla district. The fire broke out in a cowshed and spread to the 4 houses in the adjacent area. Since there was no Fire Service Station situated nearby, the fire could not be extinguished soon. Due to this accidental fire, at least 20 animals were burnt to death. The images shown in this news are exactly similar to the images shown in the aforementioned viral video. Click the link below to read the full story
We compared the picture found in the news to the screenshot of the video; you can see these pictures below.

It is clear from the research that the video in the post about the burning houses is actually of an accidental fire in Lachipora village in Uri district, Kashmir. This incident happened on 24th March 2018. Currently this old video is being used to mislead people by spreading false information that these houses are being burnt by the Indian Army in the current scenario.
Conclusion: The claim mentioned in the above-mentioned post that the Indian Army burnt houses in Bandipura Kashmir is totally false. 

Title:2018 video went viral with a false claim that Indian Army is burning houses in Bandipura Kashmir
Fact Check By: Ruchika M
Result: False