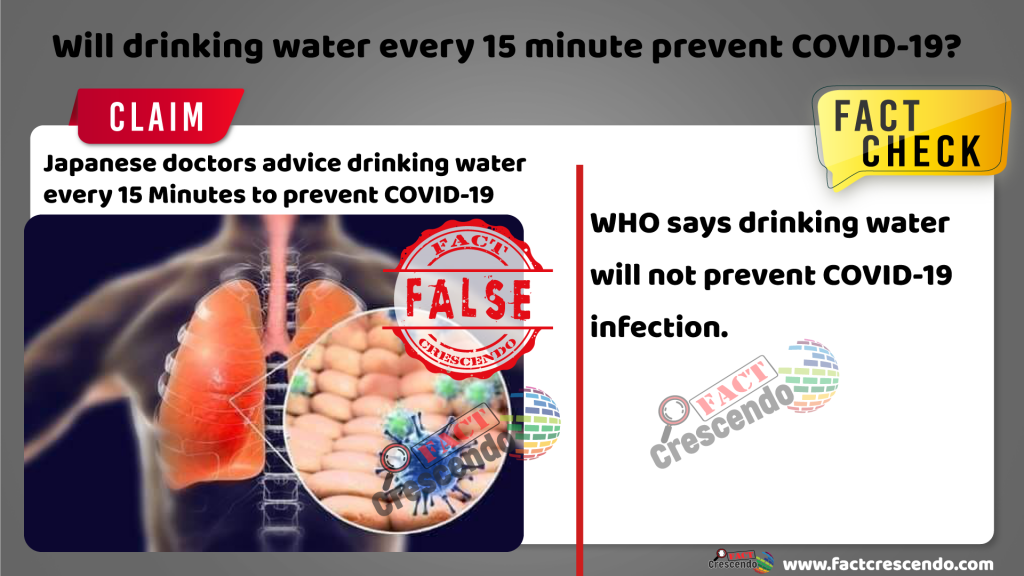 Social Media users have come up with very absurd claims regarding precautionary measures, remedies and cures for Coronavirus. Recently we came across several posts on social media, which claimed that Japanese doctors have come up with a new way to treat patients infected with COVID-19. This treatment can also be used as precautionary measure for other people. The posts says that the Japanese doctors advice citizens to drink water every 15 minutes to prevent being infected with COVID-19. The post also clarifies the science behind this measure by saying that water will help us swallow the virus through our esophagus into the stomach, where the stomach acid will destroy the virus. It also warns that if we do not consume enough water then the virus might enter our lungs through our windpipe causing serious health issues.

The post reads- "SERIOUS EXCELLENT ADVICE by Japanese doctors treating COVID-19 cases. Everyone should ensure your mouth & throat is moist, never DRY. Take a few sips of water every 15 mins at least. WHY? Even if the virus gets into your mouth…drinking water or other liquids will WASH them down through your oesophagus and into the stomach. Once they are in your tummy…your stomach ACID will kill all the virus. If you don't drink enough water regularly…the virus can enter your windpipes and into the LUNGS. That's very dangerous. Please send and share with family, friends and everyone about this! Take care everyone n may the world recover from corona virus soon. May all be well n happy."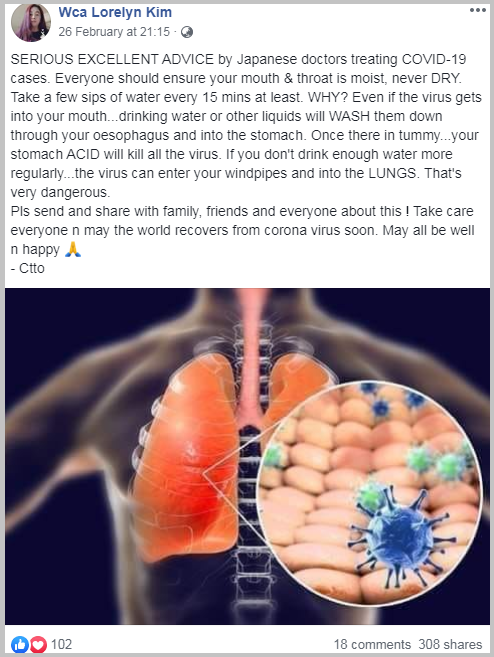 Fact Check-
We started our investigation by looking for information about water consumption on the World Health Organization's website. We came across a tweet by WHO Phillippines official account, which clearly clarified that "While staying hydrated by drinking water it is important for overall health, it does not prevent a coronavirus infection."
Next, we also searched for advisories related to high consumption of water on Japan's Ministry of Health's website. We did not find any advisory or notice mentioning frequent water intake. This website lists every information about COVID-19 with respect to Japan. We found that the ministry listed few preventive measures, which included washing hands frequently and covering mouth and nose when coughing or sneezing.

Conclusion- Fact Crescendo found the above post to be False. There is no Japanese advisory issued regarding frequent consumption of water. World Health Organization has clarified , that drinking water will not prevent a Coronavirus infection.

Title:Will drinking water every 15 minute prevent COVID-19?
Fact Check By: Aavya Ray
Result: False