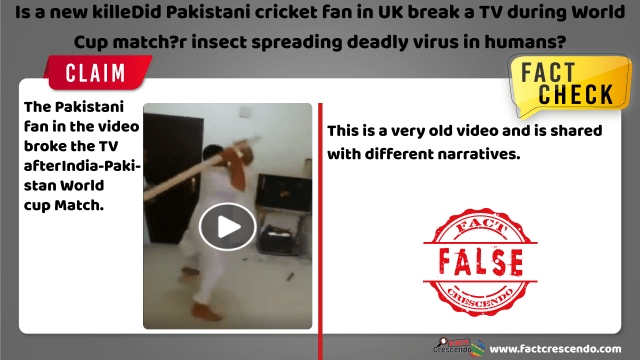 A Facebook user named 'Parmeswar Karai' shared a video on 17 June 2019. The video shows three men watching a cricket match in a room. A person asks second person to get something. The second person gets some metal object and a spitting pot. The first person gets very angry, takes both the objects and hits the TV with it. The TV stops working and breaks. This action does not calm him down, so he takes a big stick and breaks the video further. The post quotes "Huge Celebration in Pakistan yesterday."
On 16 June 2019 – Sunday, there was a World Cup match of India Vs Pakistan in Manchester City. As India defeated Pakistan in this match, this post claims that the Pakistani fan in the video is breaking the TV in the annoyance of the team's defeat. Let us see what the facts are!  
NARRATIVE ON SOCIAL MEDIA
FACT CHECK:
First, we took screenshots of the video using InVid tool and did a reverse image of frames on Yandex. What we got in the search is below:
With this search result, we got a link to YouTube. A user named 'Urgent Electronic' has uploaded the same video on 9 April 2015, which is shared in the above post. Interpretation of the description from Urdu is – After watching Abdul Malik on TV; a Pakistani man broke the TV. You can see this video below.
Apart from this, we got the same video uploaded by another user 'Games Highlight' on 27 March 2016. The description of this video states that, "after the defeat of India, reaction of a Bangladeshi fan."
We also got a tweet dated 29 April 2015, by a user named Mohammed Altamimi. This tweet also has the same video. Translation of the description from Arabic – after the match of tomorrow, a fan's response.
Along with this, we got the same video on 'Daily Motion' blog. Blogger 'Iffat-Javaid-CH' shared this video on 23 January 2016. Description written as – situation after PAK Vs NZ match.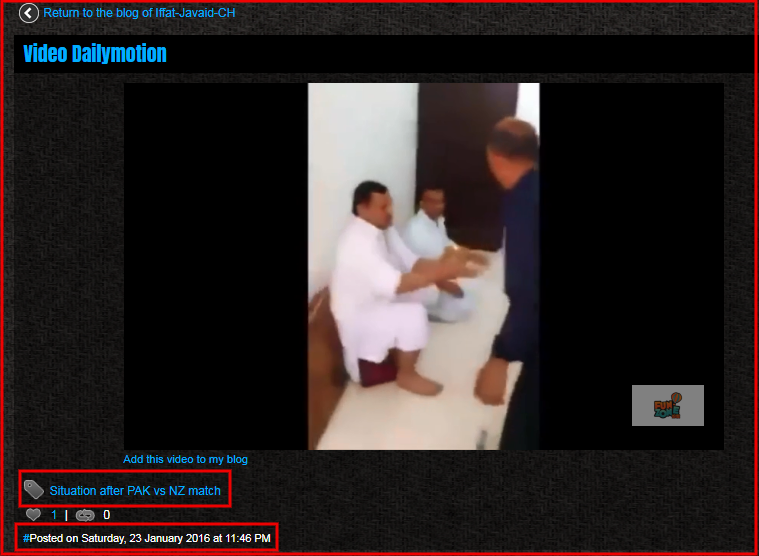 DailyMotionBlog | ArchivedLink
https://iffat-javaid-ch.skyrock.com/3268930508-Video-Dailymotion.html
This information makes it clear that, the shared video in the above post is shared several times since 2015 with different statements on social media. This video is certainly not about a TV broken by a Pakistani fan after the India vs. Pakistan match in Manchester City on Sunday, 16 June 2019.
IN CONCLUSION:
Fact Crescendo has fact checked and confirms that the video being shared in the post has a wrong narrative. We categorise the story as FALSE.
FactCrescendo advises its readers to refrain from sharing such misleading and communally biased videos and do a self-check on the true narrative of such incidents before believing them.

Title:Did Pakistani cricket fan in UK break a TV during World Cup match? Fact Check!
Fact Check By: Nita Rao
Result: False