The video has no relation with the ongoing war in Ukraine. It shows the aftermath of a blast at Beirut Port in Lebanon in 2020.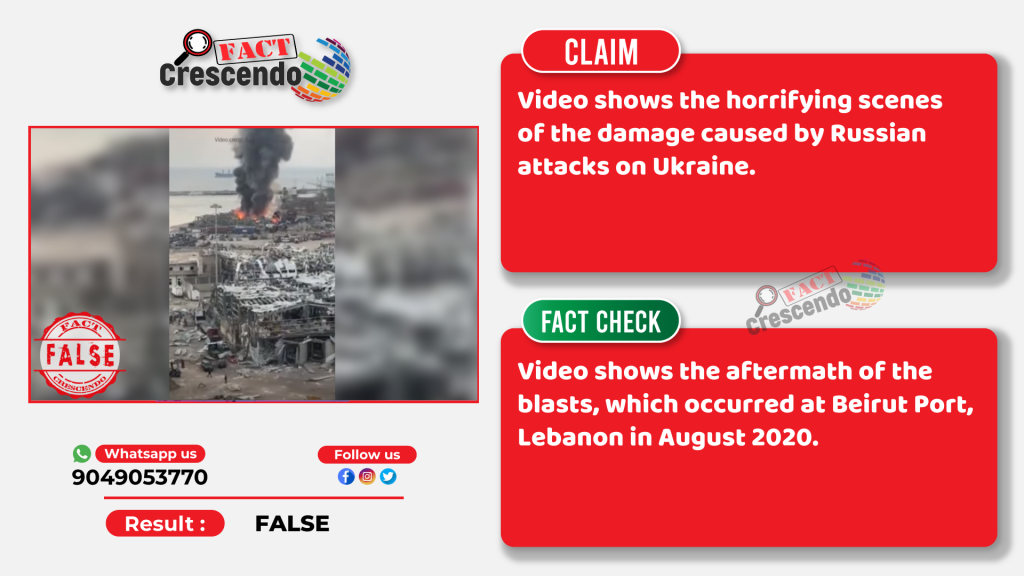 After Russian army invaded Ukraine, videos and images of blasts and attacks flooded the social media platforms. In the backdrop of this, a video is circulating on social media claiming to show claiming to show the horrifying scenes of the damage caused by Russian attacks on Ukraine.
The caption of the video reads, "Omg pray for Ukraine"
Fact Check-
We started our investigation by running a reverse image search of a screengrab of the viral video. The results led us to a video report published by KHOU 11 News showing the horrifying scenes of destruction in Beirut after the Beirut Port blast in Lebanon. The video was posted on 5 August 2020.
The caption of the video states "Beirut explosion aftermath."
The description of the video reads, "Here's the aftermath in Beirut after the deadly explosion in the Lebanese capital. Dozens were killed and thousands were injured. Part of the city looks like it is destroyed. Video credit: Rashad Achka"
Conclusion-
Fact Crescendo found the claim made along with the viral video on social media to be False. The video does not have any relation with the current Ukraine situation. The video originally shows the aftermath of the blasts, which occurred at Beirut Port, Lebanon in August 2020.
(If you also have any suspicious messages, posts, photos, videos or news, send them to our WhatsApp Fact line Number (9049053770) for Fact Check. Follow Fact Crescendo on Facebook, Instagram and Twitter to read the latest Fact Check.)

Title:Video from 2020 showing the aftermath of a blast in Beirut shared as Ukraine
Fact Check By: Aavya Ray
Result: False