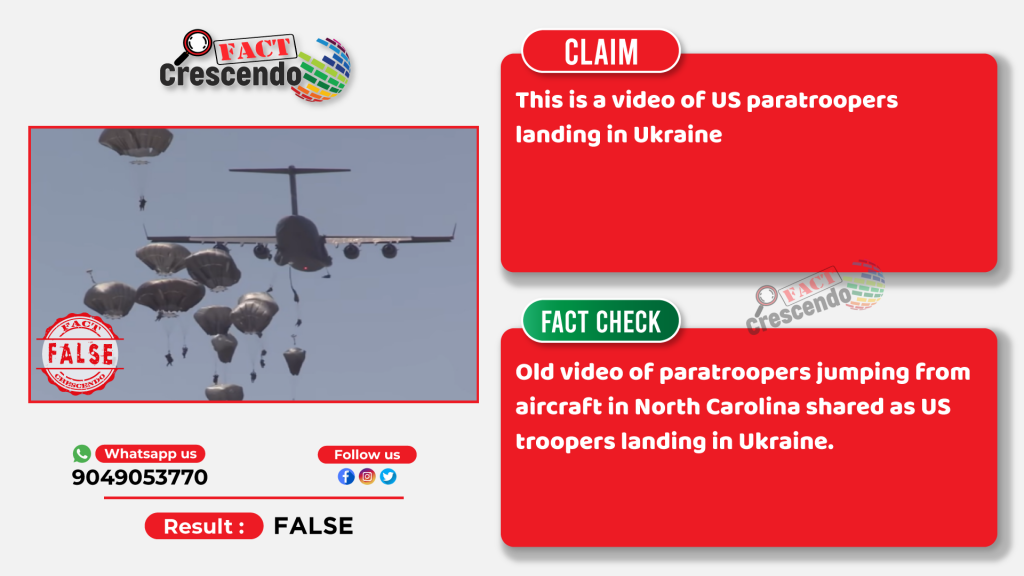 As Russia and Ukraine failed to reach mutual terms, Russia revoked its decision of ceasefire and continuing invasion into Ukraine. Seeing this, the US and a few European allies started putting pressure on Russia.
A video is going viral on social media in which soldiers are jumping out of a plane with parachutes. It is being claimed that these are American soldiers in Ukraine sky.
However, Fact Crescendo found this claim to be false. This is an old video of paratroopers jumping out of aircraft in North Carolina.
Fact Check-
We divided this video into various keyframes and ran a Google Reverse Image Search. This led us to the same video uploaded on 28 May 2016 on YouTube Channel called AirSource Military.
The caption along with the video reads, "Paratroopers Static Line Jump from C-17"
Taking a clue from the above video, we used various keywords to search the fact. As a result, we came across a report by Dailymail dated 1 August 2016 which says that the video is a military exercise when paratroopers jumped out of C-17 Globemaster III aircraft at Fort Bragg, North Carolina.
Conclusion:
After investigation, Fact Crescendo found an old video of paratroopers jumping from aircraft in North Carolina shared as US troopers landing in Ukraine. This video has no connection with the Russia-Ukraine war.

Title:Old Video Falsely Viral as US Troopers Landing in Ukraine
Fact Check By: Siddharth Sahu
Result: False